Current Exhibitions
Dylan Gebbia-Richards: Echo
August 24 - December 11, 2017
Mariani Gallery, Guggenheim Hall
Opening Reception: Thursday, Aug 24: 4-9pm | Artist Talk: Thursday, Oct 12: 5pm (Gugg Hall, Room 001)
Dylan Gebbia-Richards creates an explosive symphony of vivid colors by layering melted wax onto the surface of his work. While each mark begins as a tiny speck, the gradual buildup of these small gestures culminates in a sensory experience of unparalleled proportion. The artist's innovative process awakens an alternate state of consciousness that stimulates hearing colors and seeing sounds, also known as chromesthesia. American Neurologist and author, Richard E. Cytowic described this perceptual phenomenon as, "something like fireworks" to the senses.
The title of the exhibition, Echo references the acoustic effect that occurs when sound reflects off of bare, close fitting walls and distantly repeats. Gebbia-Richards explores the possibility of inverting this principal into a 'visual echo' by encompassing the viewer in a 30' x 20.5' life-size, textured painting. The 30' x 20.5' room was intentionally designed in the shape of a double ellipse to metaphorically reference the feedback loop of an echo's repeat. For three weeks, the artist constructed what he calls "the chamber," often noting distinct echoes reflecting off of various sloped, wave-like sections of the room. During the next seven weeks Gebbia-Richards covered the walls with a 4,128 pound storm of wax dense enough to absorb sound and echoes. The artist intentionally negated ambient noise within the enclosure to reduce auditory stimuli, allowing for a viewer's visual sense to become more dominant, creating an "echo," of a visual nature.
At any point within Echo the exhibition, the viewer stands at the threshold of an immersive color field. The topographical landscape reveals layers upon layers of an underlying color spectrum so luminous, they seem to vibrate from beneath. Each color is activated or triggered by the one laid before it to amass a momentous impact overall. Gebbia-Richards intentionally works with vivid pigments* to further explore these color frequencies and unearth a sensory assemblage of sight and sound.
- Pam Campanaro, Gallery Director + Curator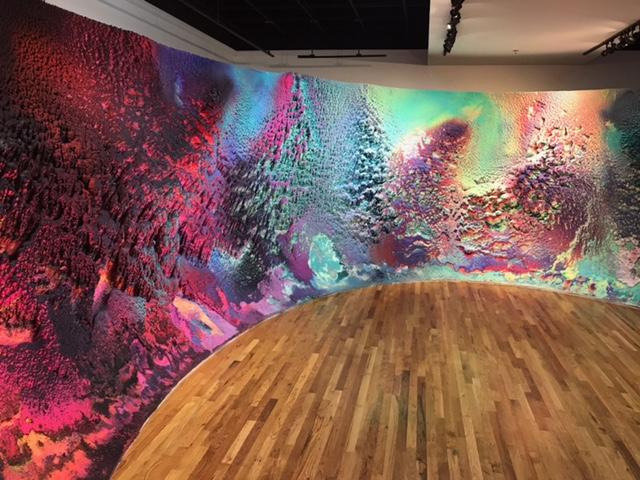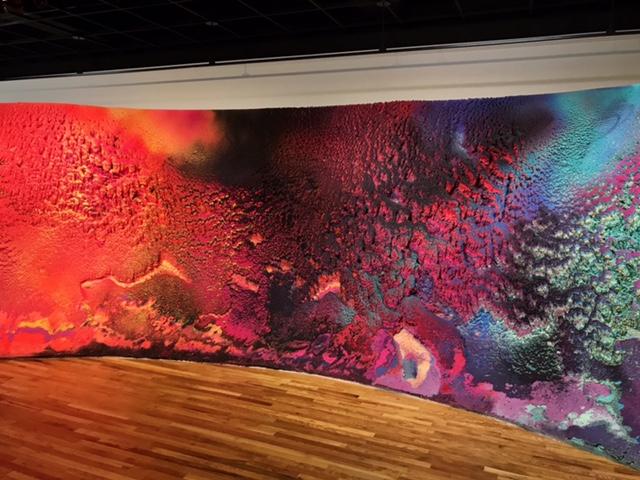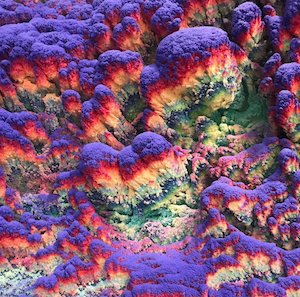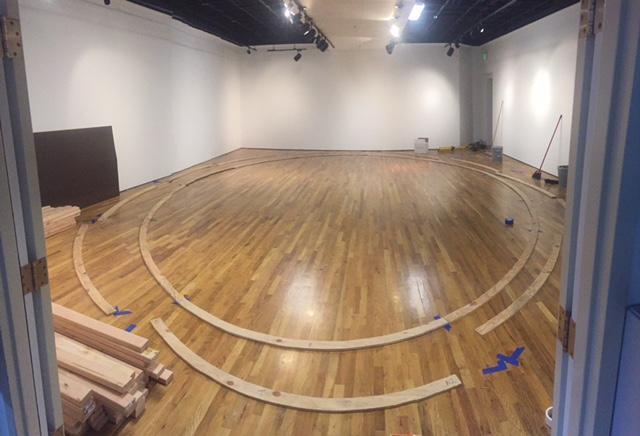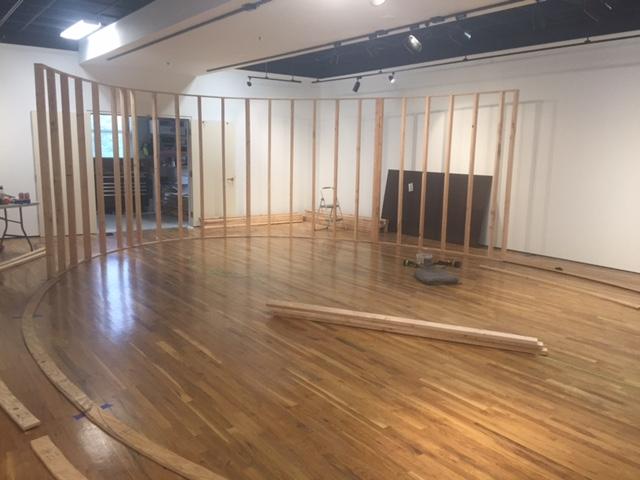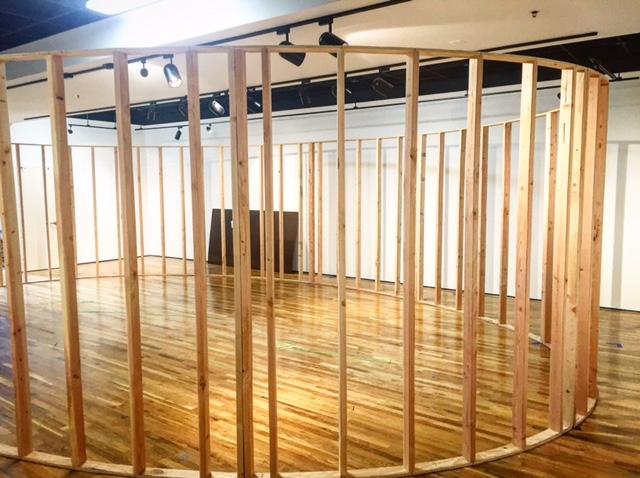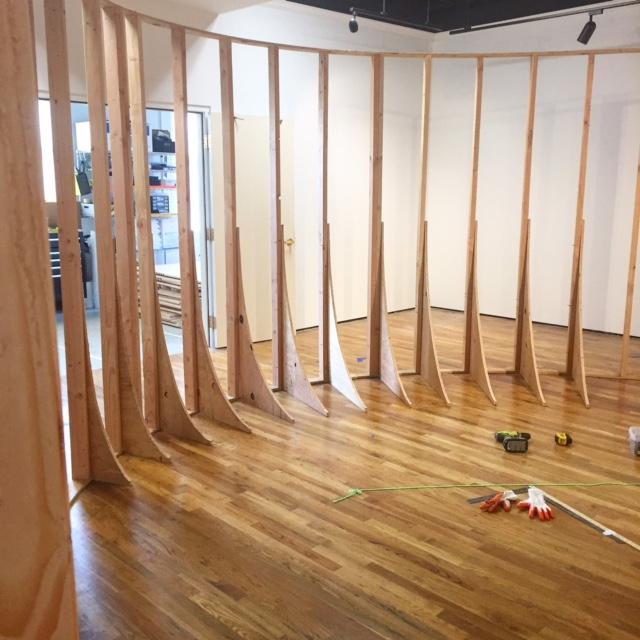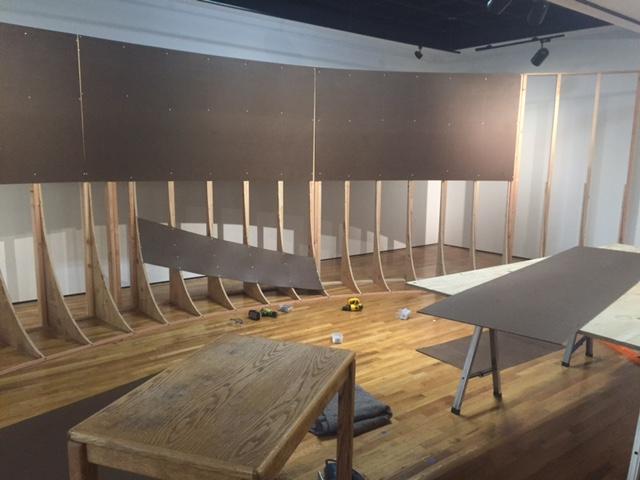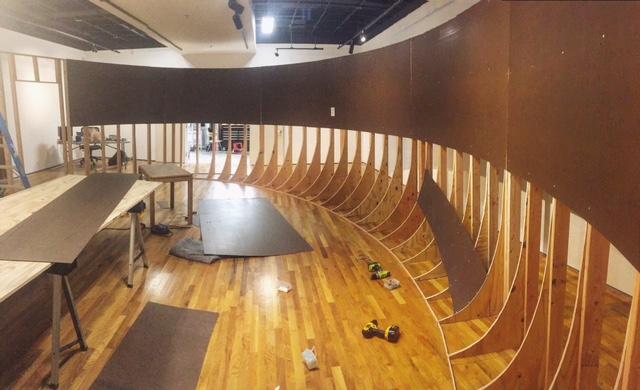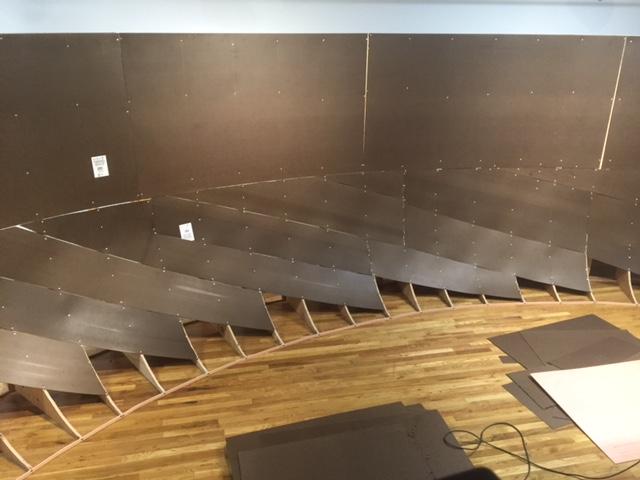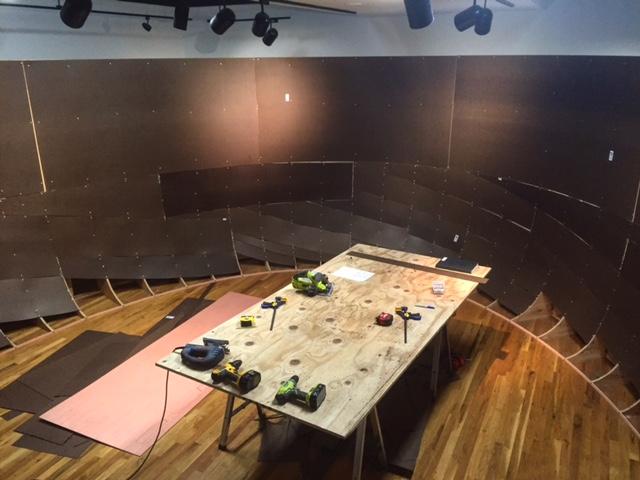 Artist-in-Residence: Dylan Gebbia-Richards: Echo from University of Northern Colorado on Vimeo.
*This exhibition was made possible through the generous support of KAMA Pigments and Lowes of Greeley.
---
Andrew Bablo & Pat Milbery: A New Light
Mural Permanently On View In Crabbe Hall Lobby
The lobby of Crabbe Hall, which houses our Oak Room Gallery and studios, served as a blank slate for duo Andrew Bablo and Pat Milbery to tackle this August. The east coast/west coast collaboration between Andrew Bablo and Pat Milbery results in an unprecedented revitalization of Crabbe Hall lobby. Built in 1919, the building houses UNC's Oak Room Gallery and Visual and Performing Arts studios. Bablo and Milbery were inspired by the architecture and characteristics of the building such as its original oak doors, green marbled baseboards, and sky high arches and wanted their footprint within the space to compliment, not detract, from the classic beauty of the building's interior. The result is a magical, sun drenched interior (in perfect time for the eclipse no less!) of aerosol paint.
Pat Milbery is, above all, a creative collaborator, as well known for the large-scale murals he's created alongside some of the most prominent street and graffiti artists in the world as he is for the playful photo shoots and video parts he's participated in as a pro snowboarder. His vivid street art collaborations adorn the walls of dozens of boutiques, breweries, residences, bars, and other businesses in Denver, around the Rocky Mountains, across the country and around the globe, and he's helped curate and create major art installation projects for brands including the Ford Motor Company, X Games, Budweiser, Zumiez, Loveland Ski Area, Wahoo Fish Tacos, and Pabst Blue Ribbon. He has shared snowboard contest podiums with the likes of Shaun White and Travis Rice, and the Snowboard Camp Tour he founded to make freestyle riding more accessible to kids is now entering its second decade. He's also the co-owner of So-Gnar, an umbrella collective responsible for the Snowboard Camp Tour, the So-Gnar streetwear and apparel line he helps design, and the Shredded Beats hip-hop concert series he promotes. He's equally proud of his Minnesota roots and his 17 years of Colorado transplant status, and splits his time between Denver and Golden and wherever his van full of snowboard gear and aerosol cans take him.
From design to production, Andrew Bablo builds, crafts and experiments through the use of various media. Seeing no boundaries or limitations, he loves to work interactively, large-scale and in the eye of the public. Bablo started his career in branded and licensed apparel design, working with major league sports teams across the country. He spent years creating garments for several retail brands including Reebok and '47. Later, Bablo collaborated with the industry's top artists, athletes and brands as the former Editor-in-Chief of Steez Magazine. Over the course of nine years and 35 issues, Bablo grew the magazine from a black and white photocopier to a major publication, distributing throughout thousands of major newsstands such as Barnes & Noble in the U.S. and Canada. In 2015, Bablo founded Steez Design, bringing his artistic background to the commercial design world. Bablo graduated from Montserrat College of Art in 2007 with a Bachelors Degree in Graphic Design. Currently residing north of Boston, he works as an artist, designer and entrepreneur.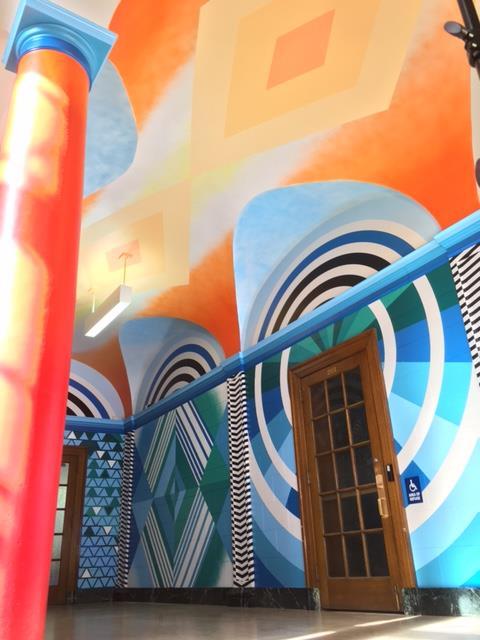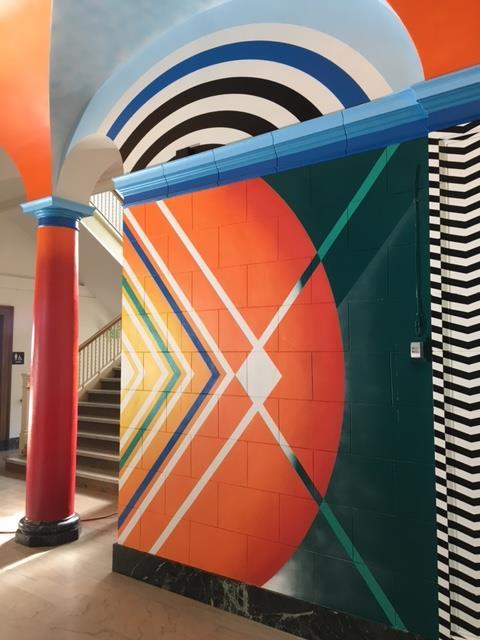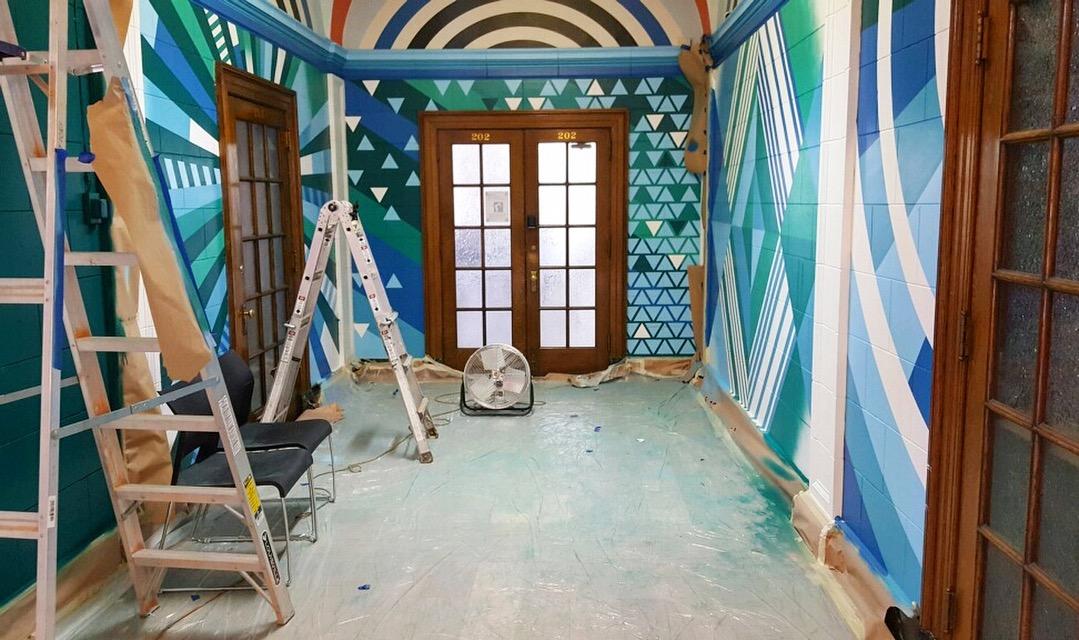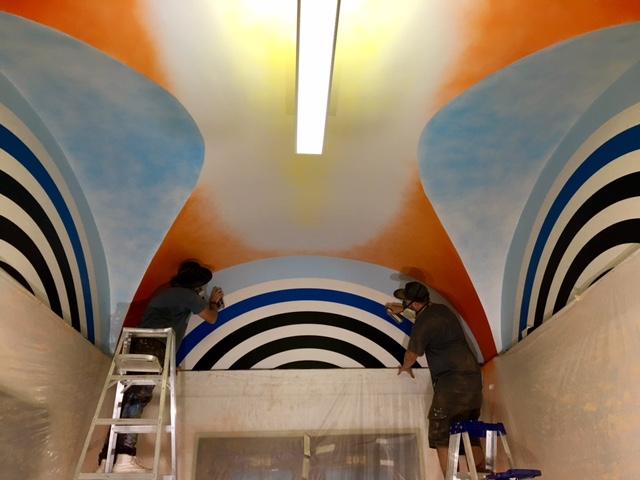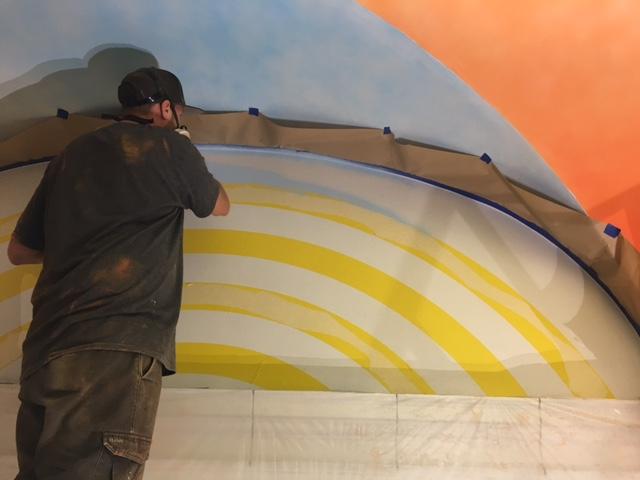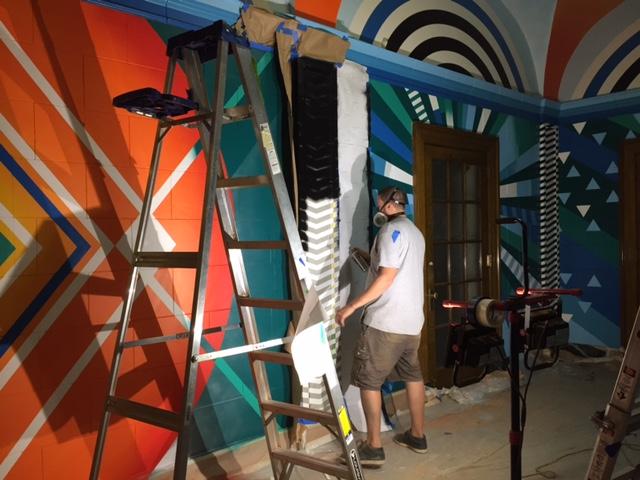 UNC Galleries Spotlight: Andrew Bablo & Pat Milbery: In A New Light from University of Northern Colorado on Vimeo.
---
BIG DITCH
December 1, 2017
Oak Room Gallery, Crabbe Hall
Opening Reception: Friday, Dec 1: 5-7pm
BIG DITCH is an exhibition of collaborative work from Zero-Craft Corp. and UNC students currently enrolled in Art 308/508: Seminar Art & Ideas: Land Art. Over the course of the Fall 2017 semester, Zero-Craft Corp. led students through the design process as it applies to the creation of land art. This process has included a hands-on workshop in UNC's Xeric Gardens, a studio exploration of "boundaries" as they relate to land art and landscape architecture, and a site-based workshop entitled BIG DITCH.
The site chosen for the BIG DITCH project includes all public access sites along Greeley #3 Ditch within Greeley city limits. This collaborative project took place over the course of one week (Nov. 27 - Dec.1).
For the BIG DITCH workshop, students collaborated with ZCC in the collection, categorization and assemblage of objects found along the #3 Ditch. The locations and profiles of these objects were marked through a codified system of "glyphs" installed on site. The glyphs used for "BIG DITCH" were designed to directly reference a municipal system of mark making through gesture and color. Students catalogued the objects collected along the #3 Ditch through photographs, drawings and geotagging to present the scope of the BIG DITCH project in the Oak Room Gallery.
Zero-Craft Corp. is an experimental studio engaging with art and design as highly compatible disciplines. ZCC was founded by Mark Dineen and Michael Neville in 2015.