Upcoming Exhibitions
---
Jodi Stuart: Super Synthetic
Mariani Gallery, Guggenheim Hall, Room 100
In Residence: Summer 2018 | Exhibition on View: Aug 23 - Oct 6, 2018
Opening Reception: Thursday, Aug 23, 4-9pm | Artist Talk: Tuesday, Sept 18, 5pm
Jodi Stuart creates a techno-toxic playground in her latest site-specific installation, Super Synthetic at Mariani Gallery. The exhibition will feature ambitious, large-scale 3D printed works such as a faux climbing wall comprised of Stuart's "Knot" works and a hanging swing made from plastic playground/safety hardware colored in "safety yellow". A riot of color and texture that attracts and repels, Super Synthetic invites playful associations with intensely tactile materials, causing the viewer to constantly resist squeezing, picking up, and touching the work.
Stuart's work explores the look of digital technologies that saturate our everyday lives, in relation to tactile and sensory experiences. The artist's practices deeply interested in the desire to re-insert the body into virtual experience - and/or - to materialize physical objects from the virtual. Stuart's sculptural forms are made using the plastic filaments intended for 3D digital printing. By using a '3D pen', Stuart has replaced the computer with the human hand in a kind of nostalgic, futile but beautiful, gesture. Through this combination of materials and forms, Stuart creates an uneasy optical space where craft traditions such as weaving, knitting, and basketmaking are juxtaposed with abstracted virtual space, that hints at neutral networks, cloud computing, information, and bio-systems.
Jodi Stuart was born in 1971 and grew up in a small farming town on the East Coast of New Zealand. She attained a Bachelor of Visual Arts from Manukau Institute of Technology, Auckland in 1999, and an MFA from Auckland University in 2001. Jodi moved to the United States with her family in 2010 and currently lives in Denver where she has recently completed a two year artist residency at RedLine Contemporary Art Center. Stuart has exhibited in her home country of New Zealand, California, Colorado, Michigan, Maryland, Texas, and Washington.
To learn more about Jodi Stuart, visit her website.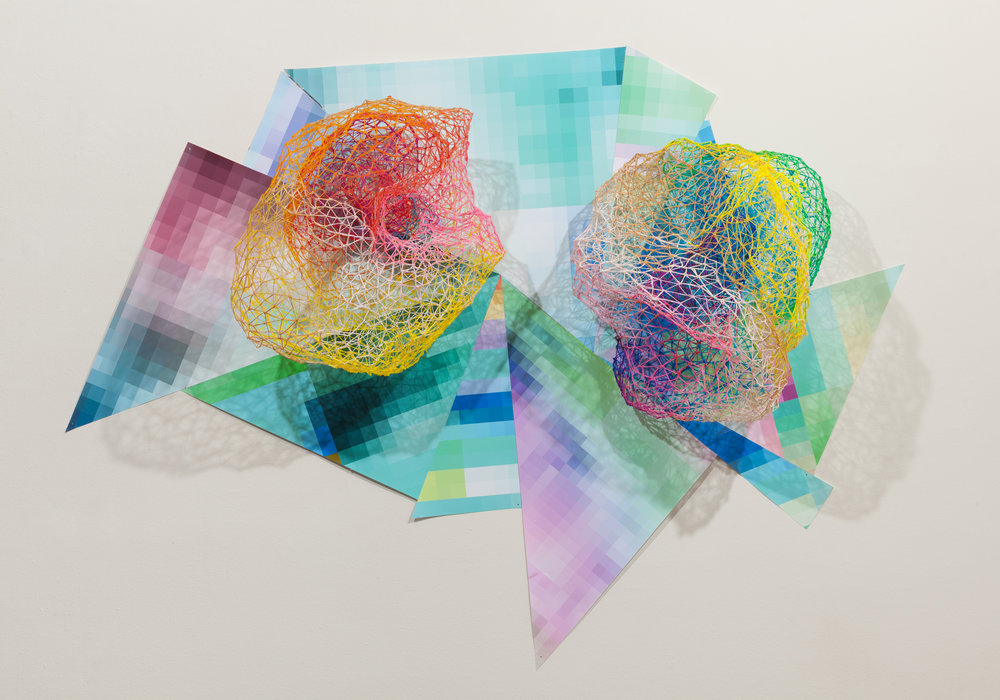 Jodi Stuart, Installation view, Invasive #4 and Invasive #5, ABS Filament, 3-D Pen, Digital Collage, 2016, 61"x42"x28". Photo Wes Magyar.
Summer Gallery Hours
By appointment:
970-351-1281
Contact
Locations
Mariani Gallery
Guggenheim Hall, Rm 100
(View Map)
Oak Room Gallery
Crabbe Hall, Rm 201
(View Map)
---
Parking
---
Andrew Bablo & Pat Milbery: In A New Light 2
Crabbe Hall Lobby
In Residence: August 9-23, 2018 | Opening Reception: Thursday, August 23, 4-9pm | Mural Permanently on View
Andrew Bablo (Beverly, MA) and Pat Milbery (Denver, CO) will return to UNC for phase two of the Crabbe Hall mural project! The artists' two-week residency in Crabbe Hall will complete the second half of the lobby's transformation. Last year, Bablo and Milbery created the site-specific mural, A New Light outside of the Oak Room Gallery. The concept for the mural was to not only to create an immersive, inspiring portal for students in the School of Art & Design, but to signal key components of 2D and Foundations, courses taught in that wing of the building. This year, the duo is tackling the adjacent half of the hall where 3D Design and Digital Fabrications are housed. The artists will incorporate elements of design that speak to the nature of 3D Printing and Design.
Pat Milbery is, above all, a creative collaborator, as well known for the large-scale murals he's created alongside some of the most prominent street and graffiti artists in the world as he is for the playful photo shoots and video parts he's participated in as a pro snowboarder. His vivid street art collaborations adorn the walls of dozens of boutiques, breweries, residences, bars, and other businesses in Denver, around the Rocky Mountains, across the country and around the globe, and he's helped curate and create major art installation projects for brands including the Ford Motor Company, X Games, Budweiser, Zumiez, Loveland Ski Area, Wahoo Fish Tacos, and Pabst Blue Ribbon. H
From design to production, Andrew Bablo builds, crafts and experiments through the use of various media. Seeing no boundaries or limitations, he loves to work interactively, large-scale and in the eye of the public. Bablo started his career in branded and licensed apparel design, working with major league sports teams across the country. He spent years creating garments for several retail brands including Reebok and '47. Later, Bablo collaborated with the industry's top artists, athletes and brands as the former Editor-in-Chief of Steez Magazine. Over the course of nine years and 35 issues, Bablo grew the magazine from a black and white photocopier to a major publication, distributing throughout thousands of major newsstands such as Barnes & Noble in the U.S. and Canada. In 2015, Bablo founded Steez Design, bringing his artistic background to the commercial design world. Bablo graduated from Montserrat College of Art in 2007 with a Bachelors Degree in Graphic Design. Currently residing north of Boston, he works as an artist, designer and entrepreneur.
---
Mackenzie Browning: Green Screen
October 22 - December 8, 2018
Mariani Gallery, Guggenheim Hall, Room 100
Opening Reception: Thursday, October 25, 4-7pm | Artist Talk: Thursday, November 1, 5pm
Mackenzie Browning is a Denver-based, Canadian artist who works primarily in screen-print, book arts, and print based sculpture. Browning's aesthetic can be described as bold, meticulous, and inventive, often blurring the lines between design, craft and fine art. His artworks are constantly pushing personal technical boundaries, often becoming architectural in nature. The artist's creations and installations reflect both his past and present lived experiences, a personal history that has primarily taken place in the suburban construct.
Mackenzie grew up in divergent environments. He spent his childhood on a one hundred acre sheep farm, before moving to several different small cities and suburban settings. His rural upbringing created an endless degree of respect for flora and fauna. Mackenzie's obsession over nature and his personal history of contrasting constructed environments are common motifs in his print-based art practice. Many of Mackenzie's works explore the concept of the use of barriers to divide and control movement through a space. Hard barriers, such as fences and walls, as well as soft barriers, such as plants and hedges, are frequent motifs within his work.
Mackenzie holds a Master of Fine Arts degree in Printmaking and Sculpture from the University of Saskatchewan and a Bachelor of Fine Arts (Honors) degree in Printmaking from Queen's University.
For more on Mackenzie Browning, visit his website!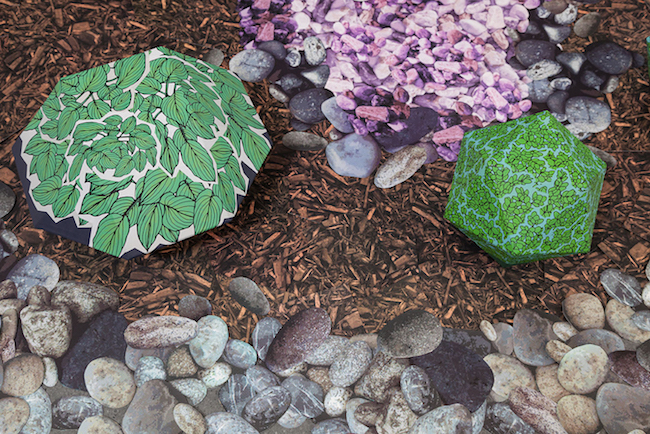 Mackenzie Browning, Barrier Green, Screen print on cotton rag paper, 2016.
---
Annual Student Exhibition
April 8 - 27, 2019
Campus Commons Gallery
Juror's Talk: Thursday, April 11, 5pm | Opening Reception: Thursday, April 11, 6-8pm
The Annual Student Exhibiton is an annual juried showcase of the students of the School of Art & Design. Please check back for more information on this year's Guest Juror and student exhibitors.
Join Our Email List!
Stay up to date on gallery exhibitions and programs: