The Artist Help Desk
Mariani Gallery, Guggenheim Hall
First & Last Fridays of the Month, 12-2pm
February - April 2018
Building a portfolio or website for the first time? Do you need help expanding your network to galleries and collectors? Or are you applying for artistic opportunities and in need of feedback? Ask for help!
UNC Galleries is bringing artists and experts together at "The Artist Help Desk," a FREE pop-up professional practice workshop open to students, faculty, and the community. Each thirty-minute session provides one-on-one consultations with art professionals including: curators, gallerists, writers, marketing whizzes and more!
Meet Our Spring Guest Helpers:
February 2 ; March 2 ; April 6: Pam Campanaro, UNC Galleries Director & Curator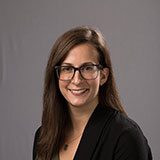 Pam Campanaro is the Director & Curator of Galleries at the University of Northern Colorado. Prior to her appointment to Director, Campanaro served as the Associate Curator of Exhibitions & Programs at Montserrat College of Art in Beverly, MA. Campanaro was the 2015 curator-in-residence at FLOAT: A Tactical Walking Camp, a program of The Luminary in St. Louis, MO. She has curated exhibitions at The Museum of Fine Arts, Houston (Houston, TX), Find & Form Space (Boston, MA), The Samek Art Museum at Bucknell University (Lewisburg, PA), Receiver Gallery (San Francisco, CA) The New Art Center (Newton, MA) and Montserrat Galleries (Beverly, MA).
---
February 23: Stephanie Edwards, Independant Curator
Stephanie Edwards is an independent curator in pursuit of a MA in Gallery Management and Exhibit Specialization from Western State University and holds a BA in Studio Art with a minor in Curatorial Studies from Metropolitan State University. As a practicing artist herself, Edwards sees her curatorial practice as material for social practice artwork by utilizing communication as a medium. Artist advocacy has become a central element in her curatorial strategy through her training as a curatorial intern at Black Cube, a nomadic art museum that is the first organization to be W.A.G.E. certified from its inception. Edwards is a former curator of 965 Gallery at Center for Visual Art.
---
March 30: TBA
---
April 27: TBA

---
Participation is free, but registration is required.

To sign up, email: galleries@unco.edu
Join Our Mailing List!
Stay up to date on gallery exhibitions and programs: