Day of Music
October 6, 2017
One day of music: imagined by students, created by students, performed by students.
This is UNC's Day of Music!
On October 6, University of Northern Colorado School of Music students will flood the Greeley community with music, booking shows and performing all day, all over town. Students are liberated to dream big, create professional partnerships, and do what they love—play music and share their art with the community.

Contact
School of Music Office: music@unco.edu
---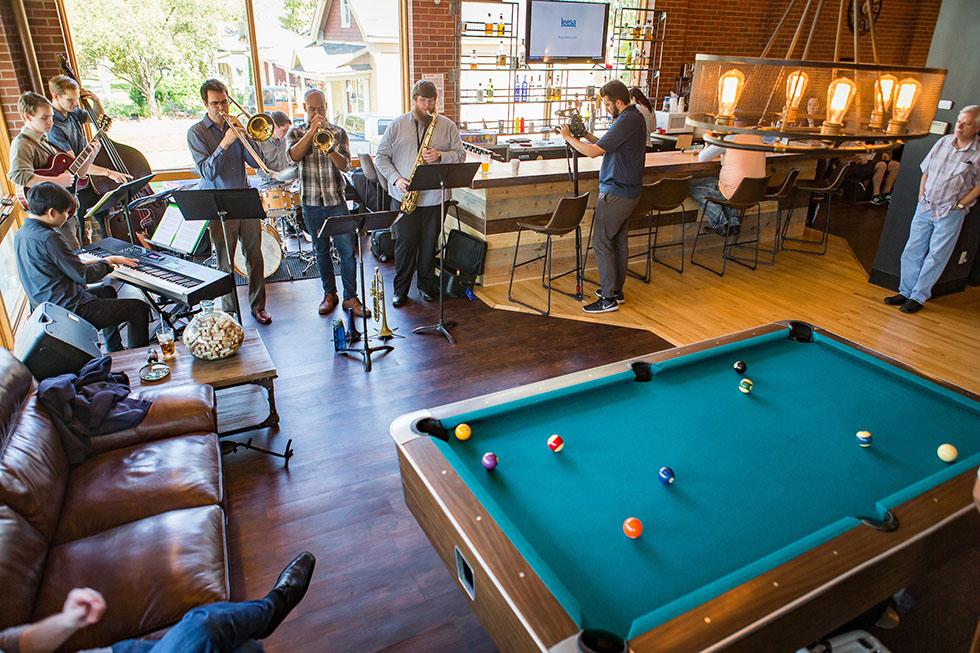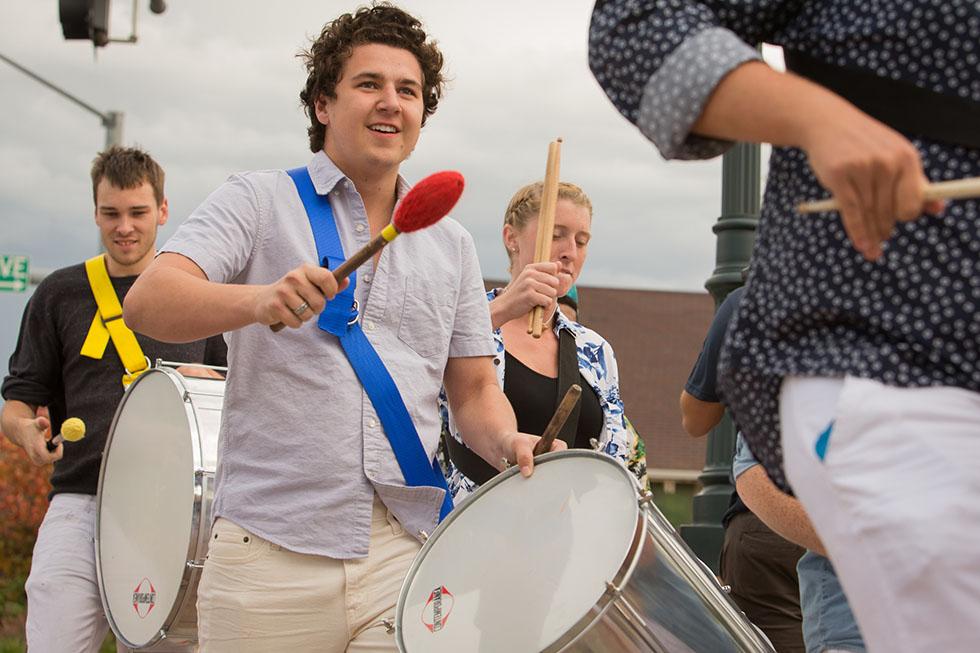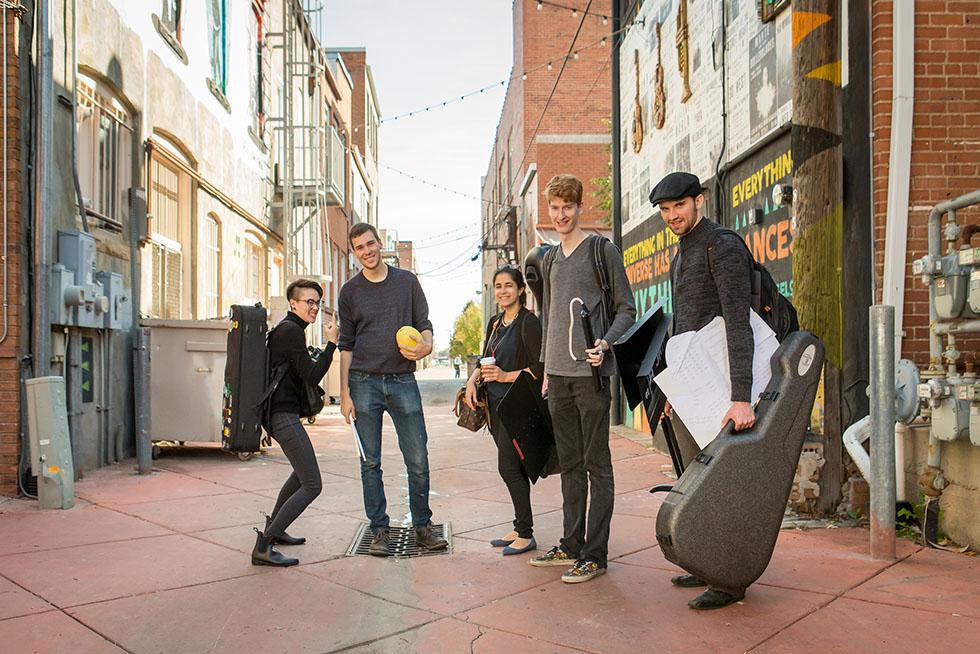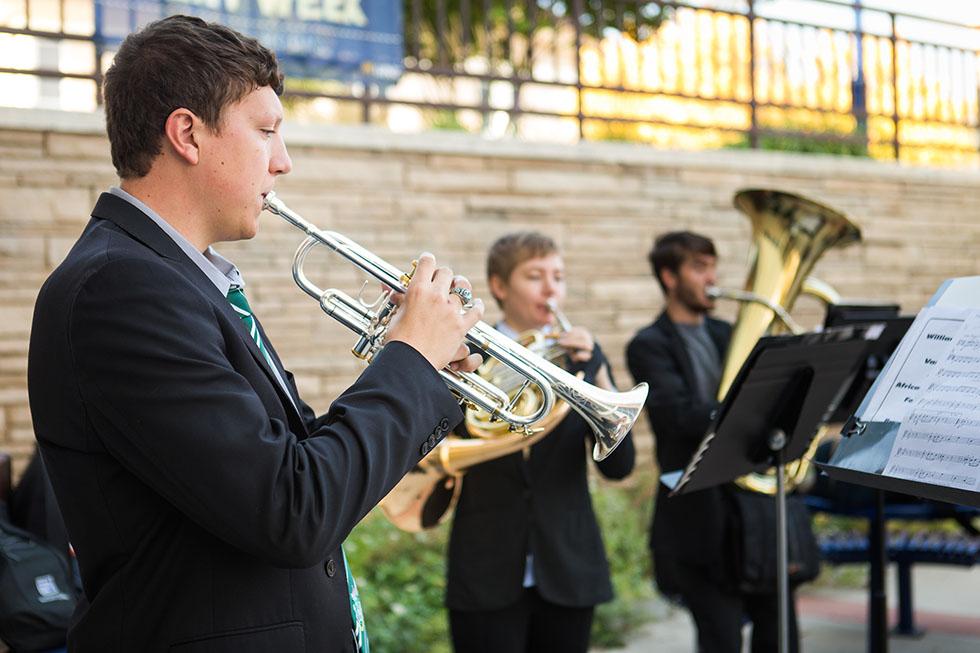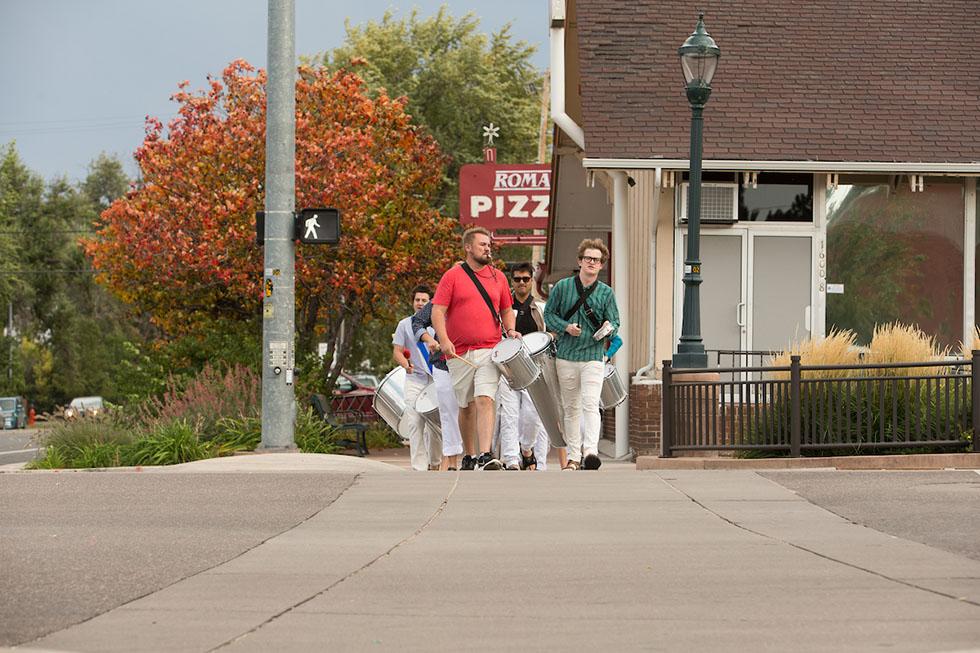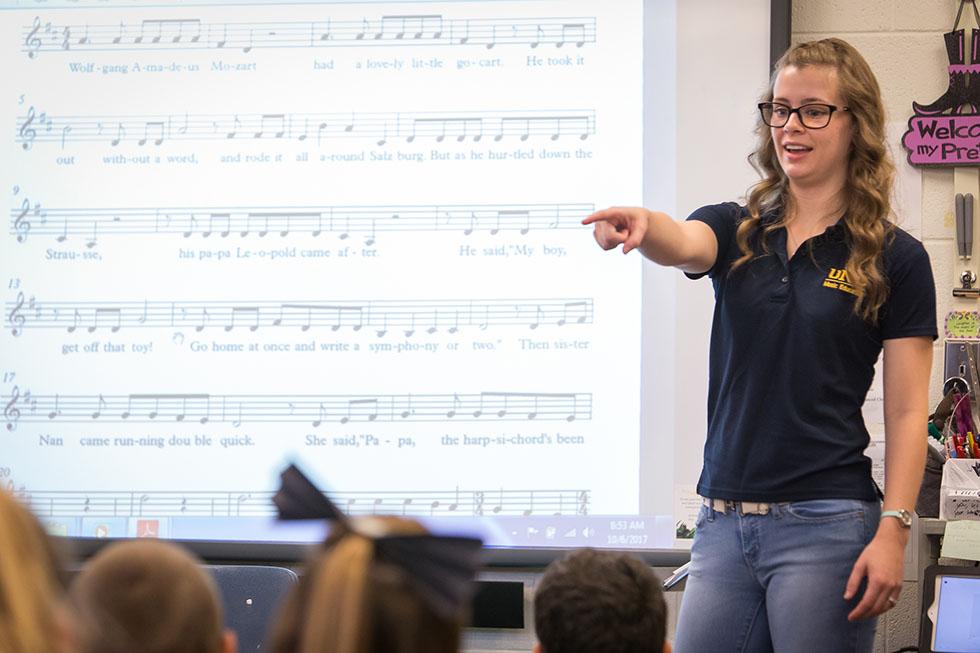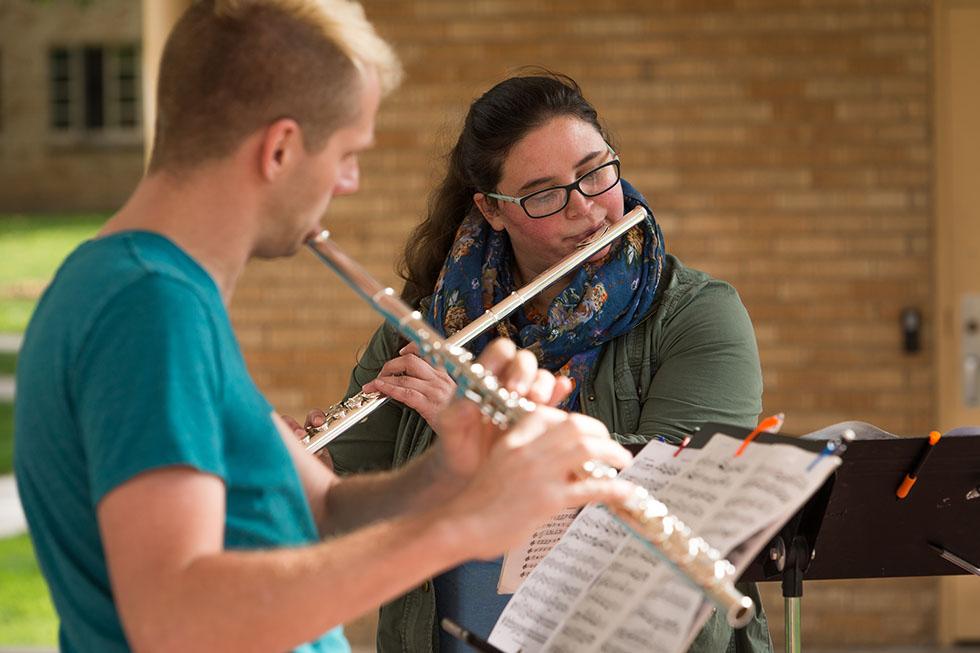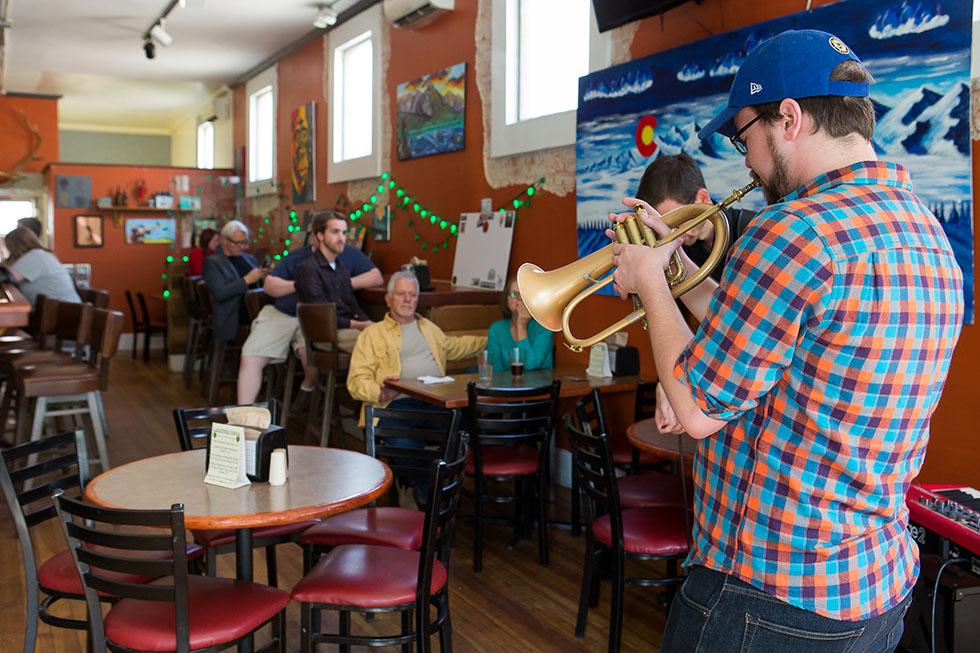 ---
Schedule
H. Lynn Smith, clarinet
Solo to the sunrise: Rhapsody by Osborne
Garden Theater
ACDA Lessons
Voice and choir lessons to students in various regional schools
Greeley schools
Front Range Saxophone Quartet
Works by Creston, Escaich, and Bolcomb
Aunt Helen's Coffee House
Percussion!
Michael Carp leads a drum circle with the students.
Early College Academy High School

UNC Afro-Cuban Ensemble: Cuban High School Tour
World music focus: teaching Bembe patterns and the accompanying Elegua Orishas
Early College Academy High School

NoCo Brass
Concert of brass quintet music performed for students
Windsor Charter Academy
Music in Preschool: Get 'em Hooked
A performance by members of the American String Teachers Association
ABC West Child Development Center
UNC Trumpet Undergrad Quartet
Performance and music Q&A session with students
Winograd K-8 School
Rhythm Jazz Quartet
Songs from the recording Smokin' at the Half Note with original instrumentation
Margie's Cafe
Tubas in the Park
Tuba duets with Bryan Lester and Jake Ascherl
Lincoln Park
Classical Music at Riverside
Songs about love and nature in English & Italian with Annika Lee, voice and Zhipeng Li, piano
Riverside Library
Suzann Page
Short solo pieces for euphonium
UNC Wiebking Hall lawn
Bear's Viola Duo
Viola duos by Bach, Marcello, and more
Lincoln Park Library
UNC Contemporary Music Ensemble: Wandelweiser, Deep Listening, and the Beauty of Ambience
Music of Oliveros and Frey in the style of busking
Alley Promenade (9th St & 9th Ave)
Horn Duets at Lincoln Park
Music for 2 horns with Joseph Thomas and Sean Diehl
Lincoln Park
Acoustive Covers at Lincoln Park
Guitar and voice duo performing a set of your favorite music
Lincoln Park
Acoustic Singing at the Park
Kayla Smith sings cover songs and original works with guitar to raise awareness for bees and pollinators
Bittersweet Park
Rocky Mountain Horns Mini-Concert
Horn quartet selections from Tchiakovsky, Wagner, Weber, and more
Margie's Cafe
Barbershop: God Only Knows
Four-man ensemble performing The Beach Boys' "God Only Knows"
Cheba Hut
Rainbow Flute Choir
Popular movie and show themes from Game of Thrones, Harry Potter, Beauty and the Beast, Hunger Games, and Tangled
11:15: Garden Theater 11:45: Tobey-Kendall 12:15: University Center 5:30: Greeley Mall
UNC Campus & Greeley Mall
Selena Tribute
Selections from Selena's album, Dreaming of You
16th Street Tavern
Clapping Music in the Park
Steve Reich's famous piece performed by Miranda Garzaniti and Hallie Schield
Glenmere Park
CornoCupcakes
Horn duets with Hannah Baeza and Kayleigh Smith
Batter Up Cakes
Nature Sonata
Walk the natural material sonata orchestrated along one of the many paths in the xeric garden, located to the right of the entrance, by the parking lot.
Xeric Garden
Java and Jesus: Acoustic Worship with Amaya and Andrew
Laid-back acoustic worship set on the coffee shop patio, lyric sheets provided
Your Place Coffee
Guitarpedia: UNC Classical Guitar Ensemble
A mix of large-ensemble, small-ensemble, and solo guitar pieces
Lincoln Park Library
Vanguard @ The BAR.BER.SHOP
A selection of well-known jazz standards plus original music
Bar.ber.shop 1544 10th Ave Greeley, CO 80631
Vocal Iron and Northern Lights A Capella Concert
Songs such as "Marry You" by Bruno Mars and the pop hit "Rainbow" and tunes by Gwen Stefani, Vanessa Carlton, and Sara Bareilles
Margie's Cafe
UNC Early Music Ensemble
Small string orchestra performing Bach Chorales
Crosswalk at 10th Ave & 20th St, Ross Hall lawn
Bierstadt Brass Quintet
UNC's resident graduate assistant brass quintet with works by Williams, Gershwin, Calvert, and Bernstein
John Galt Coffee Company/Atlas Theatre
Harmonophoniks: Shop in the Park
Vocal barbershop arrangements: Coney Island Baby, Hello Mary Lou, John Williams Tribute, When Somebody Loved Me, Swing Low, Lost, Yesterday I Heard the Rain
Lincoln Park, 9th Ave & 9th St
Duo Jazz
A duo jazz performance, with Michael Millan on piano and Micah Miller on trumpet and vocals
16th Street Tavern
Quinn Estep Quintet
A performance of jazz standards
John Galt Coffee
Disney for Children with Special Needs
10-minute performances of Disney songs for preschoolers in various classrooms at AIMS
AIMS Early Childhood Center
Napoleon's Bones-Apart: Trombone Quartet @ Cheba Hut
Classical and jazz compositions and arrangements on the venue's covered patio
Cheba Hut
Duets with Ben and Cora
Duets for trombone and euphonium
Glenmere Park
Horns with a View: UNC HQ
Performance and masterclass for students in the band program at Mountain View High School
Mountain View High School
The Sousaphones Take Campus!
Selections using four sousaphones, including the UNC Fight Song
UNC Campus
Java and Jams with R's and B's
Electronic/hip-hop sounds injected into well-known pop tunes and jazz standards
The Blue Mug
Flute, Viola, Euphonium Trio
Selections from Mozart's Divertimento in Eb-major and Haydn's Three Trios, Op.53
The Blue Mug
Ride the Slide: Trombone Duo
Works for 2 trombones with Alan Collette and Brady Lewis
Glenmere Park
Euphonium Quartet
A medley from Pirates of the Caribbean and other classic tunes
Glenmere Park
UNC Oboe Consort
Works for oboe ensembles by Handel, Haydn, Powning, and Beethoven
Margie's Cafe
Winds on the High Sea Clarinet Quartet
Performance for elementary students
Scott Elementary School
Dual Performance at University Schools
Performance of pop, jazz, gospel and traditional choral tunes followed by master class with 8th grade choir students
University Schools
Beans with the Beatles
A Beatles tribute featuring songs from the later years, on albums such as Abbey Road and The White Album
The Blue Mug, 807 17th St, Greeley, CO 80631
Hymnals at Garden Square
Hymnal sing-along with residents: Jesus Paid it All, Come Thou Fount, How Great Thou Art, Amazing Grace, White Winter Hymnal
Garden Square at Greeley Assisted Living
Suwannakit-Rathkey Little Keys Collision: Melodica Duo
Arrangements of classical and jazz standards in the style of the famous melodica duo group "Melodica Men"
Margie's Cafe @ Farmer's Pantry
UNC Afro-Cuban Ensemble: Cuban High School Tour
World music focus: teaching Bembe patterns and the accompanying Elegua Orishas
Sesi Sierra School
Jones-Anderson Duo
A performance of jazz and musical theatre standards
UNC Visitor's Center
Jazz Quartet
Featuring a selection of classic and contemporary jazz standards
16th Street Tavern
Dynamis String Quartet
Pop and ligh rock classics performed by a string quartet
John Galt Coffee
UNC MTNA Chapter
Works by J. Froberger and Piazolla as well as 4-hand piano arrangements of classical and popular tunes
Good Samaritan Society
Very Good Trombone Quartet
Featuring A Song for Japan by Steven Verhelst and a Tchaikovsky string quartet arranged for trombones
Sierra School of Weld County
Clarinet Trio
Various selections from the Voxman Clarinet Trios
Fort Collins Town Sqaure
Voice and Piano Duo
Vocal entertainment for prospective students with Alyssa Jones and Mallory Gibson
UNC Visitor's Center
Jazz in the Courtyard: Catalina Combo
A versatile set of jazz, latin, funk, and original tunes in the courtyard of the library
Riverside Library Courtyard
Worship in the Park
Worship songs to give praise to God with voice, ukulele, and guitar: singing along welcome
Glenmere Park
Nevertheless She Persisted
A set comprised of songs written and/or sung by strong women in the music industry, in a variety of genres such as pop, jazz, country, and R&B
Margie's Cafe
Tuba & Euphonium Quintet
Performance of an arrangement ( by UNC student Anthony Windle) of "Run to You," originally performed by the popular accapella group Pentatonix
UNC Gender & Sexuality Resource Center
Gender & Sexuality Resource Center Performance
Several students perform a variety of vocal songs accompanied by piano and ukulele
UNC Gender and Sexuality Resource Center
Violin Duets with the Vizcaya Duo
Music for 2 violins by Mozart, Boccherini, Dancla, and De Beriot
High Plains Library District
Batería with the UNC Brazilian Drum Ensemble
Marching through campus playing traditional Brazilian drum music
Carter Hall, Frasier Hall, West Campus, Central Campus
Free Drum Lessons with a View
Free short drum lessons by Pat Shettle on the south shore of Lake Loveland
Lake Loveland
Singing Through the Ages
A selection of songs for solo voice in chronological order
Lincoln Park
UNC Bassoon Ensemble
Avariety of works from Classical to Classic Rock arranged for bassoon ensemble
Margie's Cafe
11th Ave Acapella
Holmes Dining Hall
Sabattini-Thompson Jazz Duo
A performance of jazz standards
Margie's Cafe
Dixieland Jazzy Goodness
A ragtag team of instruments of any kind keepin' Dixieland alive
Glenmere Park, Lincoln Park, around downtown Greeley
Bear Lake at Syntax
Excerpts from Summer Music by Samuel Barber, 3 Pieces Breves by Jacques Ibert, Peter and the Wolf by Sergei Prokofiev (arr. for woodwind quintet), Aires Tropicales by Paquito D'Rivera
Syntax Spirits
11th Ave Acapella
Tobey-Kendall Dining Hall
Amaya Arevalo and Nick Isherwood at The Bean Plant Studio
Piano and bass jazz duo, playing standards and original tunes
The Bean Plant Art Studio
Violin Duets with the Vizcaya Duo
Music for 2 violins by Mozart, Boccherini, Dancla, and De Beriot
Joe Molina Gallery and Studios
Ninth Avenue Groove
Latin jazz/funk selections
Margie's Cafe
UNC Funk Lab at Brix
Music by Earth Wind and Fire, Stevie Wonder, Donny Hathaway, Ray Charles, Curtis Mayfield, and others
Brix Taproom
Night of Music
Evening recital of classical, popular, and sacred music for voice and piano: benefit for St. Peter's Catholic Church
St. Peter's Catholic Church
The Nooks play The Bizarre Bazaar
Funky, alternative pop rock band including James Reed, Jarek Makarchuk, and Gary Chitwood
The Bizarre Bazaar, Fort Collins, CO
Love Through the Years: Roztomilá Duet
Violin and piano duet performing romantic pieces through the years
Greeley Central High School
UNC Composers at the Nerd Store
UNC Cello Choir and Sonic Harvest New Music Ensemble performing new music by Justino Perez, Josiah Cordes, Conner Shaw, Wyatt Stevens, and Sam Cozad
The Nerd Store, 807 8th St. Greeley, CO 80631
Birdland Performs @ Wiley Roots Brewery
Featuring the music of Horace Silver, followed by an open jam. Bring your horns!
Wiley Roots Brewery
Trio Clef at Patrick's Irish Pub
Featuring soul, jazz, and R&B standards
Patrick's Irish Pub
Jazz Jam at the Kress with Jenna McLean Jazz Quartet
A set of jazz standards and originals, followed by an open jam for all musicians
The Kress Cinema and Lounge