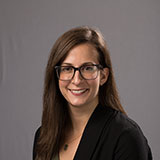 Pamela Meadows
Director of Galleries
School of Art and Design
College of Performing and Visual Arts
Contact Information
Office
Campus Commons 1021B
Professional/Academic Experience
Pamela Meadows is a curator of contemporary art with an interest in site-specific/conscious work. Prior to her appointment at UNC, Meadows served as the Associate Curator of Exhibitions & Programs at Montserrat College of Art in Beverly, MA. Meadows was the 2015 Curator-In-Residence at FLOAT: A Tactical Walking Camp, a program of The Luminary in St. Louis, MO. She has curated exhibitions at The Museum of Fine Arts, Houston (Houston, TX), Find & Form Space (Boston, MA), The Samek Art Museum at Bucknell University (Lewisburg, PA), Receiver Gallery (San Francisco, CA) The New Art Center (Newton, MA) and Montserrat Galleries (Beverly, MA).
Other Experience
Pamela Meadows has contributed to The American Alliance of Museums: The Center For The Future of Museums, Big Red & Shiny and Art New England, among others. In 2018 she served as the guest juror for the Univeristy of Wyoming Art Museum's Annual Student Exhibition. In 2019, Meadows was invited to attend the Wyoming Art Council's Annual Conference in Cheyenne as a portolfio reviewer.
Publications/Creative Works
In 2012, Meadows published "Labors of Language: Crafting A Revival for Medium in Contemporary Art" and presented the project at the Critical Information Conference at the School of Visual Arts, New York.
Honors and Awards
She is the recipient of the 2013 New England Museum Association (NEMA) University Products Award, an annual grant given to one curator in the New England region.
Professional Website