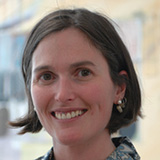 Kris Heintz-Nelson
Associate Professor of Drawing
School of Art and Design
College of Performing and Visual Arts
Contact Information
Office Hours
T/TR 12:15-2:15 or by appointment
Education
M.A. University of Northern Colorado, Greeley CO
B.F.A. University of Wisconsin - Stout
Professional/Academic Experience
A Wisconsin native, Kris has lived, worked, and enjoyed Colorado for over a decade. After a broad range of experiences, Kris returned to school to pursue her life-long passion for teaching visual art. Kris currently teaches Art Appreciation, Drawing II, and Women Artists for UNC.
Research/Areas of Interest
Her current research interests include incorprorating the foundations of semiotics and phenomenology into her curriculum, and utilizing the communicative power of visual art to help students understand how themes, metaphors, and context affect meaning.