Fibers
The Fiber Arts area offers courses in Fiber Design and Weaving.
The studio includes facilities for various surface processes such as screen-printing and dye work, as well as cloth construction on tapestry, four- and eight-harness floor looms. Including the recent upgrade of fourteen new Schacht 4 and 8 harness floor looms and twenty new tapestry looms. Traditional and contemporary approaches in both two and three dimensions are explored.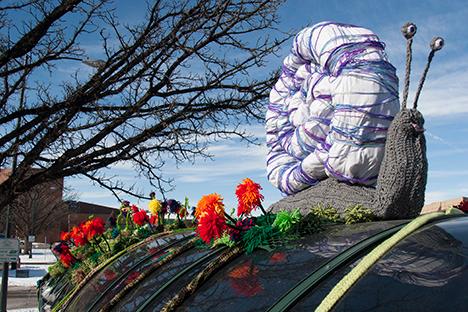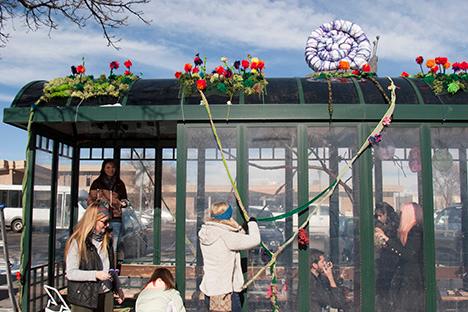 Community Engagement
Lynn Cornelius, head of the Fibers area in the School of Art & Design, led her students in the collaboration of creating a fantastical garden intended to surprise and delight people as they went about their everyday routine of waiting for a bus.
"Getting my hands dirty in several different medias really helped me grow as an artist by allowing me to explore my own interests freely. With support from the knowledgeable professors I feel very confident about my future endeavors; inside the classroom and out."
Caitlyn Urhammer
"I've bonded with faculty, classmates, and art unique to this environment. Here I grew to be knowledgeable, sensible, flexible, deliberate, introspective, and ultimately an artist I never thought I would be. I treasure my experiences; they will always be part of me and my art."
Tania Silver
Faculty & Staff
Faculty Work