Current Exhibitions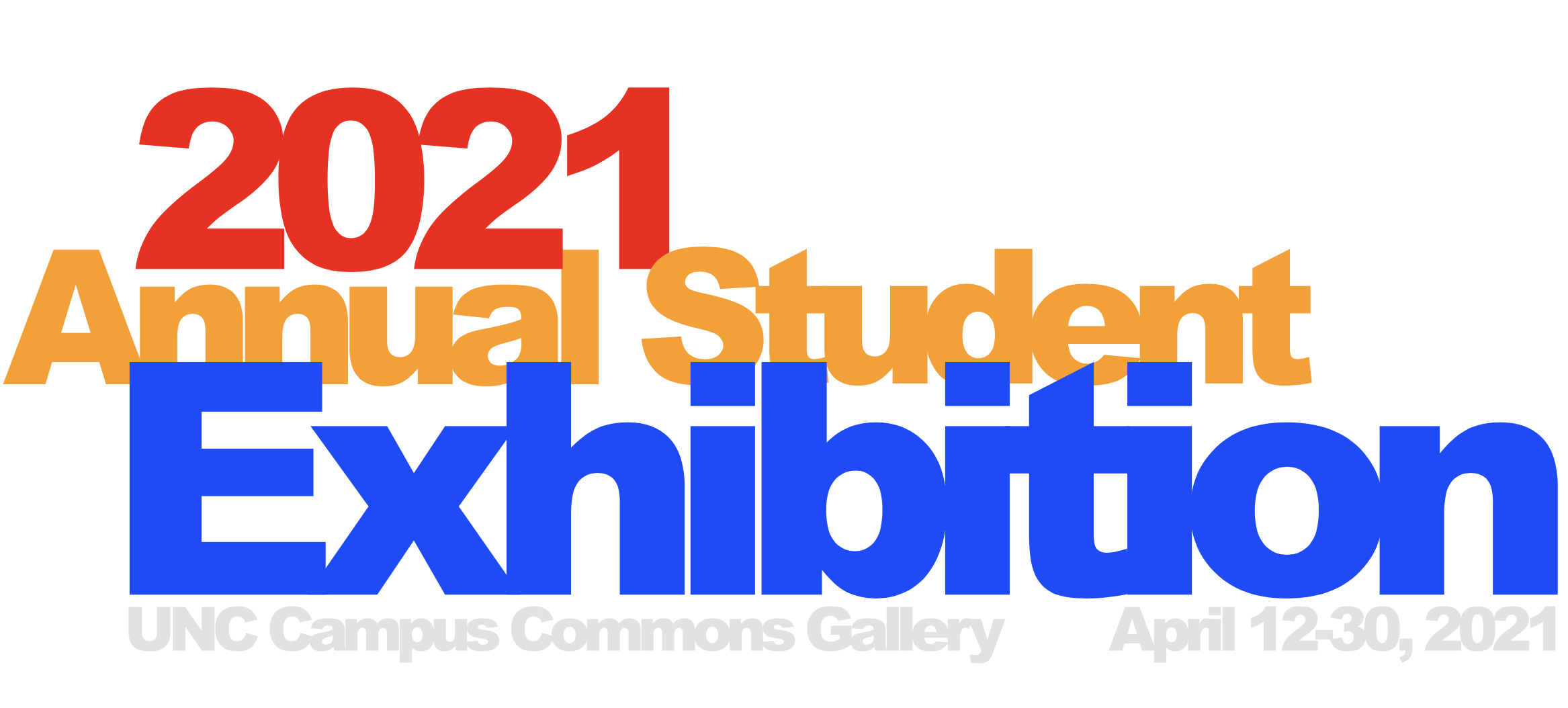 2021 Annual Student Exhibition
April 12–30, 2021
Campus Commons Gallery
The Annual Student Exhibition is a juried showcase of students artwork, representing all levels and studio concentrations within the School of Art & Design.
Virtual Juror's Talk & Award Celebration
Featuring Eric Robert Dallimore
Thursday, April 15 @ 5pm
Join on Zoom
Guest Juror
Eric Robert Dallimore is a many-faceted contemporary artist: A large-scale sculptor, photographer and installation artist, whose work ranges from a public-art piece built from the wreckage of homes lost to Hurricane Katrina to a yearlong photographic documentation of the Denver modern ballet company Wonderbound. But there's more: Dallimore is also the Founder and Artistic Director of Leon Non-Profit Arts Organization, one of Denver's havens over the last 9 years for emerging and undiscovered contemporary artists, as well as an intimate space that explores performance + sound art. For two years, Eric worked as the curator and printer to showcase and manage 54 selected images from over 10,000 images of the notable musician John Denver's personal photography, which was unveiled in January 2014. For all of these efforts, Eric was named the 2014 Mastermind for Visual Arts by Westword Magazine and has been published over 65 times including articles in Time Magazine, NPR, Hyperallergic and Sculpture Magazine. For the last 10 years, Eric has also been an invested visual arts teacher through Think 360 Arts, a non-profit education program which works with schools in Colorado to help bring arts education to youth. Eric is formerly the adjunct professor of Professional Practices at Rocky Mountain College of Art & Design. Currently, Eric is working on two sculpture projects in La Junta and Alamosa County with grants from the National Endowment for the Arts; as well as a 2 new public art pieces at the Adams Youth Services Center in CO and at Citizen West in Five Points in Denver. Eric has also been accepted for a residency at La Napoule Art Foundation, France in Fall 2021.
View the 2020 Annual Student Exhibition
---
Andrew Bablo & Pat Milbery: In A New Light 1 & 2
Murals Are Permanently On View In Crabbe Hall Lobby
The lobby of Crabbe Hall, which houses our Oak Room Gallery and studios, served as a blank slate for duo Andrew Bablo and Pat Milbery to revitalize. The east coast/west coast collaboration between Andrew Bablo and Pat Milbery results in an unprecedented revitalization of Crabbe Hall lobby. Built in 1919, the building houses UNC's Oak Room Gallery and Visual and Performing Arts studios. Bablo and Milbery were inspired by the architecture and characteristics of the building such as its original oak doors, green marbled baseboards, and sky high arches and wanted their footprint within the space to compliment, not detract, from the classic beauty of the building's interior.
Pat Milbery is, above all, a creative collaborator, as well known for the large-scale murals he's created alongside some of the most prominent street and graffiti artists in the world as he is for the playful photo shoots and video parts he's participated in as a pro snowboarder. His vivid street art collaborations adorn the walls of dozens of boutiques, breweries, residences, bars, and other businesses in Denver, around the Rocky Mountains, across the country and around the globe, and he's helped curate and create major art installation projects for brands including the Ford Motor Company, X Games, Budweiser, Zumiez, Loveland Ski Area, Wahoo Fish Tacos, and Pabst Blue Ribbon. He has shared snowboard contest podiums with the likes of Shaun White and Travis Rice, and the Snowboard Camp Tour he founded to make freestyle riding more accessible to kids is now entering its second decade. He's also the co-owner of So-Gnar, an umbrella collective responsible for the Snowboard Camp Tour, the So-Gnar streetwear and apparel line he helps design, and the Shredded Beats hip-hop concert series he promotes. He's equally proud of his Minnesota roots and his 17 years of Colorado transplant status, and splits his time between Denver and Golden and wherever his van full of snowboard gear and aerosol cans take him.
From design to production, Andrew Bablo builds, crafts and experiments through the use of various media. Seeing no boundaries or limitations, he loves to work interactively, large-scale and in the eye of the public. Bablo started his career in branded and licensed apparel design, working with major league sports teams across the country. He spent years creating garments for several retail brands including Reebok and '47. Later, Bablo collaborated with the industry's top artists, athletes and brands as the former Editor-in-Chief of Steez Magazine. Over the course of nine years and 35 issues, Bablo grew the magazine from a black and white photocopier to a major publication, distributing throughout thousands of major newsstands such as Barnes & Noble in the U.S. and Canada. In 2015, Bablo founded Steez Design, bringing his artistic background to the commercial design world. Bablo graduated from Montserrat College of Art in 2007 with a Bachelors Degree in Graphic Design. Currently residing north of Boston, he works as an artist, designer and entrepreneur.
Gallery Hours
Holiday Closures
March 15-19th
Campus Commons Gallery

Monday 10:00 am-11:00 am & 12:00 pm-4:00 pm
Tuesday 10:00 am-11:00 am & 12:30 pm-4:00 pm

Wednesday 10:00 am-11:00 am & 12:00 pm-4:00 pm

Thursday & Friday 10:00 am-4:00 pm
Mariani Gallery
By Appointment:
galleries@unco.edu
Locations
Campus Commons Gallery
Campus Commons, 1st fl.
(View Map)
Mariani Gallery
Guggenheim Hall, Rm 100
(View Map)
---
Parking