Programs
Public Events and the Visiting Artist Program
UNC Galleries' educational mission offers numerous opportunities for college students, faculty, K-12 teachers, and the community to enjoy our exhibiitons. We activate each of our exhibitions with programs such as: artist talks, interdiscliplinary panels, gallery receptions and hands-on workshops. All of our public programs are free to UNC students and the public.
The Visiting Artist (VA) Program welcomes experts from around the country to Greeley for one-day campus visits or week-long "micro-residencies." The VA Program offers unique opportunities for firsthand discussion with artists, curators and scholars to provide a closer look at how creative professionals live and work. Visitors present their practices in public lectures and are integrated into the curriculum through targeted, intentional classroom visits, individual student critiques and collaborative workshops.
---
Share your experiences
#UNCGALLERIES
#bearswholoveart
---
All exhibitions and public programs are FREE and open to the public!
Fall 2019 Visiting Artists & Public Programs
Opening Reception: YUCCA FOUNTAIN
Campus Commons Gallery
1051 22nd Street, Greeley
Visit Yucca Fountain... it's not a mirage! It's the gallery restoration of a 1950s atomic era soda fountain by Boston-based artists Andrew Bablo and Helen Popinchalk. Yucca Fountain is a place that could only have existed in the badlands of the American west.
In its heyday, Yucca Fountain was the watering hole and gathering spot. It beckoned travelers emerging from the desert with the promise of a cold, sweet milkshake. It was a place to get a malt and watch the distant mushroom plumes expand in the stratosphere.
Set within the heart of Greeley, Colorado, this restoration pays homage to the zenith of ice cream culture and the atomic sublime. We welcome a new generation of patrons to experience Yucca Fountain first hand and savor this piece of history... while it lasts!
Opening night will feature food and beverage served from the restored soda fountain and priced to reflect the 1950s... so bring your change! No cards will be accepted. *All proceeds raised opening night will be donated to the UNC Bear Food Pantry- a collaborative initiative on campus that supplements the food supply for any UNC students experiencing hunger and struggling to buy food.
UNC parking lots near Campus Commons is FREE beginning at 5pm. Prior to 5pm, parking is free along nearby side-streets in non-UNC parking lots.
Follow along on Instagram:
@yucca_fountain | @unc_galleries
Art Education Speaker Series with Shantell Martin
Campus Commons Multipurpose Room
Below the surface of Shantell Martin's signature black and white drawings is an artists' inquiry into the role of artist and viewer, where a work of art is more than an object of admiration disconnected from its inception. With a meditative process defined by an uninhibited flow, her compositions embody her internal state and the impermanence of the world around her. Exploring themes such as intersectionality, identity and play, Martin is a cultural facilitator, forging new connections between fine art, education, design, philosophy and technology.
Kindly RSVP to Dr. Connie Stewart, connie.stewart@unco.edu, Office: 970-351-2426
Richard Gutman, Visiting Scholar
Public Talk: When the Romance of the Road Meets the Reality of the Gallery

Campus Commons, Lobby
Richard Gutman has been working in the diner field since 1970. He graduated from Cornell University in 1972 with a Bachelor of Architecture and a thesis on diners. Beginning in the early 1970s he popularized diners—through slide shows at museums, numerous articles, and a nationwide lecture tour. He has spoken at the annual meeting of the National Trust for Historic Preservation, the Smithsonian Institution, and at many architecture schools, historical societies and libraries.

He is the author of seven books, including four on the history of diners, viz: American Diner (1979); American Diner Then and Now (1993 and 2000); From U.S. 40 to the Back 40: The Story of Smokey Wentzell's Pole Tavern Diner (2004); and The Worcester Lunch Car Company (2005). He is the leading authority in the field and has been involved in more than 100 restoration projects. He was a consultant for design development for the Silver Diner chain, based in Rockville, Maryland. This restaurant group of new, old-style diners opened their first unit in 1989 and now is operating in 15 locations.
From 2005 to 2016, he was the director and curator of the Culinary Arts Museum at Johnson & Wales University in Providence, Rhode Island, one of the nation's most prominent cooking schools. While there, he and his team of four staff members developed and installed 96 exhibitions, including the 4000-square-foot show, "Diners: Still Cookin' in the 21st Century."

He was guest curator for "American Diner," January 8-August 6, 1995, at the National Heritage Museum, in Lexington, Massachusetts. He was also guest curator for "Counter Culture: The Diner in American Life," at Copia: The American Center for Wine, Food & the Arts, in Napa, California, May 26-October 2, 2006.

He was the subject of a front-page profile in The Wall Street Journal and was written up in "The Talk of the Town" in The New Yorker. The editor of Yankee, New England's Magazine, stated matter-of-factly, "Nobody knows more about these classic eateries than Richard Gutman."
In June of 2019, he donated the "Richard J.S. Gutman American Diner Collection" to The Henry Ford, a museum complex in Dearborn, Michigan, where it will be digitized for online accessibility. It will join the largest and most significant collections in the United States concerning the impact of the automobile, industrial manufacturing and design, and other aspects of American culture and everyday life.
Andrew Hurley, Visiting Scholar
Public Talk: The Myth of the American Diner and the Conundrum of Nostalgia
Campus Commons, Multipurpose Room
Andrew Hurley is Professor of History at the University of Missouri-St. Louis. He is a specialist in the field of urban history with a strong interest in environmental history, public history, and twentieth-century consumer culture. His major book publications include: Beyond Preservation: Using Public History to Revitalize Inner-Cities (Philadelphia: Temple University Press, 2010); Diners, Bowling Alleys, and Trailer Parks: Chasing the American Dream in Postwar Consumer Culture (New York: Basic Books, 2001); and Environmental Inequalities: Class, Race, and Industrial Pollution in Gary, Indiana, 1945-1980 (Chapel Hill: University of North Carolina Press, 1995). He currently teaches in the Museums, Heritage, and Public History program at the University of Missouri-St. Louis.
Artist Talk with Helen Popinchalk & Andrew Bablo
Campus Commons, Multipurpose Room
The Boston-based artists who teamed up to bring us Yucca Fountain return to campus for the public artist talk. Helen Popinchalk is a printmaker who fell down the rabbit hole of installation art when she collaborated on a blacklight poster show with two other Boston-area screen printers. From there, squeegee in hand, she never looked back. She has been working on creating immersive installations with Andrew for the past three years. Andrew Bablo is a graphic designer by trade, but he prefers to loosely use the term "design". As much as he enjoys designing a project, he'd just as soon paint it on a wall or in his shop building and fabricating to bring the designs to life.
Artist Talk with Michael Dowling
Campus Commons, Bear Pride Room
Michael Dowling draws and paints on paper and canvas. He approaches his work in a visual sense from a classical side. Dowling is interested in the strength of the visual aspects of art from previous times and how and why that look can have impact in our time. He approaches his work with elements of the classical and the techniques learned while studying in Italy. That historical approach gives Dowling's work a look of the historical blended with subject matter of the hypermodern.
To learn more about Michael Dowling, visit his website.
Halloween at Yucca Fountain
Campus Commons Gallery
The UNC Galleries student staff presents a Halloween bash and trick or treating at Yucca Fountain! Stay tuned for updates and more information about this spook-tacular event!
Dine N' Dash: A Professional Practice Workshop
Campus Commons Gallery
Set within the gallery resotration of the 1950s atomic-era diner Yucca Fountain, this professional practice workshop is a blend of the diner term "dine n' dash" (meaning to eat and run without paying) and speed dating. Each diner booth will contain an arts professional paried with a student for simultaneous, one-on-one review sessions. Each meeting will last 15 minutes before the juke box music starts and participants rotate to the next seat. Light diner snacks to be provided!
Guest reviewers include: Julia Rymer and Jessica Loving-Compos of ArtBoss ; Artist, Eleanor Sabin ; Artist and UNC Adjunct Faculty, Johanna Mueller
Participation is FREE but steats are limited. To RSVP, please email: galleries@unco.edu
Artist Talk with Yumi Roth
Campus Commons, Multipurpose Room
Yumi Janairo Roth was born in Eugene, OR and raised in Chicago and suburban Washington DC. She currently lives and works in Boulder, Colorado where she is a professor or sculpture at the University of Colorado. Roth has created a diverse body of work that explores ideas of immigration, hybridity, and displacement through discrete objects and site-responsive installations, solo project as well as collaborations. In her projects, her objects function as both natives and interlopers to their environments, simultaneously recognizable and unfamiliar to their users. She received a BA in anthropology from Tufts University, a BFA from the School of the Museum of Fine Arts-Boston and an MFA from the State University of New York-New Paltz. Roth has exhibited and participated in artist-in-residencies nationally and internationally.
To learn more about Yumi Roth, visit her website.
Southard Award Semifinalist Presentations
Guggenheim Hall, Room 001
The Southard Award is the School of Art and Design's most prestigious competition. Students submit a written proposal selected for a public presentation of creative work. The objective for the competitive process is provide students with an opportunity to develop the materials, documentation and conceptual sophistication, needed in order to pursue advanced academic or professional opportunities upon graduation from UNC. Semi-finalists will present their proposals in person to the panel and community for final selection. Of the four presentations, one semi-finalist will be selected as this year's Southard Award Winner.
This Years Semifinalists: TBA
---
Past Galleries Programs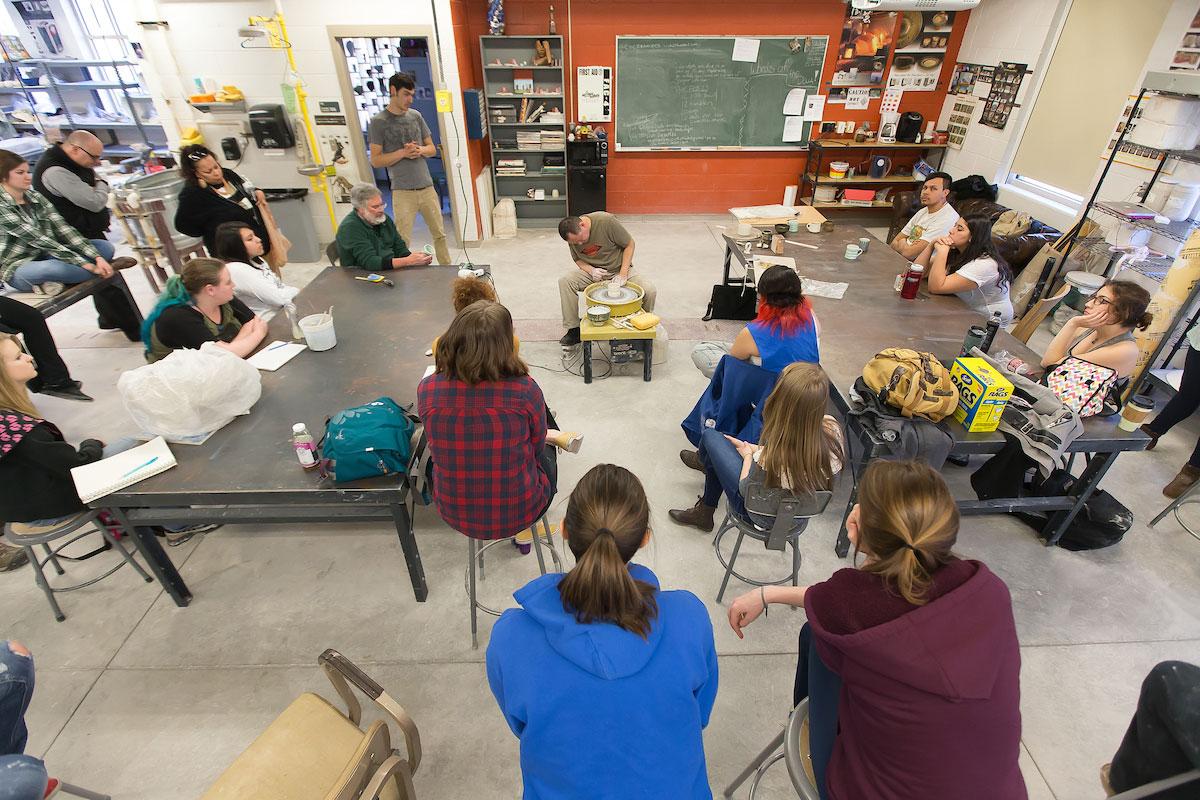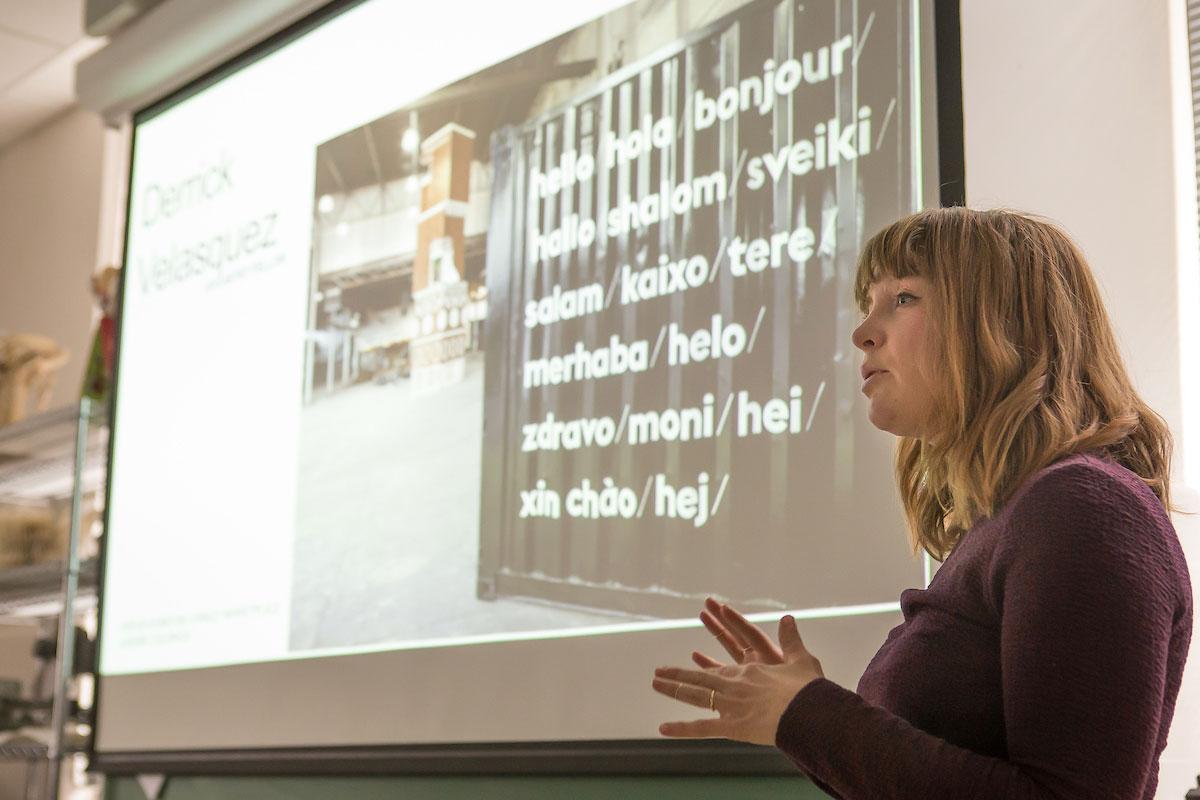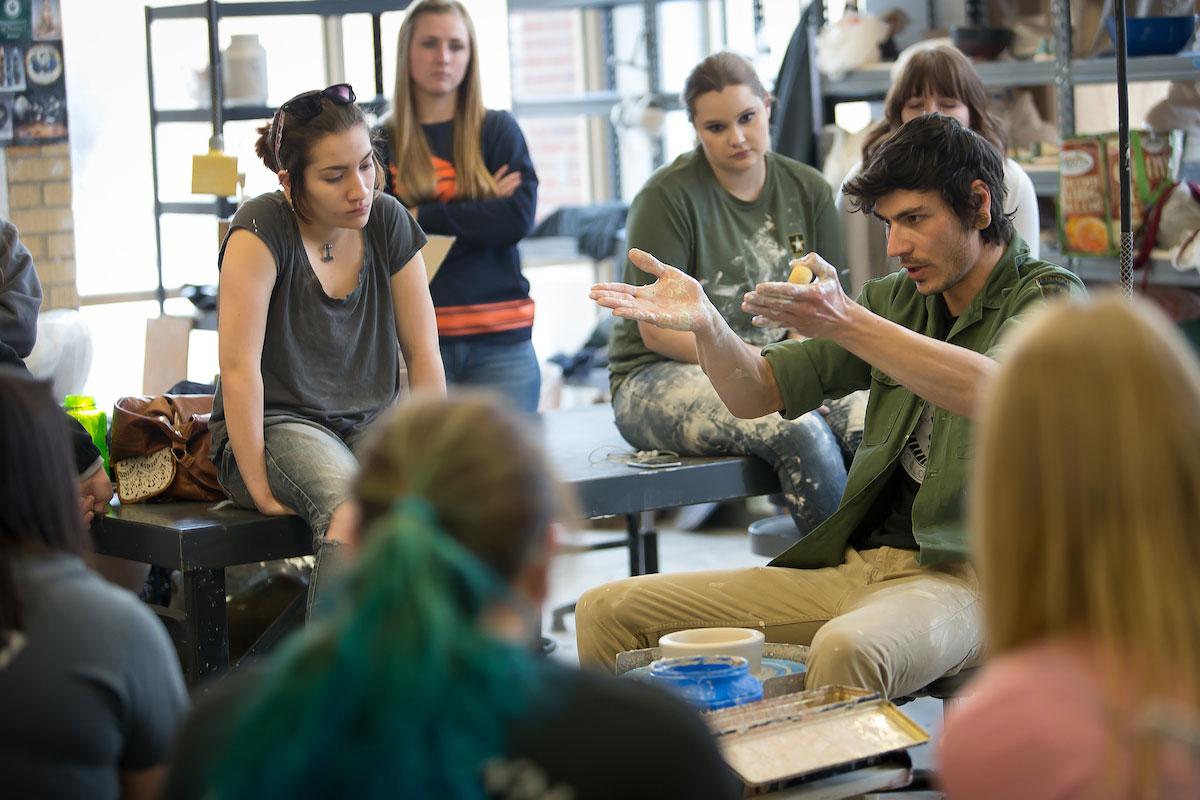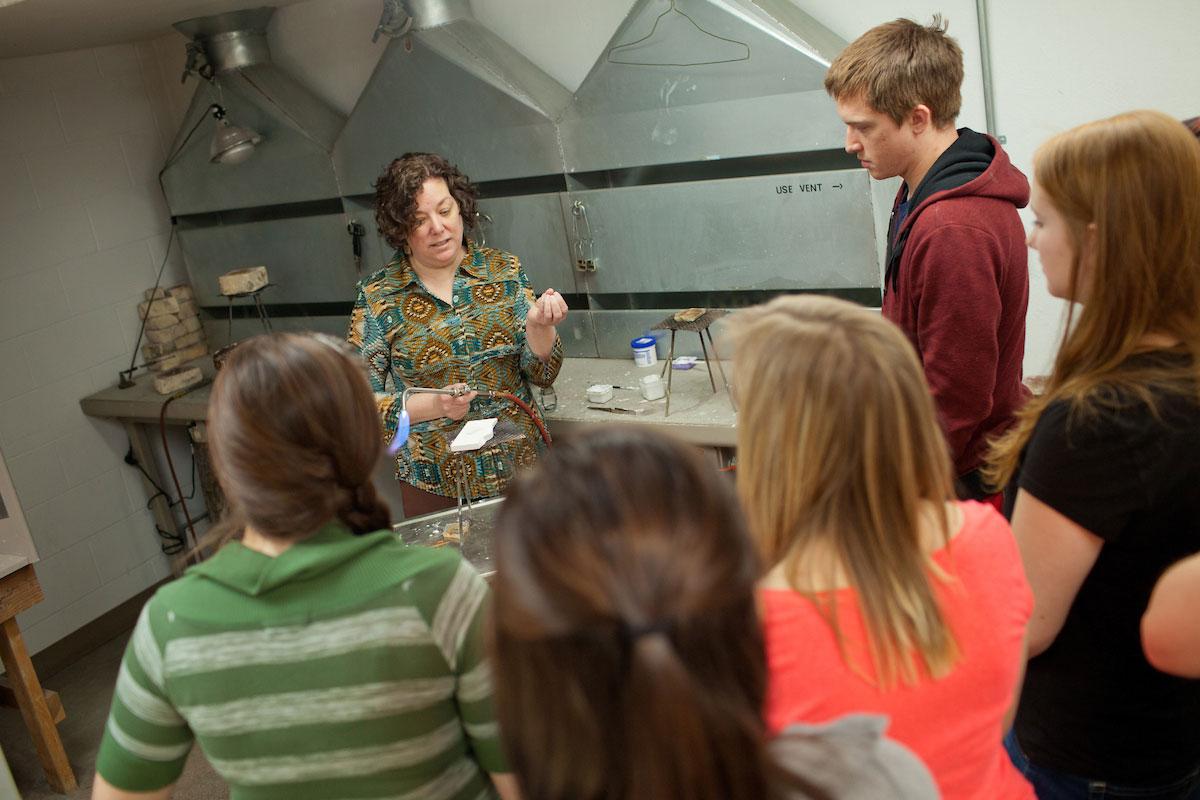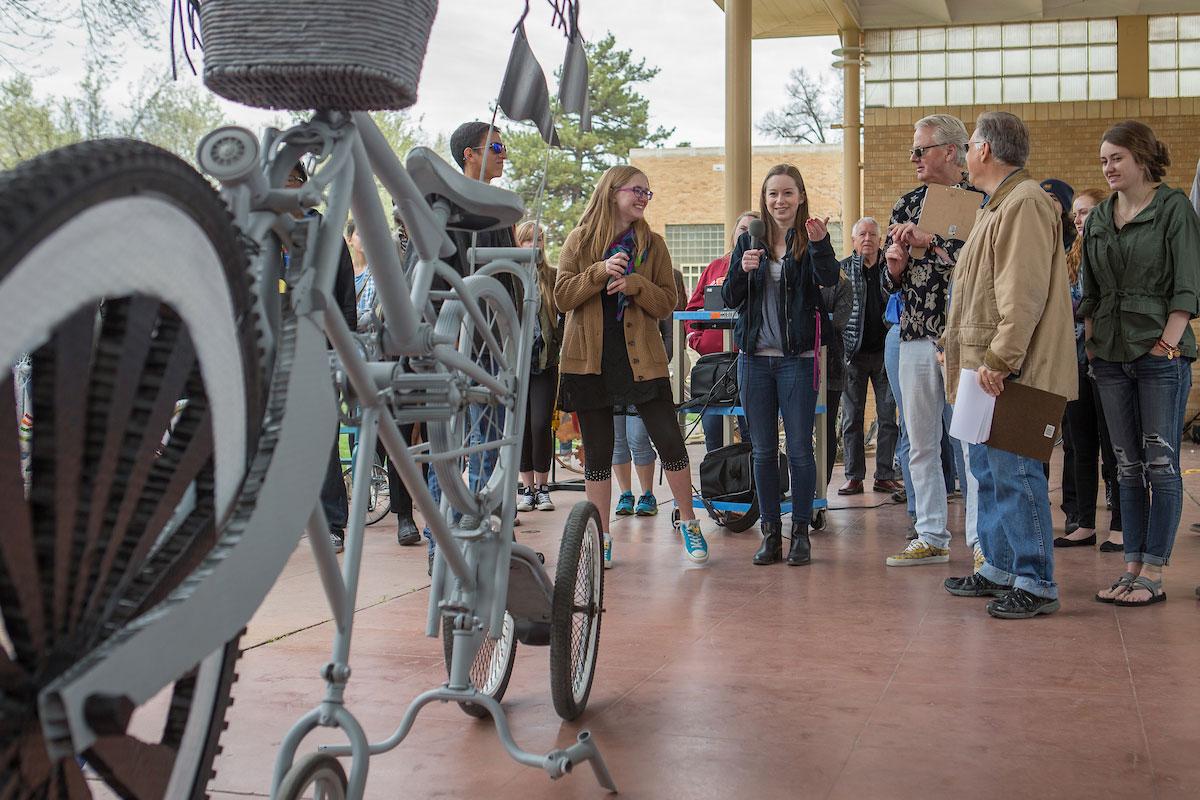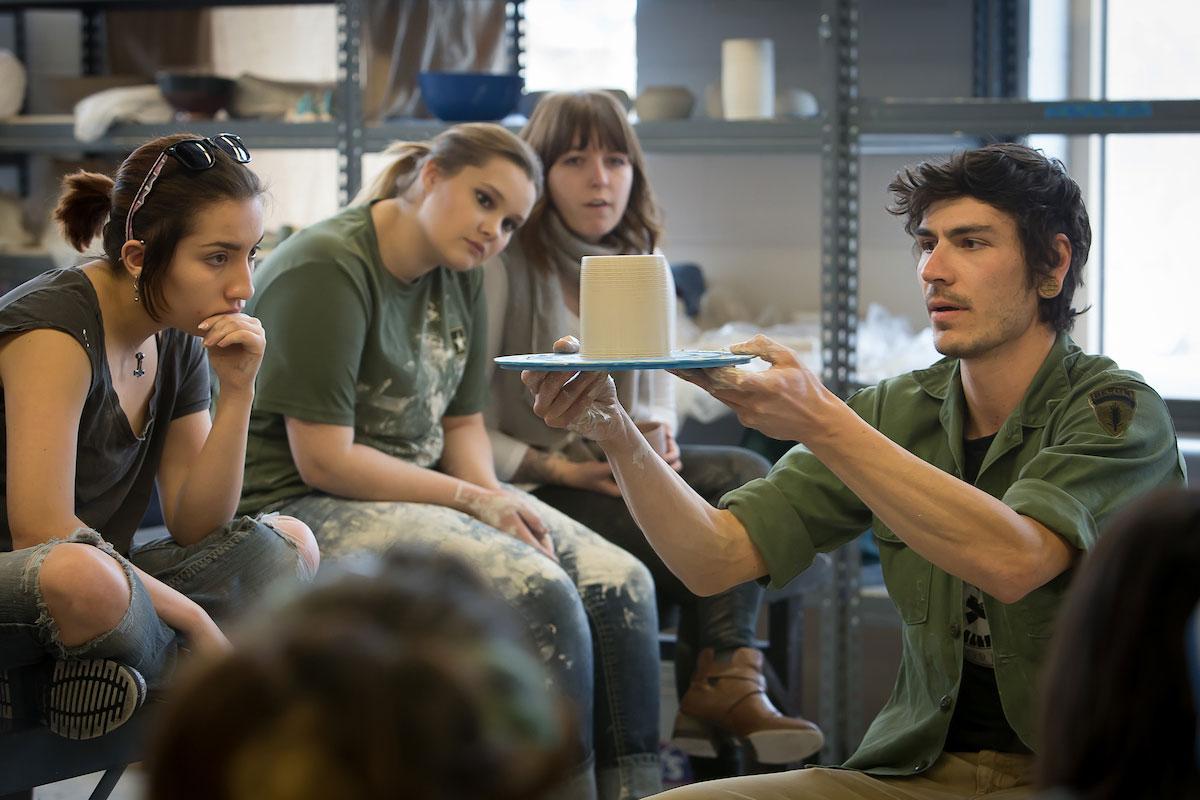 Join Our Email List!
Stay up to date on gallery exhibitions and programs: