Folk and Bluegrass Studies
The UNC School of Music is thrilled to announce the creation of the Folk and Bluegrass Studies program. The program began in Fall of 2017 and welcomes musicians who play bluegrass fiddle, mandolin, banjo, guitar, and bass, and is available to students pursuing any of the school's existing undergraduate degree programs in Liberal Arts, Performance, Music Education, Music Business, Jazz Studies, or Composition.
Folk and Bluegrass instrumentalists who have completed an undergraduate degree may also enroll in a one-year Graduate Performance Certificate.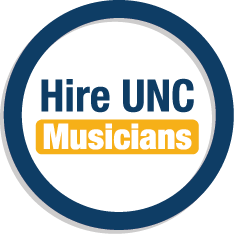 Faculty & Staff

Guitar, Folk and Bluegrass Adjunct Faculty
Frasier 204C
(970) 351-2993
Martin.Gilmore@unco.edu

Folk and Bluegrass Banjo
Adjunct Faculty
Frasier 204C
(970) 351-3190
Ron.Lynam@unco.edu

Fiddle, Folk and Bluegrass
Adjunct Faculty


(970) 351-2993
Natalie.Padilla@unco.edu

Bass, Folk and Bluegrass
Adjunct Faculty

(970) 351-2993
Eric.Thorin@unco.edu