Colorado Brass Celebration
January 14, 2023 | 9am-2:30pm
UNC Campus Commons & Milne Auditorium
FREE REGISTRATION
This one-day brass festival hosts students for an engaging lineup of workshops, master classes, performances, and more, led by UNC brass faculty and students with special guest artists.
---
Schedule
Registration
Campus Commons Lobby
Adam Unsworth Master Class
Campus Commons Performance Hall
Air Force Academy Brass Quintet Performance & Presentation
Campus Commons Performance Hall
Recital with Adam Unsworth & UNC Brass Faculty
Milne Auditorium (Kepner Hall)
Guest Artists
Adam Unsworth
Adam Unsworth is Professor of Horn at the University of Michigan's School of Music, Theatre and Dance. Prior to his appointment in Ann Arbor, Adam was a member of The Philadelphia Orchestra (1998-2007) and the Detroit Symphony Orchestra (1995-1998). He has toured Asia and Europe with the San Francisco Symphony, is a frequent guest with the Detroit Symphony. Currently he serves as Principal Horn of the Ann Arbor Symphony Orchestra and is a member of the Bay Area horn quartet, Quadre.
Adam has five recordings as a leader to his credit Balance (2014), a jazz recording for horn, jazz sextet and chamber orchestra, Snapshots (2013), a recording of contemporary classical music in collaboration with composer/pianist Catherine Likhuta, Just Follow Instructions (2009), featuring the chamber music of saxophonist/composer Daniel Schnyder, Next Step (2008) and Excerpt This! (2006) – jazz recordings which received critical acclaim from both jazz and classical reviewers. He was soloist on the premiere of Mondrian's Studio, a concerto by Paul Dooley for horn and wind ensemble, and the premiere recording of Dana Wilson's Concerto for Horn and Wind Ensemble with the University of Michigan Symphony Band.
Adam is a member of the New York based Gil Evans Centennial Project, which has received two Grammy nominations for its' recordings Centennial and Lines of Color, and won the 2013 Jazz Journalist Association Award for Large Jazz Ensemble of the Year. He is also part of Japanese big band leader Miho Hazama's M-Unit Band and has appeared on her most recent Grammy nominated recordings, Dancer in Nowhere and Time River. He has been as guest musician with new music ensembles Alarm Will Sound, the Meridian Arts Ensemble, Ensemble Signal, Ensemble Linea, and the Slee Sinfonietta.
A former faculty member at Temple University, Adam has appeared as a recitalist and clinician at many universities across the United States, and has made several solo and chamber appearances at Carnegie's Weill Recital Hall. Unsworth received his formal training at Northwestern University and the University of Wisconsin-Madison.
---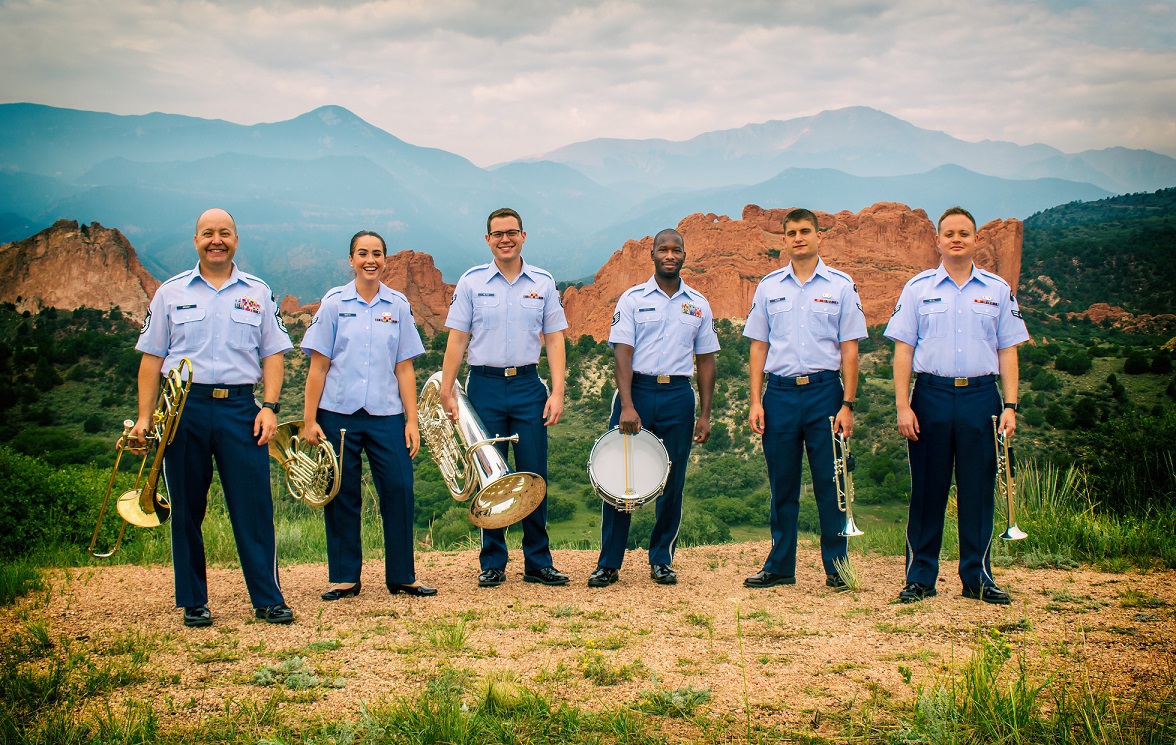 Stellar Brass from the United States Air Force Academy Band
Described by the International Trumpet Guild as "an ensemble full of variety, panache and virtuosity," Stellar Brass is an original and innovative brass quintet performing a broad range of eclectic, musical styles. They are dedicated to providing unwavering support for the training of the Air Force Academy Cadets, and to the unique telling of the Air Force story nationwide. Stellar Brass has represented the United States Air Force as musical ambassadors through internationally distributed audio and video recordings and broadcasts, and are nationally recognized and respected as clinicians, presenting university, college, and high school master classes. They have provided musical support at numerous civic and military ceremonies, and have spotlighted the Air Force at prestigious symposia such as the International Trumpet Guild Convention, the Midwest Band and Orchestra Clinic, the Colorado Music Educators Association Clinic and Conference and at highly-coveted public performances at major concert halls throughout America.
UNC Faculty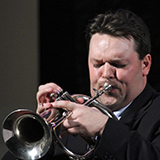 John Adler, Trumpet
A native of Reno, Nevada, John Adler joined the faculty at the University of Northern Colorado in 2010, coming from Virginia Tech where he taught trumpet and jazz studies for four years. Dr. Adler's D.M.A. in trumpet performance was completed at the University of Miami, where he studied with former principal trumpet of the Chicago Symphony Orchestra Craig Morris.
Dr. Adler has a diverse performance resume and is in demand as a soloist/educator all across the country. In the spring of 2010, John was featured soloist with the New River Valley Symphony Orchestra, the Manchester Symphony Orchestra, and performed guest recitals at the Ohio State University, Western Michigan University, Bowling Green State University, and Grand Valley State University. His first solo CD "Confronting Inertia" was released on Origin Classical in October 2009. The CD includes six new classical works by jazz composers commissioned for the project.
Dr. Adler has performed with the Reno Philharmonic, the symphony orchestras of Eugene, Miami, and Roanoke, the Kandinsky Trio, the Palm Beach Pops, and many other classical ensembles. He has shared the stage with numerous jazz greats including John Hollenbeck, Maria Schneider, Bobby Shew, and Conrad Herwig, and has played lead trumpet in the Jaco Pastorius Big Band, the Denis Noday Big Band, the Reno Jazz Orchestra, and the Grammy Award Winning University of Miami Concert Jazz Band. He is a founding member of the jazz chamber group Seven Minus.
Dr. Adler completed a double-major undergraduate degree in classical and jazz performance at the University of Nevada-Reno, and a Master of Music degree at the University of Oregon.
---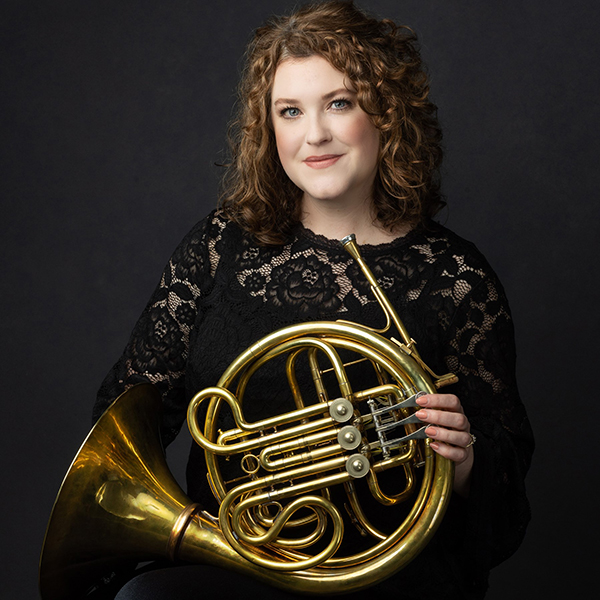 Lauren Varley, Horn
Originally from Lehigh Valley, Pennsylvania, Lauren Varley received her Bachelor of Music degree from the Boyer College of Music at Temple University and the Master of Music degree from San Francisco Conservatory of Music. Additionally, Lauren spent summers studying at the Bar Harbor Brass Festival, Sewanee Summer Music Festival and Aspen Music Festival and School. Her primary teachers include Adam Unsworth and Bob Ward.
Lauren's energetic passion as an educator and performer has led to performances throughout the country at venues from the Hollywood Bowl to the Kennedy Center for the Performing Arts. Prior to joining the faculty at the University of Northern Colorado, Lauren served on the faculty at Luther College in Iowa and The University of Alabama.
In addition to her orchestral experience, Lauren enjoys playing music for opera and ballet. She plays frequently with the Colorado Ballet and is a member of Opera Colorado. Lauren is currently also a member of the Greeley Philharmonic, Denver Brass and Fresno Philharmonic in California. In Colorado, she has also performed with the Ft. Collins Symphony, Steamboat Symphony, Boulder Philharmonic and Colorado Springs Symphony. She is a former associate member of the Civic Orchestra of Chicago.
An ardent advocate for new music, Lauren has performed and toured extensively with the chamber ensemble Gemini Duo, which has commissioned several new works for horn, violin, and electronics. Lauren has also performed and recorded in the award-winning Opera Parallele, a San Francisco based opera focusing on contemporary works. In California, she also performed with the Marin Symphony, Monterey Symphony, Santa Rosa Symphony, Symphony Napa Valley and San Francisco Symphony. In 2008, Lauren was the grand prize winner of the Berkley Piano Club Concerto competition.
In addition to teaching and performing, Lauren loves skiing and hiking throughout Colorado and is training for her second triathlon. She is also a "retired" championship level Irish dancer. Lauren lives in Greeley with her husband and four children.
---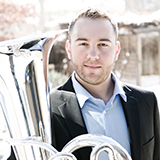 Steven Vaughn, Euphonium
Steve Vaughn, a native of upstate New York, is a freelance musician across the front range of Colorado and is currently Adjunct Professor of Euphonium at the University of Northern Colorado in Greeley, CO. Equally at home performing on both tuba and euphonium, Steve holds the position of Solo Euphonium with Colorado Brass and Principal Tuba with the Fort Collins Symphony.
Steve received his undergraduate degree in Music Education and Euphonium Performance from Ithaca College (Ithaca, NY), where he studied with Dr. Aaron Tindall. He has a Master of Music degree in Euphonium Performance from the University of Colorado Boulder (Boulder, CO) studying with Michael Dunn where he also completed a Doctor of Musical Arts degree in Tuba Performance and Pedagogy.
Steve is an active soloist on euphonium having appeared as a guest soloist with the Boulder Concert Band, Pikes Peak Brass Band, Colorado Brass, and Rocky Mountain Brassworks. In 2015, he took first place in the Arapahoe Philharmonic Gordon T. Parks Concerto Competition. He appeared as a guest soloist with the orchestra performing Vladimir Cosma's Euphonium Concerto. Steve also performed Jukka Linkola's Euphonium Concerto as a finalist for the Jefferson Symphony International Young Artists' Competition in 2014. Steve has also performed orchestral repertoire on euphonium with groups such as the National Repertory Orchestra. As a tubist, Steve has performed with multiple bands and orchestras including the Colorado Springs Philharmonic, Denver Municipal Band and San Juan Symphony. Steve is also an active chamber musician having performed with Boulder Brass and was a member of the graduate brass quintet while at CU-Boulder. The quintet was one of 4 international ensembles accepted into the inaugural American Brass Quintet Seminar @ Aspen Music Festival in 2018.
In his spare time, Steve enjoys homebrewing and traveling with his wife Jessica. They have 2 pets, a cat and dog, Bruce and Olivia.
---
Nat Wickham, Trombone
Nat Wickham is Professor of Music, Trombone and Euphonium. A versatile performer and experienced teacher, his work as a classical and jazz soloist, recording artist, clinician, and adjudicator, has led to performances throughout the United States, Canada, and Europe. Currently, he is principal trombonist with the Greeley Philharmonic Orchestra and lead trombonist in the Colorado Jazz Orchestra. He has performed with the Colorado Symphony Orchestra, Rochester Philharmonic, Colorado Music Festival, Spokane (WA) Symphony, Boulder Philharmonic Orchestra, and the Boulder Brass. He was principal trombonist with the Rochester Broadway Theater League for two years. He currently serves on the Board of Directors for the International Trombone Association and is a frequent performer at ITA Festivals. Under his baton, the UNC Trombone Choir was invited to perform at the 2001 International Trombone Festival in Nashville.
For six years he was lead trombonist and soloist in the Bob Curnow Big Band and has performed with the Woody Herman Orchestra, Natalie Cole, the Nelson Riddle Orchestra, and countless jazz artists.
Wickham holds the Doctor of Musical Arts and the Performer's Certificate from the Eastman School of Music. His BM and MM degrees in trombone performance are from the University of Northern Colorado. He has studied trombone with John Marcellus, Buddy Baker, Carl Lobitz and Roy Main. Jazz improvisation and composition teachers have included Buddy Baker, Ramon Ricker, Jiggs Whigham, Bill Dobbins and David Hanson. Prior to his appointment at UNC, Wickham taught at the Eastman School of Music, Eastern Washington University, Central Michigan University, and the University of Wisconsin at River Falls.