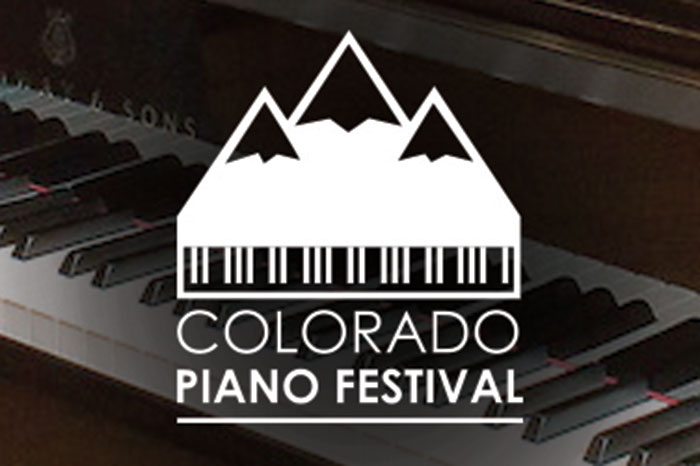 Colorado Piano Festival
July 27-29, 2018
The Colorado Piano Festival, hosted by the University of Northern Colorado, will be held July 27-29, 2018 at Milne Auditorium in Kepner Hall on the UNC campus in Greeley, Colorado. With three days of competition, concerts and masterclasses, there will be exciting opportunities for music-lovers, pianists and students of all ages and levels.
Attendees may register online for the Festival. Participants can also apply for the competition portion, and/or to perform in a masterclass, via the online registration form. Students will be notified of acceptance to the CPF Competition on or before May 15, 2018. Please review the 2018 CPF Competition Guidelines for full details and eligibility requirements.
Competition and Masterclass Application Deadline: May 1, 2018 (late applications will be accepted on a space-available basis)
---
Awards
Elementary Division: 1st Prize $100; 2nd Prize $50; 3rd Prize $25
Junior Division: 1st Prize $200; 2nd Prize $100; 3rd Prize $50
Senior Division: 1st Prize $300; 2nd Prize $150; 3rd Prize $100
Young Artist Division: 1st Prize $500; 2nd Prize $250; 3rd Prize $100
First Prize Winners in Junior, Senior and Young Artist Divisions will receive additional performance opportunities.
Contact:
Dr. Lei Weng
Lei.Weng@unco.edu
Location:
Milne Auditorium
Kepner Hall 2050
University of Northern Colorado
Greeley, CO 80639
All events are in Milne Auditorium unless indicated otherwise.
All events are free of charge.
---
Registration Fees
Individual Rates
By March 1st: $80
By June 1st: $100
After June 1: $120
Group Registration
10+ individuals; fees are per person.
By March 1st: $60
By June 1st: $80
After June 1: $100
**For group registration, please contact Dr. Lei Weng at Lei.Weng@unco.edu**
---
2018 Guest Artist
Michael Chertock
Pianist Michael Chertock has fashioned a successful career as an orchestral soloist, collaborating with conductors such as James Conlon, Jaime Laredo, Keith Lockhart, Erich Kunzel and Andrew Litton. His many orchestral appearances include solo performances with the Philadelphia Orchestra, the Atlanta Symphony, the Dallas Symphony, l'Orchestre Symphonique du Montreal, the Toronto Symphony, the Baltimore Symphony, the Detroit Symphony, the Chattanooga Symphony, the Indianapolis Symphony and the Cincinnati Symphony.
Chertock performs frequently overseas, most recently playing and conducting a Gershwin program with the State Symphony Orchestra of Russia. In 2014, Chertock recorded a concerto by John Alden Carpenter with Keith Lockhart and the BBC Orchestra at the famed Dutton Epoch recording studio in London, England.
Claude Gingras of La Presse, Montreal, said of pianist Michael Chertock: "Chertock revealed himself as a first-rate pianist and an interpreter of noticeable interest through the freshness that he brought to these familiar scores....(he) displayed the sensitivity of a Chopin interpreter." The Boston Globe has called his playing "unmannered, zestful, and lovely." The Cincinnati Enquirer has described the Virginia native as "intelligent and disciplined...noble...finely finished...expressive and well-controlled." The Salt Lake City Deseret News said "Chertock... is a musical performer with an immense technical command of the piano." His 2003 performance on the Cincinnati Symphony Orchestra's recording of Petrouchka with Paavo Järvi turned in rave reviews in Gramophone and American Record Guide.
Chertock made his debut at the age of 17, performing the Rachmaninoff Piano Concerto No. 3 with Andrew Litton conducting. In 1994, Chertock released his first CD on the Telarc label, a collection of his original arrangements of music from movies entitled Cinematic Piano. American Record Guide said "(Chertock) plays beautifully, and Telarc's lush sonics bathe the listener in an intoxicating wash of piano sonorities." Cincinnati Enquirer critic Janelle Gelfand cited his "elegant techniques...just the right poetic tone." Since then, he has recorded three more discs with Telarc: Palace of the Winds, Christmas at the Movies and Love At the Movies, which have been praised for their lush, original arrangements and exquisite technical facility.
Chertock began conducting in 2001 when he stepped in for Maestro Carmon De Leone in performances of Cincinnati Ballet's The Nutcracker. He now serves as Assistant Conductor of that organization. Chertock is the Music Director of the Blue Ash-Montgomery Symphony, located in suburban Cincinnati, Ohio, and he frequently composes and arranges music for the orchestra's concerts. He has also conducted the Columbus (Ohio) Symphony and the Cincinnati Symphony and Cincinnati Pops Orchestras.
Chertock serves as chair of the piano department at the University of Cincinnati, College-Conservatory of Music, where he received his Master's Degree. He has garnered numerous awards at major competitions, among them the top prize in the 1989 Joanna Hodges International Piano Competition (Brahms Division,) and the grand prize in the 1993 St. Charles International Piano Competition. He also shared the silver medal in the 1991 World Piano Competition of the American Music Scholarship Association. He received the Rildia B. O'Bryon Cliburn Scholarship in 1986.
Chertock makes his home in Cincinnati with his wife Maaike, son Joshua and daughters Maria and Janneke. Most Sundays you can find him playing piano and organ for services at St. Barnabas Episcopal Church. In the coming season, he will return to Moscow for a performance with the State Symphony Orchestra of Russia, and will tour with the Boston Pops Orchestra.

2018 Schedule

Friday, July 27
9:00 am - Colorado Piano Festival Competition: Elementary, Senior Divisions. Frasier 90
9:00 am - Colorado Piano Festival Competition: Young Artist Division. Milne Auditorium
2:00-3:30pm - UNC Piano Faculty Masterclass, Elementary Division – Lei Weng
3:30-5:00pm - UNC Piano Faculty Masterclass, Elementary Division – Justin Krawitz
7:30 pm - Guest Artist Piano Recital – Michael Chertock
Saturday, July 28
9:00-11:00am - Guest Artist Piano Masterclass – Michael Chertock
2:00-4:00pm - UNC Piano Faculty Masterclass, All Divisions – Willem van Schalkwyk
Sunday, July 29
9:00 -10:30am - UNC Piano Faculty Masterclass, All Divisions – Adam Zukiewicz
11:00 am - CPF Competition Winners' Concert