2023 FESTIVAL ARTISTS
---
Thursday, April 20, 2023
CARMEN BRADFORD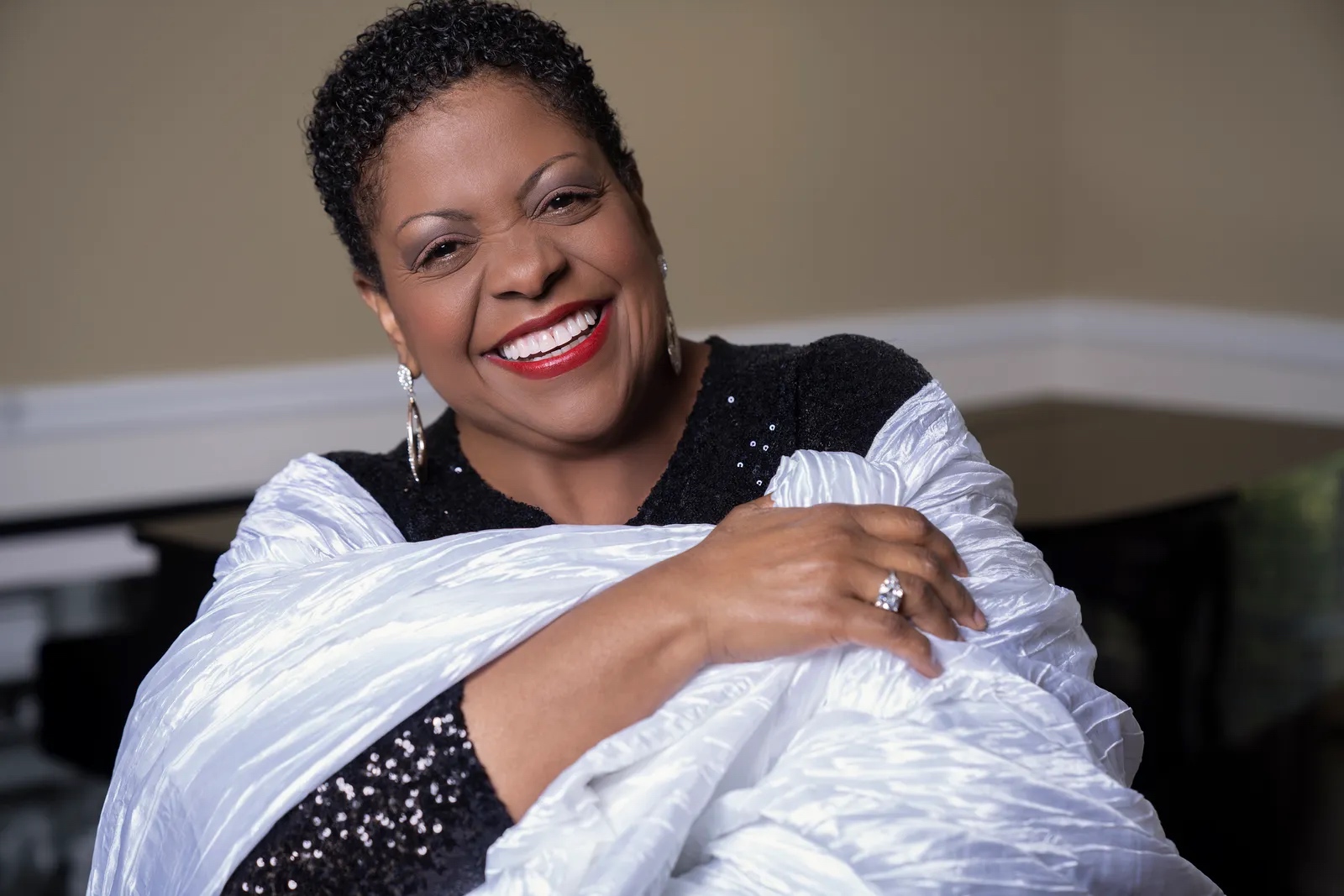 2022 Grammy Nominee, and recipient of the Los Angeles Jazz Society's Jazz Vocalist Award, Carmen Bradford, was born in Austin, Texas and raised in Altadena, California. Carmen Bradford grew up with music in her home and in her heart. It was only natural that Carmen would follow in the footsteps of her great family legacy being the daughter of legendary coronetist/composer Bobby Bradford and world-renown jazz vocalist/composer/author Melba Joyce.
Her grandfather Melvin Moore sang with Lucky Millender and his Big Band; Dizzy Gillespie's Big Band in the 1940's; and sang with the Ink Spots, making Carmen the third generation of incredible musicians. She has carved out a place in music history for herself and is playing an integral role in this uniquely American art form called Jazz. Carmen Bradford is jazz royalty.
At the age of 22 years old, Carmen was discovered and hired by William "Count" Basie and was the featured vocalist in the legendary Count Basie Orchestra for nine years. She has since performed and/or recorded with; Wynton Marsalis, Shelly Berg, Jeremy Monteiro, John Clayton, along with the Clayton-Hamilton Orchestra, Nancy Wilson, Lena Horne, Doc Severinsen, Tony Bennett, James Brown, Willie Nelson, Tierney Sutton, Liz Wright, Patti Austin, Byron Stripling, Dori Caymmi, George Benson, Frank Sinatra, Joe Williams, Kurt Elling, Jeff Tyzik, Freddie Cole, Benny Carter, Kenny Rankin, Lou Rawls, James Newton, David Murray, DIVA Jazz Orchestra, Dani Felber Big Band, Lincoln Center Jazz Orchestra, along with the National Symphony, Rochester Philharmonic, Dallas Symphony, Detroit Symphony, Vancouver Philharmonic, Philadelphia Pops, and countless artist around the world. Carmen performed on two Grammy Award winning albums with the Count Basie Orchestra in the 1980's and later collaborated on a third Grammy Award winning album, "Big Boss Band" with guitarist George Benson in 1991. Her soulful voice warmed the hearts of the world through the celebrated performance of the classic duet, "How Do You Keep The Music Playing" on the TONIGHT SHOW with Johnny Carson that same year.
Carmen Bradford began another chapter in her illustrious career as a solo artist with her critically acclaimed debut album, "Finally Yours" (Evidence Records) in 1992. The 1995 release of her second solo album, "With Respect" (Evidence Records) established the Atlanta based singer as one of "jazz music's most diverse and exciting vocal stylist" proving to the world that Carmen Bradford was a unique voice in her own right.
Carmen Bradford teamed with singer/composer Kenny Rankin for the Benny Carter Songbook Project making history once again on the duet "And All That Jazz". Some notable artist also on the album were Joe Williams, Ruth Brown, Bobby Short, Peggy Lee, Shirley Horn, Diana Krall, Diane Reeves, Jon Hendricks, among others. Carmen was asked by Benny Carter to sing "Key Largo" for this Grammy Award winning album. Her Performance on "The Benny Carter Songbook" marked another of Carmen's beautiful recording collaborations reaffirming her stardom.
On occasion, Carmen Bradford has loaned her talented voice to stage productions and the music of Hollywood films, cartoons for television/radio commercials, and the theater. She sang on the haunting soundtrack for Oprah Winfrey's "Beloved" and starred in the title role of Duke Ellington's Folk Opera "Queenie Pie" at the University of Texas at Austin's Butler School of Music.
Carmen Bradford's 2004 release, "Home With You" (Azica Records) is a warm and beautiful collection of vocal and piano duets with jazz great, Shelly Berg. The album is yet another departure for Carmen offering her fans a stripped down, intimate portrait of the artist they have grown to love.
Carmen Bradford returned to her big band roots with the release from "Sherrie Maricle & The DIVA Jazz Orchestra" featured on 'Live from Jazz At Lincoln Centers Dizzy's Place." This also brought Carmen back to her big band family, The Count Basie Orchestra, which she continues to tour with to this day.
Carmen Bradford's 2015 release with jazz great, John Mills, titled, "Invisible Design" featuring Carmen Bradford is another example of Carmen's ability to sing all forms of music, be it straight ahead jazz, fusion, blues, and sing it like nobody can. Carmen is doing it all whether it is a duo concert, Big Bands across the world, or the 2015 Christmas album "A Very Swinging' Basie Christmas" release with the Count Basie Orchestra Conducted by Scotty Barnhart featuring, Carmen Bradford, Johnny Mathis, Ellis Marsalis, and Ledisi.
In 2016 Carmen was the voice on the album "Imagination Nation" by Darren English. His critically acclaimed album won the, "Pledge For Peace" Award from the Global Peace Song Awards, and Best in Jazz Category.
At Present, Carmen Bradford's love for working with Big Bands and Symphony Orchestras across the world is keeping her very busy, as she pays tribute to the great Ella Fitzgerald in her her show called "A Century of Ella" created and conducted by jazz great Jeff Tyzik. Carmen Bradford and the incredible trumpeter/vocalist, Byron Stripling, also pay tribute to the greats in their show titled, "Ella and Louis" for which they've received rave reviews.
Carmen Bradford has never stopped performing with her Basie family, the Legendary Count Basie Orchestra. Even after all these years, Carmen has always said, "when they call me, I go" She has never forgotten Mr. Basie who opened that wonderful door, and gave her wings. The 2019 Grammy nominated album, "All About That Basie" with the Count Basie conducted by Scotty Barnhart on Concord Records, featuring; Carmen Bradford, Stevie Wonder, Kurt Elling, Jamie Davis, Joey DeFrancesco, Jon Faddis Wycliff Gordon, and Take 6. It just doesn't get any better than this.
The 2022 Grammy Nominated release of "Live At Birdland" album with the legendary Count Basie Orchestra Conducted by Scotty Barnhart with Carmen Bradford and Jamie Davis is also receiving critical acclaim.
Carmen Bradford's love of teaching has been recognized by the San Francisco Conservatory of Music. The new Roots, Jazz, and American Music (RJAM Program) has welcomed her with open arms. Carmen is the resident and Director of the Jazz Voice Department.
Carmen Bradford's body of work reflects a vast depth of musical experience and technical brilliance. She is also recognized for the overwhelming passion she brings to the lyric. Carmen Bradford has truly contributed to the perpetuation and preservation of this great American art form called jazz and continues to do so.
---
m-pact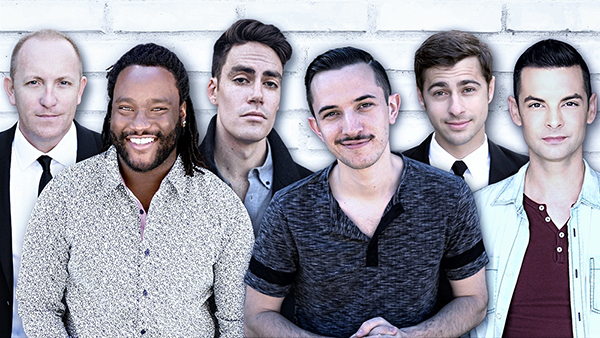 Imagine...
...the smooth soul of Stevie Wonder, the percussive power of Stomp, the funk and groove of Earth, Wind & Fire, the sophisticated harmonies of Take 6, and the brass bite of the Michael Bublé Big Band…
All created by the human voice alone!
Hailed "one of the best pop/jazz vocal groups in the world" by the San Francisco Chronicle, m-pact is respected worldwide as a cutting edge trailblazer in the realm of vocal music. Emerging from an age of auto-tune and overproduction, this Los Angeles-based ensemble has cultivated a new generation of ears hungry for the fresh, raw power of nature's "first instrument" - the human voice.
From the beginning, the "pact" of these well-studied masters has been to stay true to Music, regardless of style or genre. Their sophisticated sound and accessible appeal have garnered vast accolades, from Vocal Group of the Year (the LA Music Awards), an Indie nomination (the Independent Grammy), and Artist of the Year (Seattle Music Awards), to Grand National Champs of the Harmony Sweepstakes competition and Billboard Magazine's "Best Unsigned Band".
Touring renowned fine arts halls and jazz festivals across four continents, m-pact has performed with pop superstars Sheryl Crow, Boyz II Men, Natasha Bedingfield, and Ray Charles to name a few; as well as with jazz legends Natalie Cole, Bobby McFerrin, the Woody Herman Orchestra, the Maynard Ferguson Big Band, and many others. Over the last 2 1/2 decades, their signature sound has been used in both TV themes and animated Disney feature films, and is enjoyed on jazz and pop radio worldwide.
Around the globe, audiences are mesmerized by the thrill of m-pact's vocal acrobatics, innovative orchestrations, and commanding yet authentic stage presence. Unknowing ears of all ages come expecting entertainment, but leave enriched from an indescribable experience: the musical journey across Technicolor soundscapes produced by this "Cirque du Soleil of Song".
m-pact's studio recordings have received rave reviews and numerous awards, and are frequently selected for inclusion on compilations and "best-of" collections. In August of 2018, the band released their multi-CARA winning 8-song EP entitled "Wonderful World". In addition to new vocal arrangements by current band members, the group also culled the m-pact archives to discover a treasure trove of hidden gems which had never been recorded - and in some cases, never performed - before. "This project was an opportunity for us to make a statement about who m-pact is today", said artistic director Jeff Smith, "while also shining a light on the legacy of the group's musical history, which we're so proud to be a part of." With this release, the members of m-pact demonstrated their deep commitment to continuing—and expanding– the tradition of excellence which have made m-pact an international sensation.
In 2020, m-pact celebrated their 25-year anniversary. While the pandemic may have derailed many of their anniversary plans, m-pact fans were delighted by the release of a 2-volume collection called "25 Years of Harmony". This 24-song retrospective included 14 remastered favorites, 6 rare/limited-release recordings from the archives, and 4 brand new, never-before-heard tracks. m-pact also released a 25th anniversary music video of "Change in My Life", featuring 19 past and present band members. For 2022, the guys are working hard to complete their 9th full-length album - a collaborative project with Grammy-nominated arranger & producer, Roger Treece; and they continue to break new ground with exciting music videos and inspiring live performances. All of this leaves no doubt that m-pact's music will continue to reach the ears and hearts of music lovers around the world for many years to come.
---
---
Friday, April 21, 2023
GORDON GOODWIN'S BIG PHAT BAND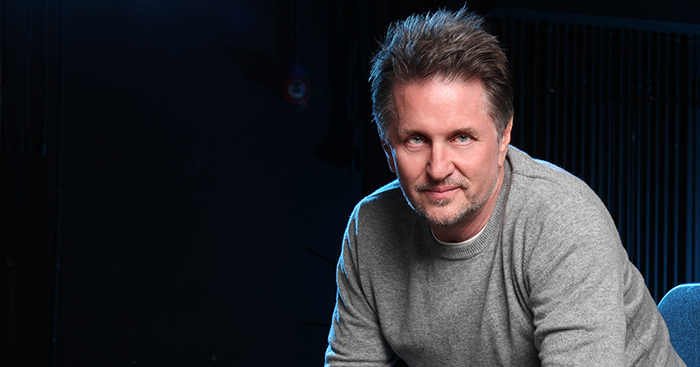 Even for a successful composer and arranger in Hollywood, Gordon Goodwin's numbers are impressive: A 2006 GRAMMY Award for his Instrumental Arrangement of "Incredits" from the Pixar film The Incredibles, three Emmy Awards, and thirteen GRAMMY nominations.
Here's another impressive number to add to the list: eighteen. As in the number of musicians in Gordon Goodwin's Big Phat Band, one of the most exciting large jazz ensembles on the planet. Populated by L.A.'s finest players, the Big Phat Band takes the big band tradition into the new millennium with a contemporary, highly original sound featuring Goodwin's witty, intricate, and hard-swinging compositions in a veritable grab bag of styles: swing, Latin, blues, classical, rock and more.
A steady, persistent audio diet of the giants of jazz, pop, rock and funk has nourished Goodwin's being since childhood. Count Basie, Duke Ellington, Buddy Rich, Thad Jones and Mel Lewis, Earth, Wind and Fire, and Tower of Power, among many others, filled the well for the music his band makes today. And like those other bands, Goodwin's music is nothing less than astonishing when experienced live.
Goodwin's ability to combine jazz excellence with any musical style makes his writing appealing to fans across the spectrum. That's why both beboppers and headbangers dig Gordon Goodwin's Big Phat Band.
Established in 2000, the Big Phat Band's debut recording, Swingin' For The Fences (Silverline Records), featured guest artists Arturo Sandoval and Eddie Daniels. It made history as the first commercially available DVD-Audio title ever released and the first DVD-Audio title to receive two GRAMMY nominations.
The band's second album, XXL (Silverline Records), was released on DVD-Audio and compact disc in 2003. Charting its first week, XXL garnered three GRAMMY nominations for Best Large Jazz Ensemble Album, Best Instrumental Composition ("Hunting Wabbits") and Best Instrumental Arrangement with Vocals ("Comes Love" with Brian McKnight and Take 6), while winning the Surround Sound Award for "Best Made for Surround Sound Title." The list of guest artists matched the high quality of the first release and featured, among others, Johnny Mathis and the incomparable Michael Brecker.
The Big Phat Band's third album, The Phat Pack (immergent Records), with guest stars Dianne Reeves, David Sanborn, Eddie Daniels and Take 6, received a GRAMMY nomination and spent 31 weeks on the Billboard jazz charts.
Released in September 2008, the Big Phat Band's fourth recording, Act Your Age, far outsold every other big band record in its path. Produced by acclaimed guitarist Lee Ritenour, it featured a host of terrific guests including Patti Austin, Chick Corea, Dave Grusin and even Ritenour himself, plus a special appearance by the late pianist Art Tatum on a stunning performance that had jaws dropping right and left. The critically acclaimed Act Your Age garnered three GRAMMY nominations.
A keyboardist and woodwind player, Goodwin has built a larger-than-life reputation throughout the music industry for his composing, arranging and playing skills. Ray Charles, Christina Aguilera, Johnny Mathis, Toni Braxton, John Williams, Natalie Cole, David Foster, Sarah Vaughan, Mel Torme, Brian McKnight and Quincy Jones are just a few of the artists with whom he has worked. Goodwin has also conducted world-renowned symphony orchestras in Atlanta, Dallas, Utah, Seattle, Toronto and London.
Goodwin's cinematic scoring and orchestration craft can be heard on such films as The Sorcerer's Apprentice, Escape to Witch Mountain, Get Smart, Glory Road, National Treasure, The Incredibles, Remember The Titans, Armageddon, The Majestic, Con Air, Gone In 60 Seconds, Enemy of the State, Star Trek Nemesis and even the classic cult film Attack Of The Killer Tomatoes. Goodwin's soundtrack to Looney Tunes' Bah HumDuck! – a wacky Bugs Bunny and Daffy Duck riff on the classic A Christmas Carol – also features the Big Phat Band's patented sound.
Gordon Goodwin's Big Phat Band joins Telarc International, a division of Concord Music Group, with the April 12, 2011 release of That's How We Roll. The band's first CD in over two and a half years features 10 new Goodwin originals and the Gershwin classic "Rhapsody in Blue." Special guests include Gerald Albright, Dave Koz, Marcus Miller and Take 6.
---
---
Saturday, April 22, 2023
ZAREMBA JAZZ FELLOWSHIP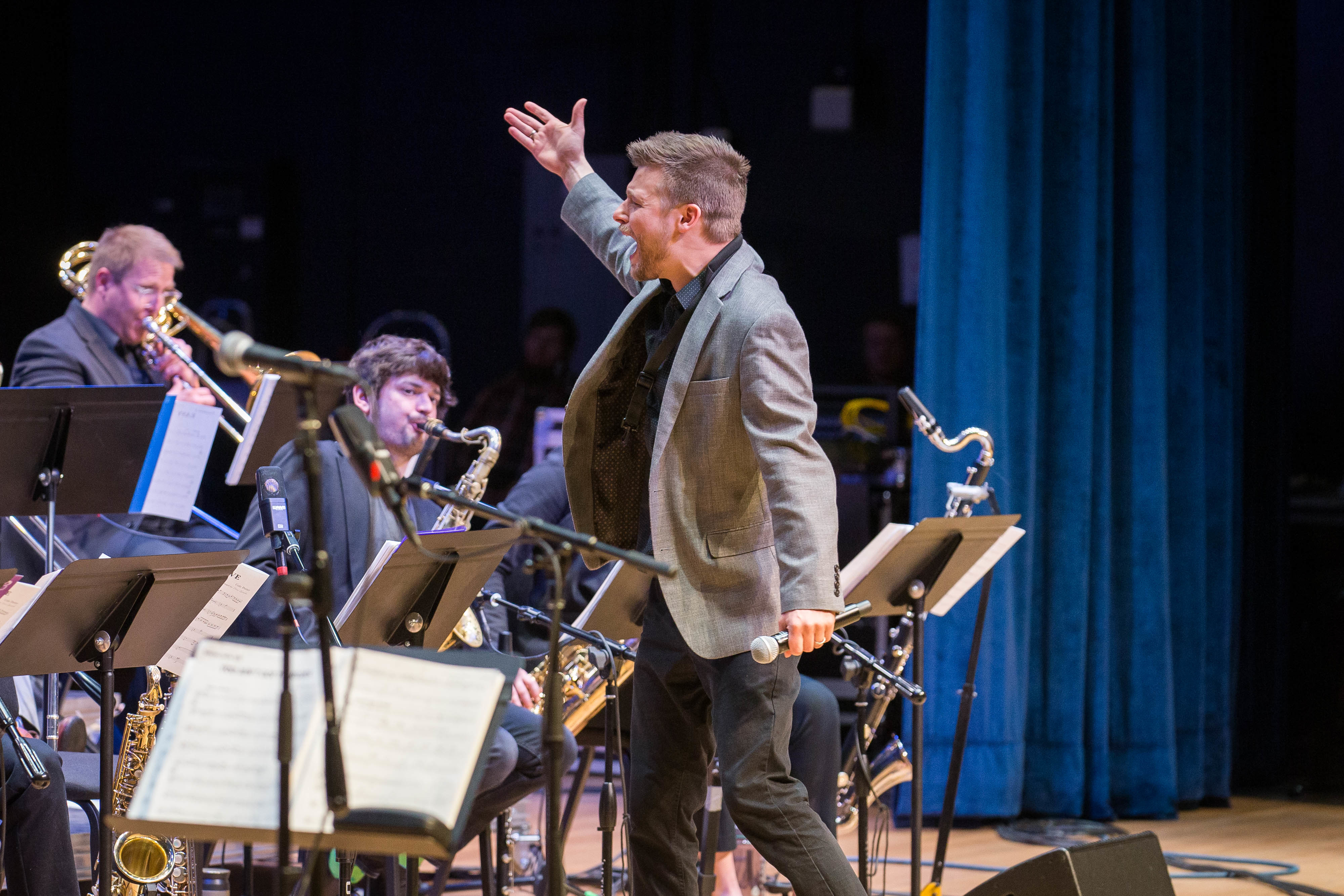 Selmer artist Drew Zaremba enjoys worldwide reputation as an award-winning writer, a passionate conductor, and fiery performer. He has composed and arranged pieces for the BBC Orchestra, the WDR and NDR Big Bands, the Vanguard Jazz Orchestra, Dallas Symphony Orchestra, the Metropole Orkest, the Airmen of Note, the Julliard Jazz Orchestra, Wycliffe Gordon, Dick Oatts, Randy Brecker, Eddie Gomez, Jazz Melbourne, and the Pyramid Jazz Orchestra in Kanazawa, Japan. Drew joined the faculty of the award-winning University of Northern Colorado (UNC) jazz studies department in 2018 to teach jazz composition and arranging. 
Drew is thrilled to release his most recent project, "Reunion", as his debut big band album. With producer and mentor John Clayton, and guest artist Wayne Bergeron, Drew assembled some of the Front Range's finest musicians in a melodic and eclectic large jazz ensemble experience featuring Drew's compositions and reimaginations of jazz standards Chopin, and Pink Floyd. Drew's band, the Zaremba Jazz Fellowship, will release the project on his birthday to close the Greeley Jazz Festival. "Reunion" celebrates the joy of making music in one room together as students, faculty, and friends make a sound as one.
One of Drew's most ambitious projects was writing a concert of music entitled "Crossing Chinese Opera with Jazz" during a two month residency in Zhuhai, China. Drew has published music through Alfred Music, Sierra Music, and has self-published over 70 works at his website, drewzaremba.com. Drew was ecstatic to receive the Sammy Nestico Award for his original composition "Kangaroo Bruise Blues" in 2018. In 2015, Drew was awarded 1st prize of $10,000 in the Sherman/Barsanti Inspiration Award at the University of North Texas (UNT) for his premier concert with his orchestra, the Unity Orchestra, which featured Eddie Gomez. Finally, Drew is proud to be a 3-time Herb Alpert Young Jazz Composer winner.
 In addition to writing music, Drew is an active saxophonist, keyboardist, and woodwind artist. He is equally comfortable on lead alto in big band, playing hammond organ in a trio setting, or executing a reed book in a musical pit orchestra. Drew's music releases have been as varied as his experiences - from YouTube big band video releases, to his albums "Two Sides of the Same Coin" and "Hologram".
Teaching is a fundamental part of being a jazz musician today, and Drew is delighted to be in demand as a clinician and guest artist. He was given the title of visiting professor for his work at the Contemporary Music Institute in Zhuhai, China. Additionally, he has given clinics and guest artist performances in Melbourne, Brussels, Tokyo, London, Hannover, The Netherlands, and in dozens of colleges and high schools in the United States.  Drew has taught at the UNC and UNT summer jazz camps, as well as Arrowbear Music Camp in California, and the Golden Jazz camp in Zhuhai, China.
---
WAYNE BERGERON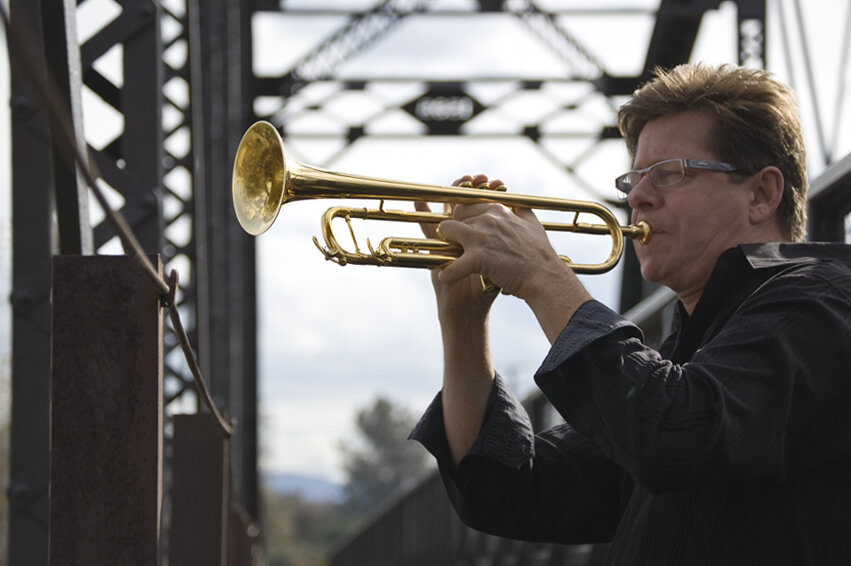 Wayne Bergeron is enjoying a career as one of the most sought-after musicians in the world. Studio sessions, film dates, international touring, jazz concerts, guest appearances, and clinics keep him busy not only in his hometown of Los Angeles but worldwide.
Bergeron first caught the ear of many when he landed the lead trumpet chair with Maynard Ferguson's band in 1986. Bergeron demonstrates daily why Maynard remarked, "Wayne is the most musical lead trumpet player I've had on my band."
As a sideman, Bergeron's list of recording credits reads like a "who's who" in contemporary jazz and pop, running the stylistic gamut from Ray Charles to Green Day. Other names include Katy Perry, Beyoncé, Barbra Streisand, Michael Buble, Indina Menzel, Leslie Oden Jr, Natalie Cole, Celine Dion, Seal, Diana Krall, Christina Aguilera, Dianne Reeves, The Mars Volta, Rosemary Cloony, Diane Schuur, Barry Manilow, Kenny G., and David Benoit.
Bergeron has worked on over 500 TV & motion picture soundtracks. A partial list of film credits includes Red Notice, Turning Red,Soul,Bob's Burgers, Ford vs. Ferrari, Toy Story 4, Frozen 1 & 2, The Lion King (2019), The Secret Life of Pets, Crazy Rich Asians, Sing 1&2,Moana, Frozen 1 & 2, Toy Story 3, High School Musical 3, Superman Returns, The Simpson's Movie, Dreamgirls, Hairspray, Spiderman 1 & 2, Team America and South Park.
Bergeron's featured trumpet solos can be heard on the motion pictures West Side Story (2021 Steven Spielberg),La La Land, Sing, The Incredibles 1 & 2, Rocky Balboa, The Secret Life of Pets 2, Minions, Minions 2:The Rise of Gru, Spies in Disguise, Jersey Boys, Despicable Me, Aladdin King of Thieves, and many others.
Numerous TV credits include Academy Awards, Golden Globe Awards, SAG Awards, NBC, ESPN & TNT sports themes, Grammy Awards, Animaniacs Reboot, Family Guy, American Dad, Simpson's, Wonderful World of Mickey Mouse, Jeopardy, Wheel of Fortune, America's Funniest Home Videos, Phineas & Ferb, House of Mouse, Buzz Lightyear, and Hey Arnold.
Bergeron's greatest love is playing lead in big bands. He has recorded and played with some of Los Angeles' most respected bands including Quincy Jones, Gordon Goodwin, Pat Williams, Sammy Nestico, Jack Sheldon, Chris Walden, Tom Kubis, and Bob Florence.
After being behind the scene for so many years,Bergeron stepped out on his own with his first solo effort, You Call This a Living? This debut project earned him a Grammy nomination in 2004 for Best Large Jazz Ensemble, as well as rave reviews from fans and press worldwide. Bergeron's second CD, Plays Well With Others, released on the Concord Jazz label in 2007, was met with the same acclaim. Bergeron's most current CD, Full Circle, was released in January of 2016.
Bergeron performs various events for the Hollywood Bowl summer season. He has done guest appearances with the L.A. Philharmonic, The New York Philharmonic, Cleveland Orchestra, Dallas Symphony, Taiwan Symphony, and Tokyo Philharmonic.
Bergeron is a National Artist for the Yamaha Corporation of America and is co-designer of the YTR-8335LA trumpet and YFH-8315G Flugelhorn.
Bergeron was mentored by legends Uan Rasey, Bobby Shew, Warren Luening, Gary Grant, and George Graham. Bergeron hopes to inspire a new generation of young players and enjoys his work as a clinician and educator. "Nothing makes me feel more accomplished than hearing a young musician say that I inspired them or had a positive influence on their life. For me, that's the real payday.
Perhaps Grammy winning composer and bandleader, Gordon Goodwin said it best, "Wayne is a once in a lifetime lead trumpet player."
---
MELISSA ALDANA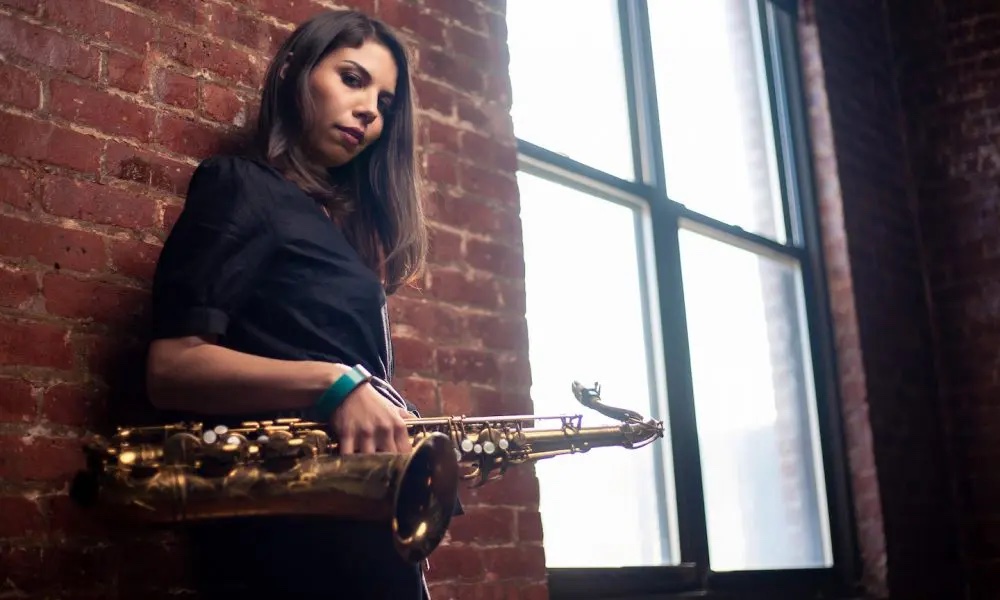 GRAMMY-nominated saxophonist and composer Melissa Aldana joins the Blue Note Records family with the release of 12 Stars, her debut album as a leader for the legendary Jazz label. At 33, the Brooklyn-based tenor player from Santiago, Chile has garnered international recognition for her visionary work as a band leader, as well as her deeply meditative interpretation of language and vocabulary.
12 Stars grapples with concepts of childrearing, familial forgiveness, acceptance, and self-love. "This is a really important album for me," says Aldana. "I felt like I had so much to say because of all the experiences I had during 2020. After the personal process I went through last year, I feel more connected to myself and my own imperfections — and I've discovered that it's the same process with music. Embracing everything I hear, everything I play — even mistakes — is more meaningful than perfection."
Just before the lockdown, Aldana went through personal struggles with the end of a relationship. Alone in Harlem, she told herself she'd be busy for years, with plenty of distractions from dealing with her complex emotional response. "But then," she says, "the pandemic hit, and I hit bottom." She needed to make changes, so she turned inward. "Because of that personal process, I feel even more connected to my music." Even the way she practiced changed, allowing her to explore new concepts and endure discomfort.
Inspired by the arcs and nuances of tarot, 12 Stars features a series of tributes to moments of challenge and triumph in Aldana's New York life. "For some time, I had been very curious about tarot — the symbols, and the actual story of the tradition," she says. "So I took the lockdown as an opportunity to learn more about myself through the process of learning tarot, whose focus is the journey of an individual. As I studied the cards, I started writing music about each of them, individually. And I found that the process described on the tarot is a process that we all deal with somehow throughout our journey here on earth."
Throughout her career, Aldana has gravitated toward collaborators who let her sound exist and resonate without restraint. She develops profound connections with bandmates, and the personnel and producer she chose for 12 Stars is no exception. "I love playing with musicians that are strongly rooted in tradition but, at the same time, very open-minded when it comes to music," she says. The album was produced by the Norwegian guitarist Lage Lund, who also performs as part of a remarkable quintet with Sullivan Fortner on piano and Fender Rhodes, Kush Abadey on drums, and Aldana's longtime collaborator and confidant Pablo Menares on bass.
A sixth collaborator contributed the album artwork. Aldana asked her close friend, vocalist Cécile McLorin Salvant to share her talents as a visual artist for the release, and many of the album's themes are manifested in Salvant's sublime cover illustration. "It felt very natural for me to have her as part of this project," says Aldana.
She titled the album after the 12 stars that adorn The Empress' crown. "In numerology and tarot, The Empress is a symbol of creation," she says. "She represents my essence as an individual, and this entire journey." Aldana also sought to spotlight her vulnerabilities and celebrate them as part of her artistic process. Her decision to collaborate with Lund rendered Aldana vulnerable, so she chose to indulge that discomfort.
"I'm allowing somebody to enter my music and move things around, which is something I've never done before," she says. "But Lage knows me very well, and I knew that he would be the right person. I wanted to learn by watching his process, to see how he took my music and rearranged it to reflect how he thought about the album."
Throughout 12 Stars, Aldana's thoughtful development of bold, melodic statements reaches new levels of persistence. Engineered and mixed by James Farber at Samurai Hotel Studios in Queens, the tracks emit a warm clarity that serves Aldana's intention. "I wanted to go to the studio and worry about the music and nothing else," she says. "I knew having James there would allow us to do that." The mix also features a kind of vertical depth Aldana credits Farber and Lund as having orchestrated intuitively.
The album presents seven striking new original compositions by Aldana that were either arranged or co-written by Lage including the opening piece "Falling," which Aldana explains was "the tune I was writing when I felt that everything in my life was falling apart." The piece introduces Lund's bold harmonic and textural presence immediately. Between statements and inquiries, Aldana develops her solo rapidly, Fortner's spontaneity connecting to hers at every turn.
"Intuition" proffers one of the album's most striking melodies. At once commanding and conversational, the tune serves Aldana's extended arcs of lyrical development. "I had this realization where I felt that all the things that I was questioning and looking for and trying to find meaning for, the answers were in me," she says. "And I just didn't want to listen to myself. I didn't want to trust that what I was feeling was truthful."
Named for the imagined daughter she met in a dream, "Emilia" features a haunting introduction from Lund and Menares, and a lingering melody line Aldana remembers singing to her dream child as a lullaby. "The Bluest Eye," titled in tribute to Toni Morrison's literary and cultural masterpiece, provides the musicians a prism for interactivity. Abadey's reflexive energy pulses from one section to the next.
The gently roaming piece "The Fool" draws its inspiration directly from tarot. "The Fool is the first major arcana, first card, and it talks about this person that is in the beginning of his journey, going somewhere without a destiny — just a bag and his dog. And he's not afraid to leave and experience life. That is how we're brought into this world."
The Estallido Social, a series of massive public demonstrations and riots that roiled Chile starting in 2019, were the source of inspiration for "Los Ojos de Chile." "When this happened, despite the fact that I was worried and sad over what my country was going through, I felt so proud to see millions of people going out and speaking up, going into the streets to fight for what they believed were their rights," recalls Aldana. "Many people lost their sight because they got shot by police officers using riot shotguns with rubber bullets. We held a benefit concert for an organization called Los Ojos de Chile — the eyes of Chile — and it was to raise money for people who lost their sight standing up for their beliefs."
The stunning title track "12 Stars" presents Aldana at her most lyrical and contemplative, revealing a sound that contains multitudes — regret, determination, joy and acceptance. "'12 Stars' is the last on the album but the first one I started writing during the beginning of my process, back in March 2020. I finished its composition a year later in March 2021," she says. "To me, finishing this tune also meant the closure of a period in my life because, as the legend goes, a phoenix obtains new life by rising from the ashes of its predecessor."
* * *
Aldana was one of the founding members of ARTEMIS, the all-star collective that released their self-titled debut on Blue Note in 2020. The album featured Aldana's simmering composition "Frida," which was dedicated to Mexican painter Frida Kahlo, who inspired the musician through "her own process of finding self-identity through art."
Kahlo was also the subject of Aldana's celebrated 2019 album Visions (Motéma), which earned the saxophonist her first-ever GRAMMY nomination for Best Improvised Jazz Solo, an acknowledgment of her impressive tenor solo on her composition "Elsewhere." In naming Visions among the best albums of 2019 for NPR Music, critic Nate Chinen wrote that Aldana "has the elusive ability to balance technical achievement against a rich emotional palette."
Aldana was born in Santiago, Chile, and grew up in a musical family. Both her father and grandfather were saxophonists, and she took up the instrument at age six under her father Marcos' tutelage. Aldana began on alto, influenced by artists such as Charlie Parker and Cannonball Adderley, but switched to tenor upon first hearing the music of Sonny Rollins, who would become a hero and mentor. She performed in Santiago jazz clubs in her early teens and was invited by pianist Danilo Pérez to play at the Panama Jazz Festival in 2005.
Aldana moved to the U.S. to attend the Berklee College of Music, and the year after graduating she released her first album Free Fall on Greg Osby's Inner Circle label in 2010, followed by Second Cycle in 2012. In 2013, at 24, she became the first female instrumentalist and the first South American musician to win the Thelonious Monk International Jazz Saxophone Competition, in which her father had been a semi-finalist in 1991. After her win, she released her third album Melissa Aldana & Crash Trio (Concord). Aldana is also an in-demand clinician and educator and has recently been appointed to the faculty of the New England Conservatory's Jazz Studies Department.