2024 FESTIVAL ARTISTS
Thursday, April 18, 2024
MICHAEL MAYO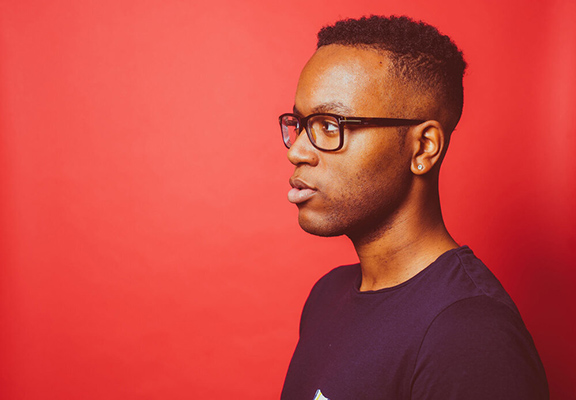 Born and raised in L.A., but a diehard New Yorker for the past five years (drawn by "the music, art and energy, its motivating factor"), 28-year-old Michael Mayo finished work on his debut solo album Bones, on the Artistry Music/Mack Avenue Music Group, just before COVID hit. The tracks were cut live with his band — keyboardist Andrew Freedman, bassist Nick Campbell and drummer Robin Baytas, all of whom he's played with since high school or college — at Figure8 Recordings in Brooklyn. Eli Wolf, a veteran Grammy®-winning producer of albums by Al Green, Norah Jones and The Roots, did the honors behind the board. "Being from L.A., I really know how to chill, but coming to New York has really kicked me into gear," says Mayo.
The son of "first-call" session and touring musicians, Michael's dad Scott Mayo was a saxophonist for Earth, Wind & Fire, among many others, and is currently the musical director for Sergio Mendes, while his mom Valerie Pinkston, now a back-up vocalist for Diana Ross, also sang with Beyoncé, Luther Vandross, Ray Charles, Whitney Houston and even alt icon Morrissey.
Bones is Mayo's first full-length album under his own name after studying at the prestigious New England Conservatory of Music and the Thelonious Monk Institute — now named after Herbie Hancock, who mentored Mayo, helping him discover the link between sound and technology through a looper pedal, and showcased him as a featured vocalist on a tour of South America in 2018.
"Self-transparency is important to me, not trying to placate the expectations of other people," he says of his genre-defying, highly personal debut. "I wanted to find the things that resonated musically with me, working with people who can bring that vision to life."
Like Bobby McFerrin, one of his major influences (who was a graduate of the same L.A. performing arts high school), Mayo approaches his voice as a musical instrument, but in often unexpected ways — with Brian Wilson-style pop harmonies ("Robot Man"), Stevie Wonder R&B ("Another Love"), drum and bass ("What's My Name," inspired by a line from poet e.e. cummings' "Crepuscule") and even hip-hop ("About Your Love"). Even with his classical training, Mayo's music is a seamless blend of alternative and neo-soul elements, a unique combination that defies genre.
"I listened to Pet Sounds a lot in college," he admits, also pointing to Brandy as an early favorite. "But I also grew up on A Tribe Called Quest, the Fugees, Busta Rhymes, Biggie Smalls and J Dilla. I love his beats so much. It feels like home. They all seem inherently connected. I like connecting all these different genres. Why not mix them all together and see what happens?"
Bones takes its musical cue not from skeletal remains as much as the foundation of a house, providing a firm base for Mayo's flights to higher ground. Each of the songs represents a learning experience for Mayo, the building blocks — the titular "bones" that made him the person he is today.
The autobiographical "20/20" and video offer a look at instances in his life where he "woulda/coulda/shoulda" done things differently, while "The Way" touches on his own insecurity about expressing an attraction to someone "without being disrespectful." "You and You" literally splits Mayo in two for the accompanying visual, as he learns to love himself before he can commit to anyone else, before insisting a "solo journey is another way you can be."
Juxtaposing wordless chants with incisive lyrics, Mayo underlines how music itself can provide emotions that transcend literal meaning. "Stolen Moments" sports a single verse, "I don't want to go. It's only stolen moments..." surrounded by a wall of 250 vocal parts layered together with a looper pedal into a magical whole. The song was recorded — ironically considering the album's themes of liberation — "in the closet" of Mayo's new apartment after moving to New York.
"I've known since I was a toddler that I wanted to be a singer and tour the world," says Mayo. "I thought my parents' job was amazing and something I could do. In the end, though, session work didn't fill me with the kind of satisfaction that creating my own music does, being able to share a more personal statement, rather than support someone else's vision."
Part of the process of making Bones involved Mayo admitting to his own bisexuality, accepting that other "You."
"In many ways, this album was a letter to myself," he confesses. "I was in the closet for years, lying about who I truly was and felt. This album affirms you can live authentically and not be afraid to express it. Bisexuality is still not taken seriously by a lot of the LGBTQ community. I had no black bisexual role models growing up, so maybe I can be that person for someone now. The eventual goal is to not have to come out, for everyone to just coexist with our differences." There are several notable dualities in Bones: the juxtaposition of acappella vocals and electronic effects, the "You and You" of bisexuality, the interplay of words and sounds, the tug between R&B, neo-soul and jazz, the spontaneity of improvisation set against the dictates of classical structure.
"Technology plays a huge role in what I do," says Mayo. "I'm just really excited about finding new sounds and using them in a musical way."
A true Renaissance artist, Mayo has taught himself four languages — English, French, Portuguese and Spanish — and is starting to learn Japanese. He is also an avid Twitch player ("It combines my two favorite things: music and video games"), performs in a band called Shrek Is Love, devoted to original songs about the beloved animated character, and actively supports Save Our Stages, designed to aid indie clubs and venues whose survival has been threatened by the pandemic. During the lock down, Mayo also started giving students vocal, "improvisational ear" lessons and mentoring advice via Zoom, helping singers "find their way."
"From childhood, I've always associated music with love and truth," he says. That connection comes full circle in "Hold On," the final song on Bones, featuring his mom, who wrote the lyrics and sings on the first half, and his dad, who provides background vocals. "Her lyrics basically tell me the world is a scary place, but to keep my head up because there are people around who love me," says Mayo. "I always knew I wanted my parents on this album."
With Bones, that number of admirers is likely to increase, as Michael Mayo turns the ideas in his head into a full-fledged sonic universe that reflects an upbringing surrounded by music, and the freedom he has fought so hard to achieve in his work and life.
"For me, the goal has always been to make music, travel the world and meet interesting people," says Mayo. "Living a passionate life."
---
Thursday, April 18, 2024
TRIST CURLESS
A native of Cheyenne, WY, Trist is no stranger to vocal harmonies! He attended the University of Northern Colorado, majoring in music education. In 1995, he co-founded the pop-jazz vocal group m-pact, with which Trist has performed in festivals and concert halls around the world. He's also written, arranged and produced many of the group's songs. www.m-pact.com
Trist can be found on the other side of the microphone as well, working as an audio engineer for several vocal groups and bands, including Straight No Chaser and Take 6.
When he's not performing and mixing, Trist also finds time to teach private voice and participate as a clinician and adjudicator in clinics and festivals worldwide.
Trist is having the time of his life making music with m-pact, Straight No Chaser, Take 6, Bobby McFerrin, New York Voices, Vox Audio, VoicePlay, and now The Manhattan Transfer!
---
Friday, April 19, 2024
CLAYTON-HAMILTON JAZZ ORCHESTRA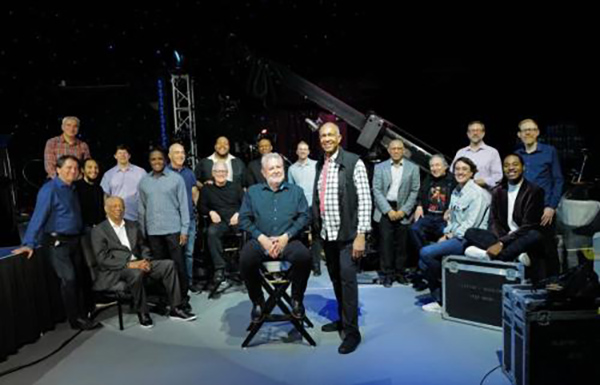 John Clayton, Jeff Hamilton and Jeff Clayton founded the Clayton-Hamilton Jazz Orchestra. While in their 20's, John and Jeff Hamilton toured and recorded with Monty Alexander then moved on to separate big band environs. Jeff joined Woody Herman and John signed up for Count Basie. All along, Jeff Clayton had been performing and recording in Los Angeles. In 1986, the three men came together in L.A. and formed the Jazz Orchestra.
In 2020, Jeff Clayton passed away after a lengthy illness. The CHJO reminds audiences that his spirit remains in every note that is played.
The excitement of this powerful 19-piece band is the result of the band's stellar performances and John's writing. Their music is composed and arranged by John, and it is not unusual to hear his take on a composition by Jeff Hamilton or something from the Hamilton trio book.
Along with multiple Grammy© nominations, the orchestra is featured on recordings with Milt Jackson, Diana Krall, John Pizzarelli, Charles Aznavour, Ernie Andrews, Barbara Morrison, Natalie Cole and many more.
From 1999-2001, they were the in-resident jazz orchestra for the Hollywood Bowl. Their busy schedule still finds them touring the U.S., Europe and Japan, often premiering extended works at jazz festivals and in concert halls.
People often describe their sound as being influenced by Ellington, Basie and Thad Jones. This would never be denied by the orchestra, but one listen lets you know that their voice is unique, distinct and impactful.
---
Saturday, April 21, 2024
PAQUITO D'RIVERA QUINTET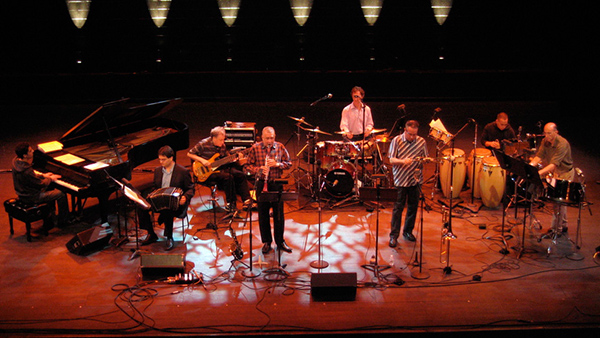 Paquito D'Rivera has won a combined 11 Grammy and Latin Grammy Awards (5 Grammy and 9 Latin Grammys). He is celebrated both for his artistry in Latin jazz and his achievements as a classical composer.
Born in Havana, Cuba, he performed at age 10 with the National Theater Orchestra, studied at the Havana Conservatory of Music, and at 17, became a featured soloist with the Cuban National Symphony. As a founding member of the Orquesta Cubana de Musica Moderna, he directed that group for two years, while at the same time playing both the clarinet and saxophone with the Cuban National Symphony Orchestra. He eventually went on to premiere several works by notable Cuban composers with the same orchestra. Additionally, he was a founding member and co-director of the innovative musical ensemble Irakere. With its explosive mixture of jazz, rock, classical and traditional Cuban music never before heard, Irakere toured extensively throughout America and Europe, received several GRAMMY nominations (1979, 1980), and a GRAMMY (1979).
His numerous recordings include more than 30 solo albums. In 1988, he was a founding member of the United Nation Orchestra, a 15-piece ensemble organized by Dizzy Gillespie to showcase the fusion of Latin and Caribbean influences with jazz. D'Rivera continues to appear as guest conductor. A GRAMMY was awarded the United Nation Orchestra in 1991, the same year D'Rivera received a Lifetime Achievement Award from Carnegie Hall for his contributions to Latin music. Additionally, D'Rivera's highly acclaimed ensembles- the Chamber Jazz Ensemble, the Paquito D'Rivera Big Band, and the Paquito D'Rivera Quintet are in great demand world wide.
While Paquito D'Rivera's discography reflects a dedication and enthusiasm for Jazz, Bebop and Latin music, his contributions to classical music are impressive. They include solo performances with the London Philharmonic, the London Symphony Orchestra, the Warsaw Philharmonic Orchestra, the National Symphony Orchestra, the Baltimore Symphony, the Florida Philharmonic Orchestra, and the Brooklyn Philharmonic. He has also performed with the Puerto Rico Symphony Orchestra, the Costa Rica National Symphony, the Simon Bolivar Symphony Orchestra, the Bronx Arts Ensemble, and the St. Luke's Chamber Orchestra, among others. In his passion to bring Latin repertoire to greater prominence, Mr. D'Rivera has successfully created, championed and promoted all types of classical compositions, including his three chamber compositions recorded live in concert with distinguished cellist Yo-Yo Ma in September 2003. The chamber work "Merengue," from that live concert at Zankel Hall, was released by Sony Records and garnered Paquito his 7th GRAMMY as Best Instrumental Composition 2004.
In addition to his extraordinary performing career as an instrumentalist, Mr. D'Rivera has rapidly gained a reputation as an accomplished composer. The prestigious music house, Boosey and Hawkes, is the exclusive publisher of Mr. D'Rivera's compositions. Recent recognition of his compositional skills came with the award of a 2007 John Simon Guggenheim Fellowship in Music Composition, and the 2007-2008 appointment as Composer-In-Residence at the Caramoor Center for Music and the Arts with the Orchestra of St. Luke's. As part of the Caramoor Latin American music initiative, Sonidos Latinos, D'Rivera's new concerto for double bass and clarinet/saxophone, "Conversations with Cachao," pays tribute to Cuba's legendary bass player, Israel "Cachao" Lopez. D'Rivera's works often reveal his widespread and eclectic musical interests, which range from Afro-Cuban rhythms and melodies, including influences encountered in his many travels, and back to his classical origins. Inspiration for another recent composition, "The Cape Cod Files", comes from such disparate sources as Benny Goodman's intro to the Eubie Blake popular song "Memories of You", Argentinean Milonga, improvisations on the music of Cuban composer Ernesto Lecuona, and North American boogie-woogie. His numerous commissions include compositions for Jazz at Lincoln Center, the Library of Congress, the National Symphony Orchestra and Rotterdam Philharmonic, the Turtle Island String Quartet, Ying String Quartet, the International Double Reed Society, Syracuse University, Montreal's Gerald Danovich Saxophone Quartet, and the Grant Park Music Festival.
Another commission came about through ensemble Opus 21's interest in building bridges between audiences of different backgrounds. Dedicated to the works and art music of the 21st century, Opus 21 commissioned "The Chaser" and premiered it in May, 2006. In 2005, Imani Winds, a woodwind quintet committed to the exploration of diverse world music traditions and the broadening of the traditional wind quintet literature, commissioned "Kites." This work personifies freedom and the vision that liberty and independence have a foundation through culture and music. Just as a kite may fly freely, its path continues to be bound to the earth–its foundation, by the string.
Paquito D'Rivera is the author of two books: My Sax Life, published by Northwestern University Press, and a novel, Oh, La Habana, published by MTeditores, Barcelona. He is the recipient of the NEA Jazz Masters Award 2005 and the National Medal of the Arts 2005, as well as the Living Jazz Legend Award from the Kennedy Center, Washington, D.C. in 2007. His numerous other honors include Doctorates Honoris Causa in Music (from the Berklee School of Music in Boston, the University on Pennsylvania), and the Jazz Journalist Association's Clarinetist of the Year Award in both 2004 and 2006. In 2008, Mr. D'Rivera received the International Association for Jazz Education President's Award and the Frankfurter Musikpreis in Germany, the Medal of Honor from the National Arts Club in 2009. In 2010, he was named a Nelson A Rockefeller Honoree and given the African-American Classical Music Award from Spelman College.
He received his 10th and 11th GRAMMY this year for Panamericana Suite as Best Latin Album and Best Classical Contemporary Composition, adding to his previously awarded 8th and 9th GRAMMY for Riberas (Best Classical Recording) and Funk Tango (Best Latin Jazz Album 2008). Mr. D'Rivera is the first artist to win Latin GRAMMYs in both Classical and Latin Jazz categories– for Stravinsky's Historia del Soldado (L'Histoire du Soldat) and Brazilian Dreams with New York Voices. He has served as artistic director of jazz programming at the New Jersey Chamber Music Society and continues as Artistic Director of the famous world-class Festival Internacional de Jazz de Punta Del Este in Uruguay and the DC Jazz Festival in Washington, DC., and add to that now in its second year, Jazz Patagonia 2013 in Chile.
In 1999, and in celebration of its 500-year history, the Universidad de Alcala de Henares presented Paquito with a special award recognizing his contribution to the arts, his humane qualities, and his defense of rights and liberties of artists around the world. The National Endowment for the Arts website affirms "he has become the consummate multinational ambassador, creating and promoting a cross-culture of music that moves effortlessly among jazz, Latin, and Mozart."
---
Saturday, April 21, 2024
CAMILLE THURMAN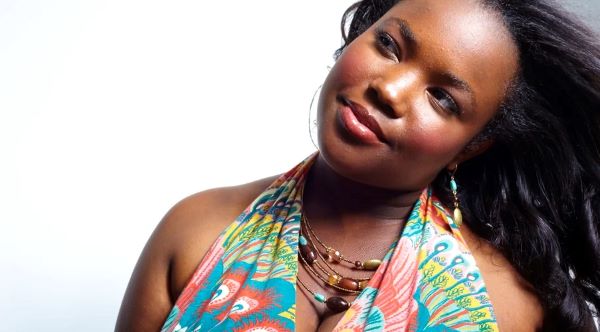 Remember the name Camille Thurman. As a composer, multi-instrumentalist, vocalist, and unique interpreter of the jazz tradition, she is quickly becoming one of the standard bearers for the form, making a considerable and dynamic contribution to the legacy of jazz while paying tribute to its heroes.
Fluid and powerful on the tenor saxophone and highly inventive as a vocalist, she also plays bass clarinet, flute, and piccolo. Her rich sax sound has been compared to Joe Henderson and Dexter Gordon, while her vocal approach—including an impressive scatting ability—has been classified alongside those of Ella Fitzgerald and Betty Carter.
In a few short years, Thurman has shared stages with such jazz and R&B luminaries as George Coleman, Roy Haynes, Dianne Reeves, Wynton Marsalis, The Jazz at Lincoln Center Orchestra (JALCO) featuring Wynton Marsalis, Kenny Barron, Buster Williams, Charles Tolliver, Jack DeJohnette, Dr. Lonnie Smith, Terri Lyne Carrington, Jon Hendricks, Harry Connick Jr., Jon Batiste, Audra MacDonald, Diana Krall, Patti LaBelle, Gladys Knight, Chaka Khan, Louis Hayes, Russell Malone, Nicholas Payton, Jacky Terrasson, Janelle Monáe, Alicia Keys, Lalah Hathaway, Jill Scott and Erykah Badu, among others.
The New York City native has already amassed several distinctive honors for her musicianship: runner up in the 2013 Sarah Vaughan International Vocal Competition, two-time winner of the ASCAP Herb Alpert Young Jazz Composers Award and a winner of the Fulbright Scholars Cultural Ambassador Grant, The Chamber Music of America Performance Plus Grant (Sponsored by the Dorris Duke Charitable Foundation) and the Jazz Coalition Composers Grant among others. Thurman also has four full-length recordings as a leader to her credit.
Her compositions were featured and performed by her quartet in the ASCAP/The Kennedy Center "Songwriters: The Next Generation" showcase as well as the Greenwich School of Music "Uncharted" Series. Camille has appeared on BET's "Black Girls Rock" as the saxophonist and flutist in the All-Star Band. Equally adept as a player and a singer, and recognized for her compositional abilities as well, Thurman has also earned accolades from the media, from Jazz Times to Downbeat, All About Jazz to the New York Times, NPR to Sirius XM Satellite Radio, BET to Jazz Night In America.
Thurman toured internationally toured two seasons withe the world-renowned Jazz At Lincoln Center with Wynton Marsalis as a saxophonist, becoming the first woman in 30 years to tour and perform full time (2018-2020). After guesting with the JALCO on several shows, including a tribute to Ella Fitzgerald, and again during the 2017-2018 season as a featured vocalist for the world premiere of the historic work, "The Every Fonky Lowdown," Thurman was invited to play the tenor saxophone chair for the past two seasons, which covered four continents. When she is not touring with the JALCO, Thurman is on the road leading her band, The Camille Thurman Quartet. She is also a featured artist with the Darrell Green Trio, where she has performed at the Kennedy Center, Alice Tully Hall, and numerous respected international jazz festivals and venues.
Thurman was chosen by the State Department under the Fulbright Scholarship grant to perform in Paraguay and Nicaragua with her band. She and Darrell Green were selected by American Music Aboard to travel and perform in various African nations including Cameroon, Mozambique, Nigeria, Senegal, and Mauritania.
The dynamic musician is endorsed by D'Addario Woodwinds & Co. for reeds, Conn-Selmer Inc. for saxophones and Key Leaves saxophone products.