FESTIVAL ARTISTS

Sheila Jordan
Vocalist & NEA Jazz Master
Raised in poverty in Pennsylvania's coal-mining country, Jordan began singing as a child and by the time she was in her early teens was working semi-professionally in Detroit clubs. Her first great influence was Charlie Parker and, indeed, most of her influences have been instrumentalists rather than singers. Working chiefly with black musicians, she met with disapproval from the white community but persisted with her career. She was a member of a vocal trio, Skeeter, Mitch And Jean (she was Jean), who sang versions of Parker's solos in a manner akin to that of the later Lambert, Hendricks And Ross.
After moving to New York in the early 50s, she married Parker's pianist, Duke Jordan, and studied with Lennie Tristano, but it was not until the early 60s that she made her first recordings. One of these was under her own name, the other was "The Outer View" with George Russell, which featured a famous 10-minute version of "You Are My Sunshine".
In the mid-60s her work encompassed jazz liturgies sung in churches and extensive club work, but her appeal was narrow even within the confines of jazz. By the late 70s jazz audiences had begun to understand her uncompromising style a little more and her popularity increased - as did her appearances on record, which included albums with pianist Steve Kuhn, whose quartet she joined, and an album, Home, comprising a selection of Robert Creeley's poems set to music and arranged by Steve Swallow.
A 1983 duo set with bassist Harvie Swartz, "Old Time Feeling", comprises several of the standards Jordan regularly features in her live repertoire, while 1990's "Lost And Found" pays tribute to her bebop roots. Both sets display her unique musical trademarks, such as the frequent and unexpected sweeping changes of pitch, which still tend to confound an uninitiated audience. Her preference to the bass and voice set led to another remarkable collaboration with bassist Cameron Brown, whom she has been performing with all over the world for more than ten years so far and they have released the live albums "I've Grown Accustomed to the Bass" and "Celebration". Entirely non-derivative, Jordan is one of only a tiny handful of jazz singers who fully deserve the appellation and for whom no other term will do.
Copyright 1989-2000 Muze UK Ltd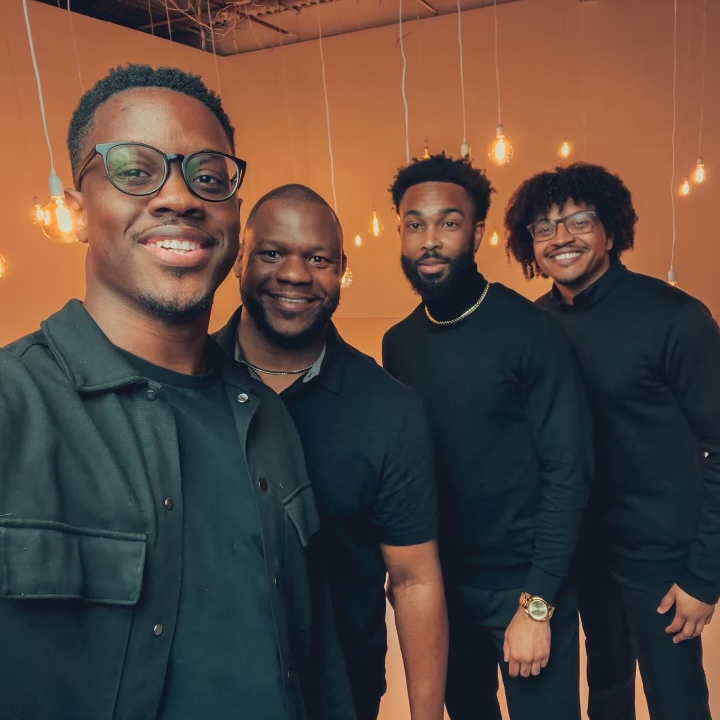 Kings Return
We sing in stairwells.
Kings Return is a vocal band of brothers - Gabe Kunda, Vaughn Faison, J.E. McKissic & Jamall Williams. The Dallas, Texas-based a cappella group was formed unintentionally in 2016 after first singing together for Gabe's college graduation recital. Their popularity grew when they began posting videos to social media from the stairwell where they rehearse. Avoiding the confines of a single genre, Kings Return's sound is proudly born out of gospel, jazz, R&B, and classical music. "The name Kings Return is a reflection of ourselves. We are Kings who go forth to conquer but most importantly we return to give back to our community".
---
Friday, April 22, 2022 | 12:00pm Concert, 1:00pm Workshop
Gregg Bissonette
Drummer & Music Educator
Gregg Bissonette is a GRAMMY Award winning drummer who has played with some of the biggest names in the music industry, including Ringo Starr, Santana, James Taylor, David Lee Roth, Toto, Linda Ronstadt, Andrea Bocelli, Brian Wilson, Smash Mouth, the Doobie Brothers, Ozzy Osbourne, the Brian Setzer Band, Enrique Iglesias, and Britain's loudest band, Spinal Tap. He has played on scores for TV (NBC's hit show Friends) and film, including Best in Show, The Devil Wears Prada, American Pie, The Bucket List, Forgetting Sarah Marshall, Enchanted, Waiting for Guffman, The Mighty Wind, and the Academy Award-winning song Man or Muppet from the film The Muppets. He has released his third solo album, Warning Will Robinson, which features brother Matt Bissonette on bass and backing vocals and includes a play-along CD for drummers. He was voted #1 Studio Drummer in a recent Modern Drummer readers poll.
Clinic Description
GRAMMY Award winning drummer and acclaimed music educator Gregg Bissonette draws on his extensive experience with a wide variety of styles and an extensive range of artists, including Ringo Starr, Santana, Maynard Ferguson, Don Henley, Toto, Linda Ronstadt, Larry Carlton, and many others. His clinics include presentations of different musical styles; stories from his tours with Ringo Starr, David Lee Roth, and others; the importance of experiencing as many different types of music as possible to gain a full appreciation of each one; how to get the most out of your practice sessions; tips for aspiring drummers; and performances of different drumming styles, including small and big band jazz, funk, Afro-Cuban, samba, blues shuffle, fusion, and rock. Gregg's well-rounded educational approach and essential insights will add to every drummer's musical knowledge, from hobbyist to pro.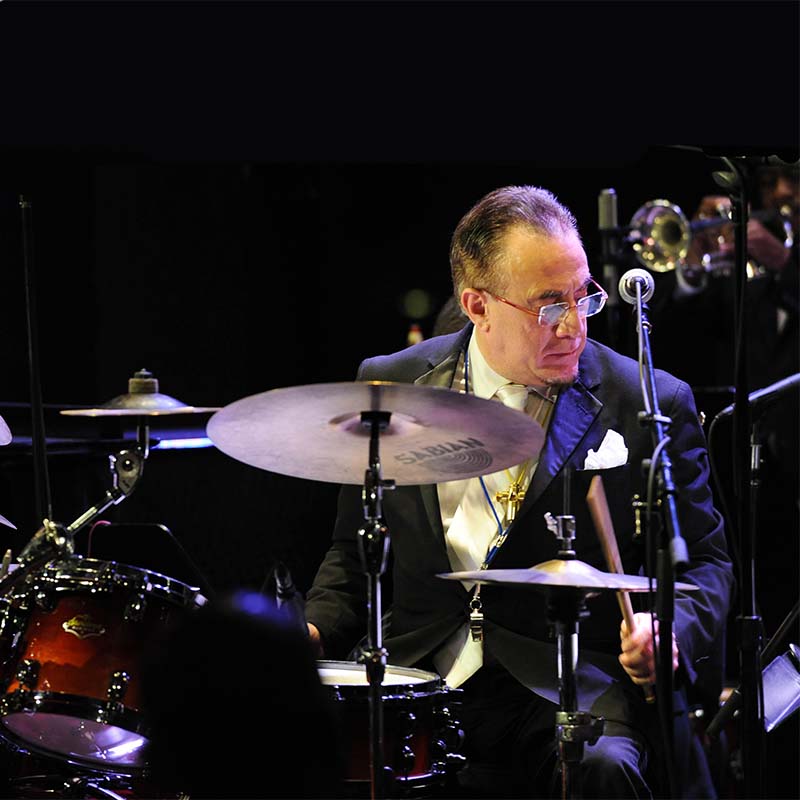 Bobby Sanabria
Jazz Percussionist
Bobby Sanabria is a 7-time Grammy-nominee as a leader. He is a noted drummer, percussionist, composer, arranger, conductor, producer, educator, documentary film maker, and bandleader of Puerto Rican descent born and raised in NY's South Bronx. He was the drummer for the acknowledged creator of Afro-Cuban jazz, Mario Bauzá touring and recording three CD's with him, two of which were Grammy nominated, as well as an incredible variety of artists. From Dizzy Gillespie, Tito Puente, Mongo Santamaria (with whom he started his career) Paquito D'Rivera, Yomo Toro, Candido, The Mills Brothers, Ray Barretto, Chico O'Farrill, Francisco Aguabella, Henry Threadgill, Luis "Perico" Ortiz, Daniel Ponce, Larry Harlow, Daniel Santos, Celia Cruz, Adalberto Santiago, Xiomara Portuondo, Pedrito Martinez, Roswell Rudd, Patato, David Amram, the Cleveland Jazz Orchestra, Michael Gibbs, Charles McPherson Jon Faddis, Bob Mintzer, Phil Wilson, Randy Brecker, Charles Tolliver, M'BOOM, Michelle Shocked, Marco Rizo, and many more. In addition he has guest conducted and performed as a soloist with numerous orchestras like the WDR Big Band, The Airmen of Note, The U.S. Jazz Ambassadors, Eau Claire University Big, The University of Calgary Big Band to name just a few.
His first big band recording, Live & in Clave!!! was nominated for a Grammy in 2001. A Grammy nomination followed in 2003 for 50 Years of Mambo: A Tribute to Perez Prado. His 2008 Grammy nominated Big Band Urban Folktales was the first Latin jazz recording to ever reach #1 on the national Jazz Week charts. In 2009 the Afro-Cuban Jazz Orchestra he directs at the Manhattan School of Music was nominated for a Latin Grammy for Kenya Revisited Live!!!, a reworking of the music from Machito's greatest album, Kenya. In 2011 the recording Tito Puente Masterworks Live!!! by the same orchestra under Bobby's direction was nominated for a Latin Jazz Grammy. Partial proceeds from the sale of both CD's continue to support the scholarship program in the Manhattan School of Music's jazz program. Bobby's 2012 big band recording, inspired by the writings of Mexican author Octavio Paz, entitled MULTIVERSE was nominated for 2 Grammys. His work as an activist led him to fight to reinstate the Latin Jazz category after NARAS decided to eliminate many ethnic and regional categories in 2010. He and three other colleagues actually sued the Grammys which led to the reinstatement of the category. He is an associate producer of and featured interviewee in the documentaries, The Palladium: Where Mambo Was King, winner of the IMAGINE award for Best TV documentary of 2003, and the Alma Award winning From Mambo to Hip Hop: A South Bronx Tale where he also composed the score in 2006 and was broadcast on PBS. In 2009 he was a consultant and featured on screen personality in Latin Music U.S.A. also broadcast on PBS. In 2017 he was also a consultant and featured on air personality for the documentary We Like It Like That: The Story of Latin Boogaloo. He is the composer for the score of the 2017 documentary Some Girls. DRUM! Magazine named him Percussionist of the Year in 2005; he was also named 2011 and 2013 Percussionist of the Year by the Jazz Journalists Association. This South Bronx native of Puerto Rican parents was a 2006 inductee into the Bronx Walk of Fame. He holds a BM from the Berklee College of Music and is on the faculty of the New School University and the Manhattan School of Music where he has taught Afro-Cuban Jazz Orchestras passing on the tradition while moving it forward. His recording with the Manhattan School of Music Afro-Cuban Jazz Orchestra entitled "Que Viva Harlem!" released in 2014 on the Jazzheads label has received ****1/2 stars in Downbeat magazine.
Mr. Sanabria has conducted hundreds of clinics in the states and worldwide under the auspices of TAMA Drums, Sabian Cymbals, Remo Drumheads, Vic Firth Sticks and Latin Percussion Inc. His background having performed and recorded as both a drummer and/or percussionist with every major figure in the history of Latin jazz, as well as his encyclopedic knowledge of both jazz and Latin music history, makes him unique in his field. His critically acclaimed video instructional series, Conga Basics Volumes 1, 2 and 3, have been the highest selling videos in the history of video instruction and have set a standard worldwide. He is the Co-Artistic Director of the Bronx Music Heritage Center and is part of Jazz at Lincoln Center's Jazz Academy as well as The Weill Music Institute at Carnegie Hall. His latest recording released in July 2018 is a monumental Latin jazz reworking of the entire score of West Side Story entitled, West Side Story Reimagined, on the Jazzheads label in celebration of the shows recent 60th anniversary (2017) and its composer, Maestro Leonard Bernstein's centennial (2018). Partial proceeds from the sale of this historic double CD set go the Jazz Foundation of America's Puerto Relief Fund to aid Bobby's ancestral homeland after the devastation form hurricanes Irma and Maria.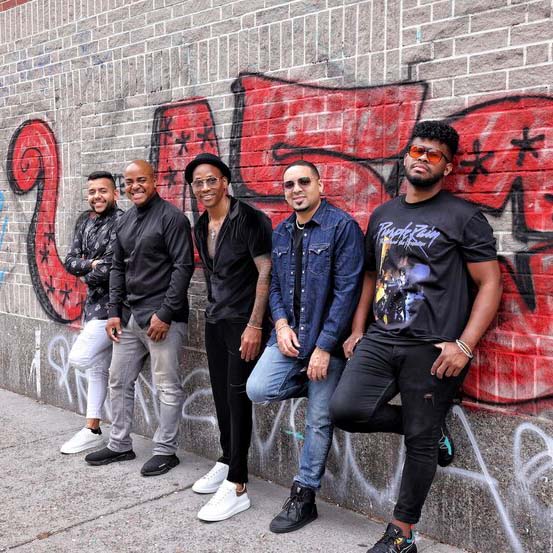 The Pedrito Martinez Group
Yerba Buena
"Pedrito is a genius…working with him has been a revelation to me." ~ Wynton Marsalis
"The Pedrito Martinez Group is the real thing. They had the club JUMPING! It made me feel like a teenager!" ~ Quincy Jones
"The Pedrito Martinez Group is writing a new chapter in Cuban music history" ~ NPR All Things Considered
Pedro Pablo "Pedrito" Martinez was born in Havana, Cuba, Sept 12, 1973 in the Cayo Hueso neighborhood of Old Havana, and began his musical career at the age of 11.Since settling in New York City in the fall of 1998, Pedrito has recorded or performed with Wynton Marsalis, Paul Simon, Paquito D'Rivera, Chucho Valdez, Bruce Springsteen, Eddie Palmieri, Dave Matthews, Jackson Browne, Elton John, James Taylor and Sting, and has contributed to well over 100 albums. A consummate master of Afro-Cuban folkloric music and the batá drum he is also the world's first-call rumbero—playing, singing, and dancing with dozens of Cuban rumba groups and contributing to, or appearing in, several important films, including Calle 54 (2000) and Chico and Rita (2010).
Pedrito was a founding member of the highly successful, Afro-Cuban/Afro-Beat band, Yerba Buena, with which he recorded two albums and toured the world in the mid- to late-90's.

Mr. Martinez's career as a leader began in 2005 with the formation in NYC of the The Pedrito Martinez Group. The group's first, self-titled, studio album, was released October, 2013, was nominated for a Grammy, and was chosen among NPR's Favorite Albums of 2013 and The Boston Globe Critics Top Ten Albums of 2013."

Habana Dreams, their second album, recorded largely in Cuba, was released in June 10, 2016. Guests include, Ruben Blades, Isaac Delgado, Wynton Marsalis, Angelique Kidjo.In February of 2019, Pedrito and Cuban pianist, Alfredo Rodriguez, released a duo album called Duologue to critical acclaim and was selected by NPR for a First Listen. Quincy Jones was Executive Producer. In July 2019, Pedrito and Eric Clapton, recorded a newly arranged version of Clapton's song, My Father's Eyes for a new Pedrito Martinez album, called Acertijos (Riddles), to be released in early 2021. And on September 22, Pedrito and Clapton performed the song together at Clapton's, Crossroads Guitar Festival in Dallas, Texas.On March 12, 2020 at the Beacon Theater in NYC, Pedrito had the honor of performing as special guest, with Dave Matthews, Jackson Browne, and The Tedeschi Trucks Band, for a benefit concert called Love Rocks NYC. In June of 2020, Pedrito began releasing singles that were recorded for album, due in early 2021, Acertijos--starting with Yo Si Quiero, an original by Isaac Delgado Jr, Mitchell Delgado, and Pedrito, followed by My Father's Eyes, a duet with Eric Clapton.
Pedrito Martinez uses LP Percussion, A. Zildjian Cymbals, Vic Firth drumsticks, DW drums, Remo drumheads, and Earthworks audio mics.
---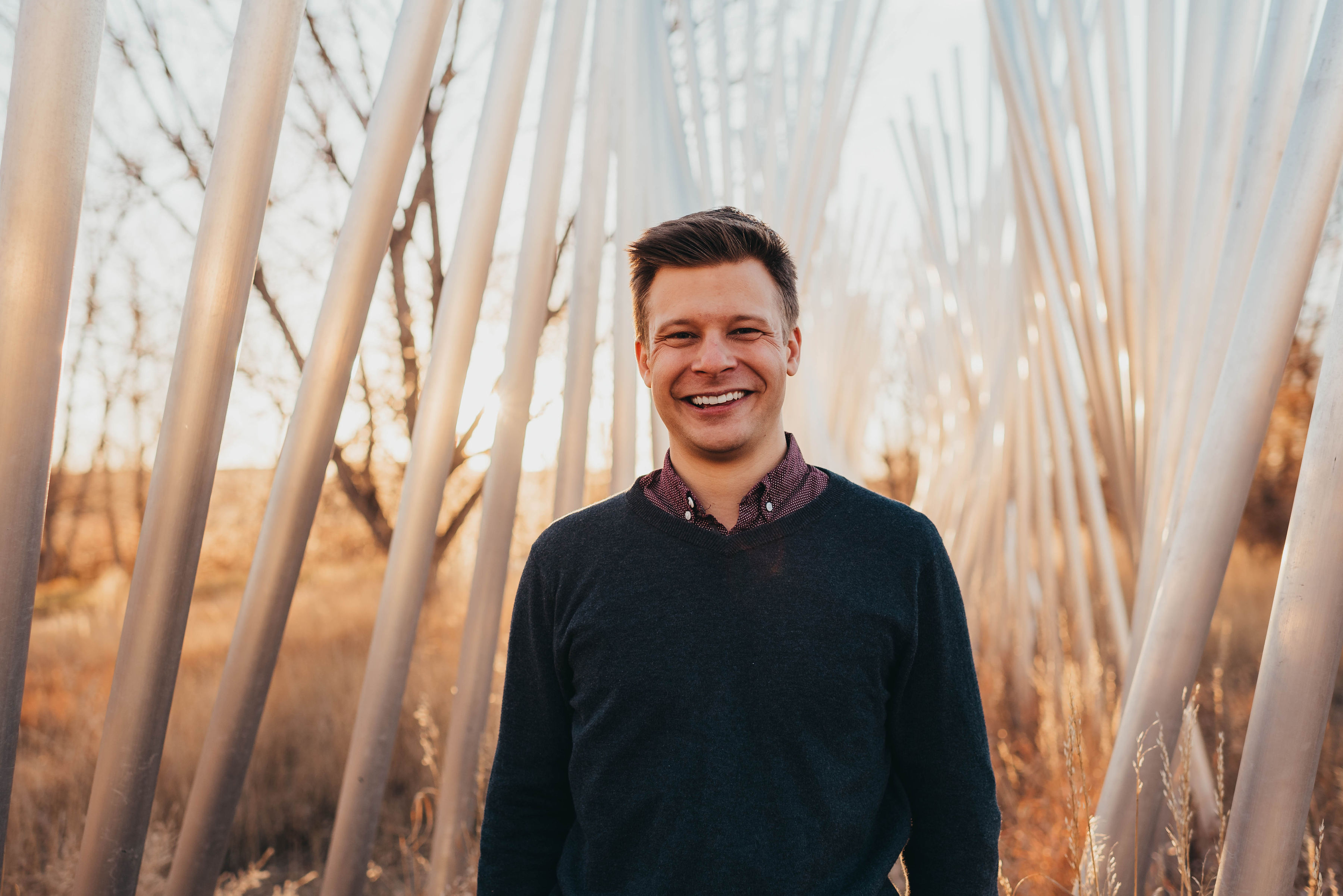 Zaremba Jazz Fellowship
Drew Zaremba
Selmer artist Drew Zaremba enjoys worldwide reputation as an award-winning writer, a passionate conductor, and fiery performer. He has composed and arranged pieces for the BBC Orchestra, the WDR and NDR Big Bands, the Vanguard Jazz Orchestra, Dallas Symphony Orchestra, the Metropole Orkest, the Airmen of Note, the Julliard Jazz Orchestra, Wycliffe Gordon, Dick Oatts, Randy Brecker, Eddie Gomez, Jazz Melbourne, and the Pyramid Jazz Orchestra in Kanazawa, Japan. Drew joined the faculty of the award-winning University of Northern Colorado (UNC) jazz studies department in 2018 to teach jazz composition and arranging. 
Drew is thrilled to release his most recent project, "Reunion", as his debut big band album. With producer and mentor John Clayton, and guest artist Wayne Bergeron, Drew assembled some of the Front Range's finest musicians in a melodic and eclectic large jazz ensemble experience featuring Drew's compositions and reimaginations of jazz standards Chopin, and Pink Floyd. Drew's band, the Zaremba Jazz Fellowship, will release the project on his birthday to close the Greeley Jazz Festival. "Reunion" celebrates the joy of making music in one room together as students, faculty, and friends make a sound as one.
One of Drew's most ambitious projects was writing a concert of music entitled "Crossing Chinese Opera with Jazz" during a two month residency in Zhuhai, China. Drew has published music through Alfred Music, Sierra Music, and has self-published over 70 works at his website, drewzaremba.com. Drew was ecstatic to receive the Sammy Nestico Award for his original composition "Kangaroo Bruise Blues" in 2018. In 2015, Drew was awarded 1st prize of $10,000 in the Sherman/Barsanti Inspiration Award at the University of North Texas (UNT) for his premier concert with his orchestra, the Unity Orchestra, which featured Eddie Gomez. Finally, Drew is proud to be a 3-time Herb Alpert Young Jazz Composer winner.
                In addition to writing music, Drew is an active saxophonist, keyboardist, and woodwind artist. He is equally comfortable on lead alto in big band, playing hammond organ in a trio setting, or executing a reed book in a musical pit orchestra. Drew's music releases have been as varied as his experiences - from YouTube big band video releases, to his albums "Two Sides of the Same Coin" and "Hologram".
            Teaching is a fundamental part of being a jazz musician today, and Drew is delighted to be in demand as a clinician and guest artist. He was given the title of visiting professor for his work at the Contemporary Music Institute in Zhuhai, China. Additionally, he has given clinics and guest artist performances in Melbourne, Brussels, Tokyo, London, Hannover, The Netherlands, and in dozens of colleges and high schools in the United States.  Drew has taught at the UNC and UNT summer jazz camps, as well as Arrowbear Music Camp in California, and the Golden Jazz camp in Zhuhai, China.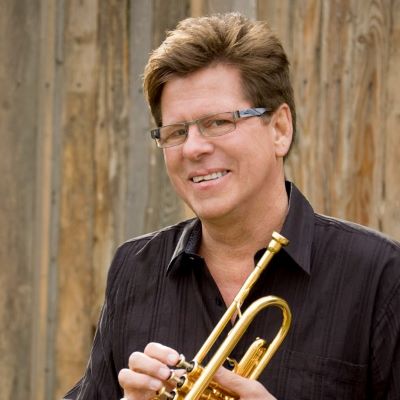 Wayne Bergeron
Wayne Bergeron is enjoying a career as one of the most sought-after musicians in the world. Studio sessions, film dates, international touring, jazz concerts, guest appearances, and clinics keep him busy not only in his hometown of Los Angeles, but worldwide.
Born in Hartford, Connecticut in 1958, Bergeron came to Los Angeles at age one, so considers himself a native Californian. Originally starting on French horn, he switched to trumpet in seventh grade and found he had natural upper register ability. Bergeron credits his junior high and high school teachers, Ron Savitt and Bob Smith, for molding his talent into practical working skills.
Bergeron first caught the ear of many when he landed the lead trumpet chair with Maynard Ferguson's band in 1986. Bergeron can be heard on Maynard's recordings of Body and Soul, Big Bop Nouveau, Brass Attitude, and The One and Only Maynard Ferguson. Bergeron demonstrates daily why Maynard remarked, "Wayne is the most musical lead trumpet player I've had on my band."
As a sideman, Bergeron's list of recording credits reads like a who's who in contemporary jazz and pop, running the stylistic gamut from Ray Charles to Green Day. Other names include Panic, AT the Disco!, Katy Perry, Beyoncé, Barbra Streisand, Michael Buble, Mary J. Blige, Indina Menzel, Leslie Oden Jr., Herb Alpert, The Jonas Brothers, Burt Bacharach, The Dirty Loops, Seth MacFarlane, Natalie Cole, Celine Dion, Seal, Diana Krall, Tito Puente, Christina Aguilera, Dianne Reeves, Michael Bolton, Earth Wind & Fire, The Pussy Cat Dolls, My Chemical Romance, The Mars Volta, Chicago, Rosemary Cloony, Diane Schuur, Barry Manilow, Lee Ann Womack, Lou Rawls, Eric Marienthal, Kenny G., and David Benoit.
Bergeron has worked on over 450 TV & motion picture soundtracks. A partial list of film credits include Minions 2:The Rise of Gru, Soul, Ford vs. Ferrari, Toy Story 4, Frozen 1, 2, Despicable Me 1, 2, and 3, Secret Life of Pets 1, 2, The Lion King (2019), The Mule, The Incredibles 1, 2, Wreck it Ralph 2, Alita:Battle Angel, Crazy Rich Asians, First Man, Smallfoot, The Predator, Sing, Moana, Frozen 1 & 2, Bridge of Spies, Get On Up, Toy Story 3, Monsters University, PlanesCars 2, High School Musical 3, Pink Panther 2, Marley & Me, Get Smart, Superman Returns, The Simpson's Movie, Dreamgirls, Hairspray, Mission Impossible 3, Ice Age 2, Spiderman 1 & 2, Team America, Catch Me if You Can, and South Park.
Bergeron's featured trumpet solos can be heard on the motion pictures West Side Story (2021), Secret Life of Pets 2, La La Land, Rough Night, Ted 2, Minions, Jersey Boys, The Incredibles 1 and 2, Rocky Balboa, The Green Hornet, The Interview, Smurfs 2, Despicable Me 2, Duplicity, Leather Heads, Princess & the Frog, The Perfect Game, High Crimes, Rounders, Fled, Hey Arnold (the movie), The Life Aquatic, The Rat Pack, Child Star, Illegal Tender, Aladdin King of Thieves, Foolproof, and Two Days in the Valley.
Numerous TV credits include Academy Awards, Golden Globe Awards, SAG Awards, NBC, ESPN & TNT sports themes, American Idol (2001-02), Emmy Awards, Grammy Awards, Latin Grammy's, Animaniacs Reboot, Family Guy, American Dad, World of Mickey Mouse, Simpson's, The Cleveland Show, Green Eggs and Ham, Jeopardy, America's Funniest Home Videos, Will and Grace, Phineas & Ferb, Emperor's New School, Mouse Works, Have a Laugh, House of Mouse, King of the Hill, Futurama, Buzz Lightyear, Hercules, Disney Mickey Mouse Shorts, and Hey Arnold.
Bergeron's passion for big bands has led to his inclusion in some of Los Angeles' most well respected bands. He has recorded and played with Quincy Jones, Gordon Goodwin, Arturo Sandoval, Pat Williams, Sammy Nestico, Jack Sheldon, Chris Walden, Tom Kubis, John La Barbara, Bob Florence, Joey Sellers, Ray Anthony, Bill Watrous, Bob Curnow, Bill Elliot, and Gary Urwin.
After being behind the scene for so many years, Bergeron stepped out on his own with his first solo effort, You Call This a Living? This debut project earned him a Grammy nomination in 2004 for Best Large Jazz Ensemble, as well as rave reviews from fans and press worldwide. Bergeron's second CD, Plays Well With Others, released on the Concord Jazz label in 2007, was met with the same acclaim. Bergeron's most current CD, Full Circle, was released in January of 2016. Bergeron feels this is his best work to date.
Bergeron performed as principal trumpet at the Pantages Theatre in Los Angeles from 1997-2017 playing on hundreds of musicals. Bergeron also performs various events for the Hollywood Bowl summer season. He has done guest appearances with the L.A. Philharmonic, The New York Philharmonic, Cleveland Orchestra, Dallas Symphony, Taiwan Symphony, and Tokyo Philharmonic.
Bergeron is a National Artist for the Yamaha Corporation of America and is co-designer of the YTR-8335LA trumpet and YFH-8315G Flugelhorn. Bergeron also designed a series of trumpet mouthpieces with Gary Radtke of GR Technologies that are available through Bergeron's website.
Bergeron was mentored by legends like Uan Rasey, Bobby Shew, Warren Luening, Gary Grant, Rick Baptist, and George Graham. He hopes to inspire a new generation of young players and enjoys his work as a clinician and educator. "Nothing makes me feel more accomplished than hearing a young musician say that I inspired them or had a positive influence on their life. For me, that's the real payday." Bergeron is currently on faculty at California State University Northridge.
Maybe Grammy winning composer and bandleader, Gordon Goodwin said it best, "Wayne is a once in a lifetime lead trumpet player."