Assistant Professor Rebecca Rich had a very exciting guest in her Audition Techniques class this week! His name is Cedric Yarbrough and he's one of the top comedic actors working in Hollywood over the past decade.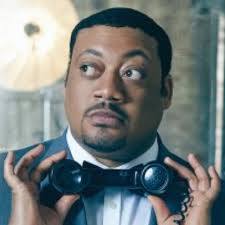 Get to know Cedric Yarbrough!
Most known for his revered role of Deputy S. Jones on the hit Comedy Central cable series Reno 911!, Cedric Yarbrough has been making people laugh for years. Television and movie credits for the Minneapolis native include The Goldbergs, Crazy Ex-Girlfriend, Ballers, The Soul Man, Key and Peele, Curb Your Enthusiasm, Dice, a phenomenal run as Kenneth on Speechless, and many more shows.
On the big screen, Cedric's credits include The Boss, opposite Melissa McCarthy, as well as The 40-Year-Old Virgin, Meet the Fockers, Get Smart, Four Christmases, Sundance favorite Black Dynamite, and, again, so many more films!
Having a powerful and distinctive voice, he is recognized for the role of Assistant District Attorney Tom Dubois and Colonel H. Stinkmeaner in the Peabody award-winning series The Boondocks. He is also heard as Officer Meow Meow Fuzzyface in the series Bojack Horseman, as well as Broccoli Guy in Skylanders Academy. Additionally, he is the voice of Neil Degrasse Tyson in Mike Tyson Mysteries. Other animated shows include Family Guy, American Dad, Blaze and The Monster Machines, as well as We Bare Bears.
Additionally, Yarbrough is proud to be a part of the long-running sensation The Black Version, an improvised show that started at the Groundlings Theatre in 2010.