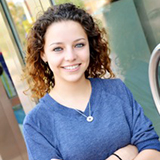 Naomi Gold, a senior UNC Design & Technology major studying lighting design, recently won the USA National 2nd Place Barbizon Award for Theatrical Excellence in Lighting Design at the Kennedy Center American College Theatre Festival (KCACTF) Nationals for her lighting design in UNC's Fall 2016 production of Spring Awakening (pictured above). Congrats to Naomi on this achievement!
---
Read more about Naomi and her award in this brief interview:
What is your year in school and your major?
I am a senior theatre design and technology major with an emphasis in lighting design.
What drew you to getting involved in theatre design tech, and specifically lighting design?
When I was little, I went to Chicago to see Wicked. And as I was sitting in the seat staring with amazement at the stage, I realized that I had to do that. Granted, at that age, I didn't know what 'THAT' was. Flash forward to freshman year at Grandview High School, I took part in the technical side of theatre and started designing the lighting for all of our productions there. And I haven't stopped since. There's something so emotionally intriguing how light can affect things so differently depending on how it hits the object and how it can mold and shape a human form.
Tell us a little bit more about the KCACTF and the award that was presented to you. What did you submit specifically to the competition?

KCACTF (Kennedy Center American College Theatre Festival) is a national theatre program that involves over 20,000 students from 700 academic institutions. There are 8 regions. I am part of region 7, which includes Alaska, Colorado, Idaho, Montana, Northern California, Northern Nevada, Oregon, Washington, and Wyoming. Two of its main goals are to improve the quality of college theatre in the United States and to recognize and celebrate the finest and most diverse work produced in university and college theatre programs. I specifically went to KCACTF Regionals in February to showcase, present, and compete with my lighting design for Spring Awakening, which was one of UNC's Main Stage shows last semester. Each competitor has a display area/table where we can set up our design. We then present our work to the respondents and other competitors. The respondents give feedback to each person's design. The respondents then decide on one candidate (per design area: lighting, sound, etc.) from each region, to send (all expenses paid) to KCACTF Nationals, which are in Washington D.C. at the John F. Kennedy Performing Arts Center. At nationals, there are 8 lighting design competitors, one from each region. We set up our displays once again and present them to a new respondent. The award that I won was the USA National 2nd place Barbizon Award for Theatrical Excellence in Lighting Design. The purpose of the Barbican Award for Theatrical Design Excellence is to give outstanding student designers national recognition and the opportunity to exhibit our work at the Kennedy Center. In addition to competing again at nationals, all of the regional winners also partake in different workshops that include designing lights for small scenes to discussing the business of lighting design.
What are your plans after graduation, and what are your long-term professional goals?
After graduation, I am moving to Bloomington, Indiana, in August to attend Indiana University for my Master of Fine Arts in Theatrical Lighting design.
What's one thing you would tell other prospective design tech students about your experience at UNC?
If I could tell the other design tech students one thing, it would be to be passionate about what you are doing. If you love what you are doing, then it will never feel like work. Theatre is not just a job; it's a way of life. At UNC, we are submerged with many opportunities that other universities cannot offer to their undergraduate students. Every single one of us was brought to UNC because the faculty saw something promising in each one of us. No matter how tired or exhausted you are, take a moment to remember why you chose this career path in the first place. We have amazing faculty and staff that are more than willing to help you succeed. UNC's students and faculty are not just a school; we are a family.