Awards & Distinctions
Now celebrating its 83rd season, The Little Theatre of the Rockies is the oldest professional summer stock theatre West of the Mississippi River and the oldest professional theatre company in the State of Colorado.
Over its long history, LTR has premiered a number of new musicals including Babes in Hollywood and One More For My Baby. In addition the company regularly provides its Northern Colorado audiences with regional premiers of new plays and musicals (My Way – A Tribute to the Music of Frank Sinatra, The Lady With All The Answers, God's Man in Texas, Bad Dates, Doubt, Dogfight, etc.)
The theatre continues to receive numerous citations from the Denver Post, The Greeley Tribune and other regional publications for the quality of its production work.
The theatre is one of two theatre companies operating in Northern Colorado that employees guest artists who are members of Actor's Equity Association.
Many well know entertainment professionals such as Nick Nolte, Steven Dietz, and Greg Germann got their start here at LTR.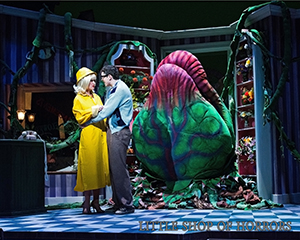 History
The Little Theatre of the Rockies was founded by Colorado State College (CSC) President George Frasier at the height of the Great Depression. LTR began as an adjunct to the summer Recreation Program of CSC (now the University of Northern Colorado) in Nineteen Thirty-Four (1934) and was one of President Frasier's favorite projects.
Frasier entrusted the organization and development of the Little Theatre of the Rockies to Dr. Helen Langworthy, who came to CSC as a summer faculty member and remained in Greeley to make LTR her life's work. Dr. Langworthy retired in Nineteen Sixty-Five (1965) and was succeeded as Executive Director and Department Chair by Dr. Welby Wolfe. Dr. John Willcoxon was appointed Executive Director and Department Chair in Nineteen Seventy (1970). Dr. Willcoxon left the Chair position in Nineteen Seventy-Nine (1979), but remained as Executive Director of LTR until Nineteen Eighty-Five (1985), the year he retired. Associate Professor Ron Gloekler was Chair from Nineteen Seventy-Nine (1979) to Nineteen Eighty-Three (1983) and Acting Executive Director of LTR from Nineteen Eighty-Five (1985) to Nineteen Eighty-Eight (1988). Jeannette Triomphe served as Chair from Nineteen Eighty-Three to Nineteen Eighty-Eight (1983-1988). In Nineteen Eighty-Eight (1988), Tom McNally became the Department Chair and LTR Artistic Director and held both positions until he stepped down as Department Chair in Two Thousand One (2001) and as Artistic Director in 2015. David Grapes, who currently serves as the Director of the School of Theatre Arts and Dance was appointed in August 2015 as Producing Artistic Director once again uniting the two positions.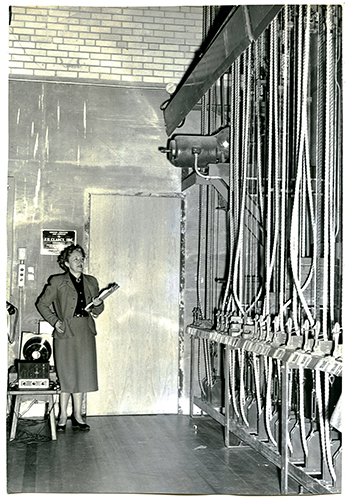 Helen Langworthy, Frasier Hall, Backstage
The high standards of Dr. Langworthy and her staff won immediate community acceptance and high praise from local, regional and national drama critics. By the early nineteen forties (1940s), LTR was well established regionally and served as a national model for methods and procedures of successful educational theatre and as a pre-professional experience for actors, directors, music/theatre performers, theatre designers and technicians, stage managers and teachers of secondary drama.
LTR suspended operations from Nineteen Forty-Three to Nineteen Forty-Five (1943-1945), due to wartime limitations. LTR resumed theatre production in the summer of Nineteen Forty-Six (1946). Following that summer, LTR expanded its producing program to a year round operation. The company first (1st) produced in a small theatre in Cranford Hall, formerly a chapel.
In March of Nineteen Forty-Nine (1949), the Cranford Theatre burned in an arson-set fire that destroyed nearly everything. The company had just completed the first (1st) dress rehearsal of a production of The Male Animal. Through the aggressive determination of all concerned, the production was pulled together with recreated settings, costumes, properties, lights and was presented at the Sterling Theatre in Greeley with a rousingly supportive audience of more than nine hundred (900) people.
From Nineteen Forty-Nine to Nineteen Fifty-Three (1949-1953) productions of LTR were presented in the Central High School Auditorium with all the ramifications and complications of sharing a facility.
During the spring of Nineteen Fifty-One (1951), the proposed plans for Frasier Hall were made public. Construction began in November of that year. The Theatre in Frasier Hall opened in January of Nineteen Fifty-Four (1954) with the play Point of No Return.
The goals of the Department/School of Theatre Arts and Dance and the Little Theatre of the Rockies have remained relatively constant over the years. The Theatre Arts Program has provided strong pre-professional experience to actors, directors, dancers, music/theatre performers, designers, technicians and teachers, which has had a positive effect on the State of Colorado and the region.
In addition, the School of Theatre Arts and Dance and LTR continue to provide entertainment and cultural enrichment for UNC students and the surrounding communities.
Currently, the Little Theatre of the Rockies acts as a semi-independent professional summer stock operation and no longer functions as the sole producing organization for the academic Programs in the School of Theatre Arts and Dance.
The central mission of the Little Theatre of the Rockies is to provide the Front Range community with high quality professional summer stock theatre each season and to provide our current students, faculty, staff and alumni the opportunity to work alongside professional Equity and non-Equity actors and to inner-face with working professional guest designers, musical directors, musicians, dramaturges, stage managers, directors and choreographers.
The goals and objectives of the Little Theatre of the Rockies are as follows:
To entertain and educate the Front Range and University of Northern Colorado theatre audiences with a production season that draws from the best of family/classic/modern musicals and musical revues, contemporary and classic comedies, State, regional and local premieres and, when appropriate, provide a showcase for new work
To provide current students, faculty, staff and alumni the educational opportunity to learn each summer from working professionals
To produce plays and musicals that are better-suited for audiences in a summer stock atmosphere
To provide current students, faculty, staff and alumni with professional "networking" opportunities
To provide current students, faculty, staff and alumni the opportunity to be paid and gain summer stock experience without being forced to leave the region each summer to find work
To provide guest artists with the opportunity and resources to conduct workshops and master classes each summer for our faculty, staff, students and alumni
To operate on a balanced budget each year with the available resources
To provide our audiences with the unique opportunity to experience both traditional proscenium style theatre in the Langworthy Theatre and "theatre in the round" in the Norton Theatre
To allow our company members and audiences to experience theatre in a rotating repertory format
To provide an opportunity for current students and alumni to be paid for their work
To provide faculty and staff within the School of Theatre Arts and Dance the opportunity for professional summer employment and professional development