School of Theatre Arts and Dance
Named a Colorado Program of Excellence by the Colorado Commission on Higher Education, the School of Theatre Arts and Dance provides pre-professional training for students who plan to pursue careers in professional theatre, or as teachers of theatre arts. The School actively cultivates an appreciation and understanding of theatre as a part of American society and culture, and as a vehicle for the enrichment of life.
As a student at UNC, you will not only be exposed to rigorous academics in the classroom but also enjoy a wide variety of performance opportunities, get to work along side nationally recognized guest artists, and have the opportunity to explore every facet of the theatrical arts. Combine all of these strengths with our close proximity to Denver and the recreational opportunities afforded by the Rocky Mountains and you truly have something special.
The UNC School of Theatre Arts and Dance is accredited by the National Association of Schools of Theatre (NAST).
To the Bear Community
I write to you today with a profound sense of both anger and sadness.
George Floyd is another victim among countless others who have violently lost their lives or whose lives were threatened because of the color of their skin. This tragic and unnecessary event has once again shined a spotlight on racially motivated violence and systemic discrimination in our society. Around the country, including here in Colorado, people have gathered to protest the deaths, affirm Black lives, denounce systems that allow identity-based violence to persist, and demand change. The anguish and emotion visible in their faces is projected into every home on our televisions and news feeds.
Our University's leadership stands in solidarity with those protesting systemic injustices, including police violence, and is committed to addressing systemic oppression, discrimination, and racism on our campus and in our society.
I have written you in the past to express and reaffirm the values of inclusion and respect that we nurture and fulfill in the UNC community. Now, more than ever, we must live these values fully and take a stand against acts of discrimination and racism. Far too many Bears live in fear of being a target of hate or violence because of their identities
To echo the words of activist Angela Davis, "In a racist society, it is not enough to be non-racist, we must be anti-racist." I encourage each of you to join me in my commitment to not just speak out against hatred and bias, but to pursue and implement positive change. As a Community of Bears, we must continue to work together to confront and prevent acts of hate and bias and hold each other and our communities accountable.
I know from deep dialog with colleagues and peers of color that the persistent struggle, compounded by the weight of these recent events, has taxed many of them emotionally and physically—they are exhausted and hurt. They should not bear the burden of striving for justice alone. Now is the time for us all to pick up our paddles and row together toward a more just society that honors and cultivates the value of the lives of all people of color.
Rowing, Not Drifting,
Andy Feinstein, President
News & Announcements
Alumna Jessamyn Miller Named Colorado Middle School Teacher of the Year
---
STAD Alumni/Faculty Update 2019
Areas of Study
The School of Theatre Arts and Dance offers majors in Acting, Musical Theatre, Design and Technology, Theatre Education, and Theatre Studies, as well as minors in Dance and Theatre Arts. Our programs include rigorous training and performance opportunities to combine professional classroom instruction with firsthand theatre experience.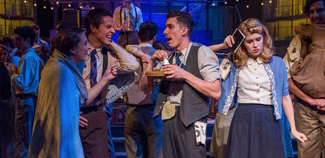 The Acting program at UNC is a rigorous, pre-professional training program designed to prepare talented young actors for careers in theatre, film, and television.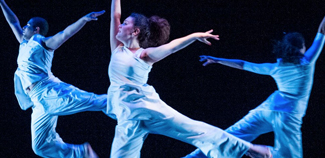 You will study dance technique in ballet, jazz, tap, modern, and ballroom dance through a blend in the study of scientific and artistic movement principles.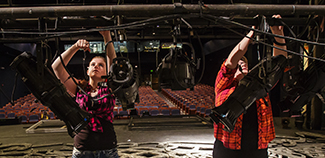 Best of practical application and applied theory, giving each student the ability to build an education tailored to personal aspirations.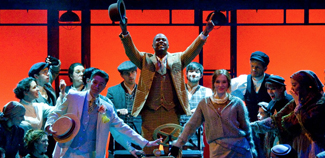 Providing promising young performers intense structured voice, acting, and dance training for the professional stage.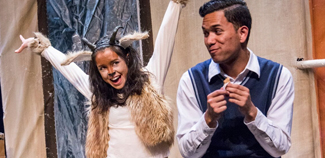 Classes in all areas of theatre (acting, speech, movement, history, playscript analysis, and more), as well as complete coursework in the College of Education and Behavioral Sciences.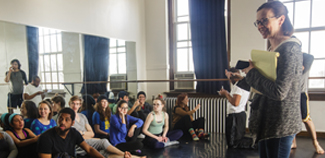 Our Theatre Studies alumni go on to have exciting careers in directing, producing, playwrighting, teaching, performance, theatre administration, and much more.
2019-2020 THEATRE SEASON
---
EURYDICE
September 26 - October 6, 2019
Norton Theatre
THE CHERRY ORCHARD
October 17-20, 2019
Langworthy Theatre
CABARET
October 31-November 10, 2019
Norton Theatre
FALL DANCE CONCERT
November 21-23, 2019
THE HOUSE OF BERNARDA ALBA
February 13-23, 2020
Norton Theatre
A CHORUS LINE
March 5-8, 2020
LANGWORTHY THEATRE
BLUE (CANCELLED)
Theatre for Young Audiences
April 4th, 2020, 2pm
Campus Commons Performance Hall
MACBETH (CANCELLED)
April 23-26, 2019
Langworthy Theatre
UNC Ticket Office
Campus Commons, First Floor Lobby
1051 22nd Street, Greeley
(970) 351-4849
Web Sales
Phone Sales
970-351-4849
Hours
10am-5pm, Monday-Friday