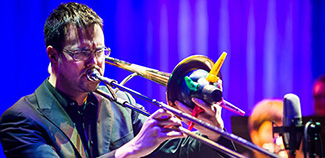 Brass
Students studying in the Brass area have many opportunities to participate in School of Music ensembles, such as Jazz, Bands, Orchestra, and more.
Folk and Bluegrass Studies
Students study bluegrass fiddle, mandolin, banjo, guitar, and bass. This program is available to students pursuing any of the school's existing undergraduate degree programs.
Jazz Studies
Performance opportunities in big bands, combos, vocal jazz groups, and Latin jazz. With over 30 years of history, UNC's jazz ensembles have earned numerous accolades.
Keyboard
Keyboard students have access to an array of exciting opportunities. Faculty works closely with each student to design an individualized plan of study that ensures student success.
Music Composition
Our philosophy focuses on individual mentoring with faculty who are active in research, composition, and performance, with work presented and published both nationally and internationally.
Music Business
The trend in the music business is to put careers together through personal marketing and the use of technology. Link your unique talents with entrepreneurship skills to succeed in music today.
Music Education
Students are trained in the discipline of music and fully prepared in the art of pedagogy. Our program is dedicated to the preparation of the best musician/teachers of the future.
Music History and Literature
Our students frequently present papers at regional, national, and international conferences during their course of study. Student work has appeared in national and international peer-reviewed publications.
Music Technology
The Music Technology Center houses multiple computer and keyboard labs, digital audio, video, and multimedia suites, and a state-of-the-art recording studio.
Music Theory
All music students gain a high level of proficiency in music theory and aural skills, which are essential tools for the 21st-century musician.
Percussion
The performing ensembles offered to percussion students at UNC are many and diverse. Marching Band, Wind Ensemble, Symphonic Band, Concert Band, Orchestra, and more.
Strings
Students learn to balance independence with interdependence while honing both technical and musical skills in an inspiring, creative and collaborative setting.
Voice
Study with our highly recognized and dedicated faculty, who have performed extensively internationally and throughout the United States. We strive to create a friendly, supportive atmosphere.
Woodwinds
The performing ensembles offered to woodwind students at UNC are many and diverse. Marching Band, Wind Ensemble, Symphonic Band, Concert Band, Orchestra, and more.