UNC String Project
Thursdays, 4:45pm - 6:00pm
Rodarte Community Center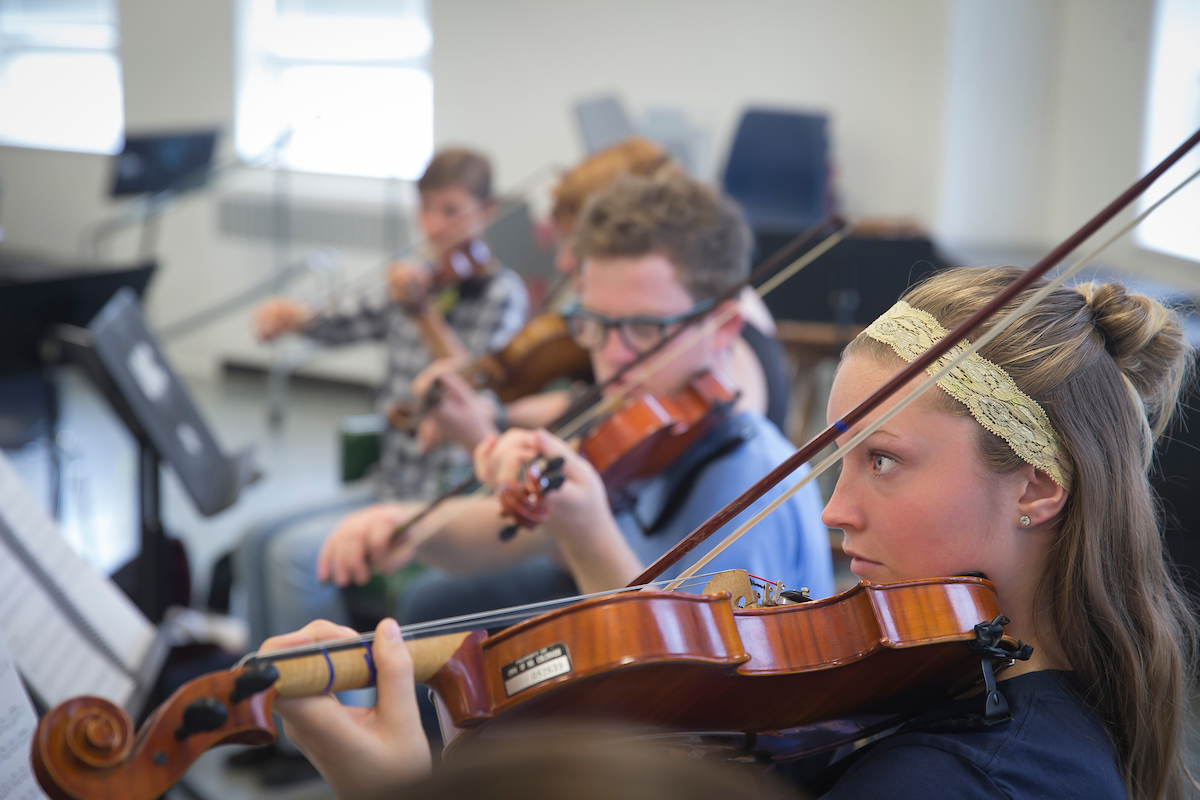 The University of Northern Colorado School of Music is proud to announce the String Project - a community based music education program providing school-aged students with the opportunity to learn violin, viola, cello, or double bass in an orchestra setting. Led by Dr. Linsday Fulcher, and modeled after the National String Project Consortium, the string project aims to;
Provide a safe environment for children and teachers involved in string education
Facilitate the growth and development of string and orchestra programs in the public schools.
Create programs that give undergraduate and graduate music students hands-on, supervised experience in teaching, administration, and leadership as they pursue their degrees
Provide by example a model for string program development on local, state and national levels.
Students may join in 4th or 5th grade and continue through high school. A limited number of scholarships and UNC-owned instruments are available for students with financial need. Students must enroll in their school orchestra program if one exists.
CLASS INFORMATION
PROCEDURESSCHEDULESupport US
CONTACT:
LOCATION:
SCHEDULE/NEWS:

PARENT AND STUDENT INFORMATION PARTY
Thursday, August 31st, 2017;
5:30-6:30pm
Rodarte Community Center

RSVP NOW
FIRST REHEARSAL
Thursday, September 14, 2017; 4:45-6:00pm
Rodarte Community Center
---
CLASS INFORMATION
In Fall 2017, all students will start as beginners. Classes will take place at the Rodarte Community Center (920 A St, Greeley, CO 80631) on Thursday afternoons from 4:45-6:00pm.
Students will register for class at our Parent & Student Information Party on August 31. If you are unable to attend the Party, please contact Dr. Fulcher to register and receive class information.
Tuition: $75 per semester ($150 for the full school year)
Students are encouraged to provide their own instruments or rent them from a local music store. We will discuss instrument options at the Information Party on August 31st.
No student will be turned away because of financial need. Please attend the Information Party and/or contact Dr. Fulcher with concerns about fees and instruments.
---
SCHEDULE
FALL REHEARSALS
September 14
September 21
September 28
October 5
October 12
October 19
October 26
November 2
November 9
Novmber 16
November 30
December Concert - Date TBD
Classes resume on January 11
---
PROCEDURES
Please see the following documents for details about String Project
Support Us
We are incredibly grateful for the organizations who have already pledged support for the UNC String Project. Thank you to:
The Rodarte Community Center for use of your building. Special thanks to Brecken Arnold (Recreation Supervisor) and Nico Ruscitti (Recreation Coordinator).
The University of Northern Colorado Faculty Research and Publication Board New Project Program. This NPP grant was used to purchase instruments for use by students with financial need.
The Community Foundation of Greeley and Weld County, Arts Alive!. The Arts Alive! grant was used to purchase instrument accessories, musical supplies, and instruments.
The UNC School of Music for providing Dr. Fulcher time to be Director of String Project, as well as financial support. Special thanks to Leo Welch (Dean of the College of Performing and Visual Arts), Michael Alexander (Director of the School of Music), and Charles Hansen (Associate Director of the School of Music).
Your generosity makes the UNC String Project possible. Donor support ensures that all students can participate in String Project, regardless of financial need. If you are interested in sponsoring a student, please contact us.