Your Impact on the Arts at UNC
"We are grateful for the generosity of our donors, who directly impact our arts programs, provide student scholarships, and help us continue our College's tradition of excellence. I look forward to meeting the donors who make this success possible, and I want to express my commitment to strengthening this College even further to honor their generosity, vision, and legacy. We are proud to tell these stories thanks to your support."
Cristina Goletti, Dean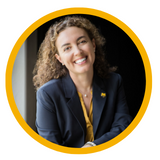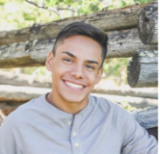 Angel Castillo
Sophomore BA, Art & Design, concentration in Graphic Design and 2020-21 recipient of the Robert and Marilyn Clark Scholarship in the Arts
I have always been dedicated to my academics and strive to maintain a top-grade point average. The Robert and Marilyn Clark Scholarship has enabled me to continue my educational journey and has ensured that I can pursue my passion of studying Graphic Design at the University of Northern Colorado. My dream is to become a small business owner and an art educator, this dream is quickly becoming a reality thanks to Bob and Marilyn Clark's generous support of my education. Thank you for enabling me to reach my fullest potential.
Bob and Marilyn Clark have been supporters of UNC for more than 20-years. They chose to endow the Robert and Marilyn Clark Scholarship in the Arts at UNC in 2014 to provide opportunities for other young aspiring artists to pursue their dreams. Bob is a 1960 Alumnus of the University of Northern Colorado and shared; "UNC provided me the fundamentals I needed to make my business successful, and much of my life has been predicated on the lessons I learned at UNC."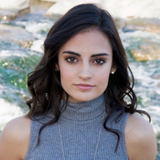 Mary Jo Lasky
Senior BA, Art & Design with a Minor in Dance and 2020-21 recipient of the Frank G. and Betty Ottesen Performing and Visual Arts Scholarship
Since I was young, visual art and performance have defined who I am as a person. I hope to pursue a career in the arts, whether that be displaying my work in a gallery or performing on the stage for thousands of people. The Frank G. and Betty Ottesen Performing and Visual Arts Scholarship has supported me in completing my degree and serves as a vote of confidence in my abilities. Thank you so much for your kindness and for the support you have provided to students like me. This gift means so much to me and my family, you have helped me to achieve my goals.
Frank and Betty Ottesen moved to Greeley in 1993 and quickly became active members in the Bear community. They support many UNC initiatives and offer their valued expertise and counsel to the College of Performing and Visual Arts. When awarded the 2009-2010 Honored Alumni Award the Ottesen's shared; "Helping our community with scholarship and assisting students to complete their education is so rewarding." The arts are an important aspect of Frank and Betty's lives and in addition to the Frank G. and Betty Ottesen Performing and Visual Arts Scholarship endowment, they generously support UNC's commitment to excellence in music education by helping to fund our All-Steinway Initiative.
All-Steinway Initiative
With the help of many incredible donors, UNC embarked on our mission to become an All-Steinway School in 2018. This meaningful distinction demonstrates our commitment to excellence in music education by providing our students and faculty with the best instruments possible for the study of music. In February of 2021, the University of Northern Colorado became the first public university in Colorado to receive this meaningful distinction thanks to the generosity of our donors.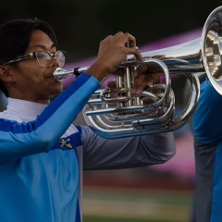 Jam David
Junior BA, Music Education with a concentration in Instrumental Music: K-12 and 2020-21 recipient of the Roy T. Wardell Scholarship. Jam is also the baritone section leader for the Pride of the Rockies Marching Band.
My high school band director encouraged me to attend UNC because of the renowned Music and Education programs. I chose to pursue a degree in K-12 Instrumental Music Education because I have always had a love of music and a passion for teaching. I chose to combine these passions with the long-term goal of becoming a high school band director and to be able to conduct a professional philharmonic orchestra. Words cannot adequately express how grateful I am to have been awarded the Roy T. Wardell Scholarship this school year. This scholarship was a great financial relief, especially during the COVID-19 pandemic. Due to the pandemic, I was unable to secure summer employment last year to earn money to help pay for my tuition. As a student who supports my own educational endeavors, this scholarship is a tremendous source of support. Thank you so much for providing this generous scholarship to students like me.
Roy Wardell, long-time Weld County resident and generous advocate for the University of Northern Colorado, has always supported the youth of Northern Colorado. Roy owns Loya/Wardell Angus, a registered seed stock Angus business that is the continuation of more than 80 years of raising Angus cattle on the Wardell Ranch, originally homesteaded by Roy's grandparents. Roy is a dedicated advocate for youth participating in 4-H and FFA (Future Farmers of America), in addition to his generous support of UNC's first-generation students studying in the College of Performing and Visual Arts through the Roy T. Wardell Scholarship.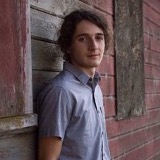 Gabriel Mangione
Senior BA, Music with a concentration in Jazz Studies and 2020-21 recipient of the Kevin and Terri Pederson Tidal Breeze Jazz Scholarship.
It is an honor to have been selected as the recipient of the Kevin and Terri Pederson Tidal Breeze Jazz Scholarship. Receiving this scholarship encourages me to work harder than ever, and to continue reaching for the stars. I owe this encouragement to Kevin and Terri Pederson; you are both essential members of the community that has given me so much.
Terri Pederson graduated from UNC in 1982 with a Bachelor of Music Education. Terri and her husband, Kevin, chose to establish the Kevin and Terri Pederson Tidal Breeze Scholarship at the beginning of the Campaign for UNC in 2015. This scholarship was established to assist first-year instrumentalists in the Jazz studies program who demonstrate financial need.
Dr. Cornelia (Nellie) Vertenstein
Dr. Cornelia (Nellie) Vertenstein was born in Sibiu, Romania. She began playing the piano as a child and quickly established herself as a great talent. At age 14, Nellie began teaching music lessons, this would become her greatest passion and her life's work. After surviving the holocaust, she continued her education and ultimately became a respected concert pianist in Bucharest. In 1961, she and her family were forced to flee communist Romania and eventually immigrated to the United States and settled in Denver, where Nellie built a successful piano studio.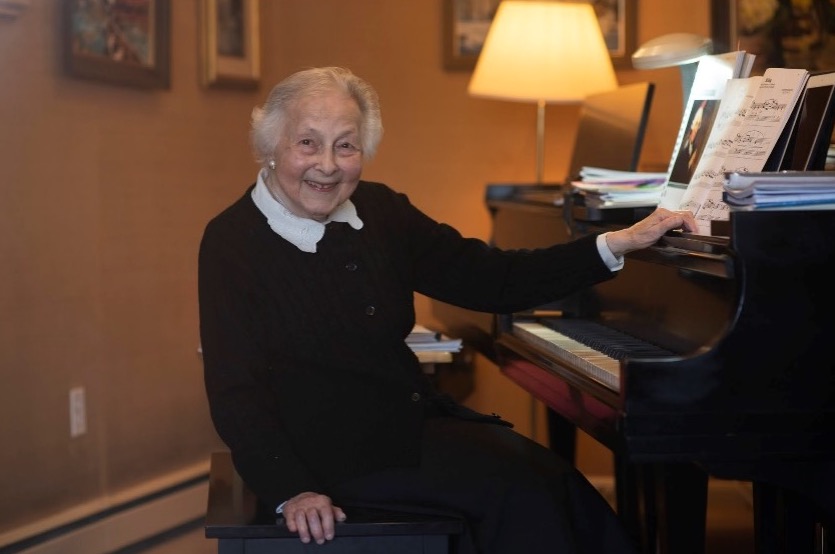 Throughout it all Nellie never stopped teaching and learning herself. She continuously adapted her approach and style of teaching in an effort to instill a deep love of music and learning in each of her students. Nowhere was this more evident than during the COVID pandemic, where despite her inexperience with technology, she took to giving lessons over FaceTime and moved her entire studio online at the age of 92.
Upon her passing in February of 2021, Nellie and her family made another significant contribution to the musical community she so deeply loved by gifting a carefully curated selection of books on music, pedagogy, and sheet music from Nellie's personal collection to the University of Northern Colorado's Howard M. Skinner Music Library. The Skinner Music Library boasts the second-largest music collection in Colorado and serves as an invaluable resource for students and community members to explore the musical landscape, both past and present. This meaningful addition to the Skinner Music Library will forever commemorate Nellie's extraordinary life and dedication to music education.
Thanks to you and your support...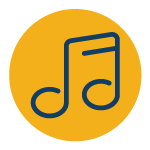 The Jazz Studies program has won more than 150 DownBeat Magazine awards
26 UNC graduates have appeared in 67 different Broadway productions — a record unmatched by any other BA Musical Theatre program in the country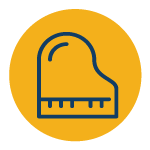 50% of Colorado Music Educators are UNC Alums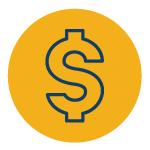 To learn more about how you can support PVA's legacy, contact Jenny Shoop, Assistant Vice President for Development.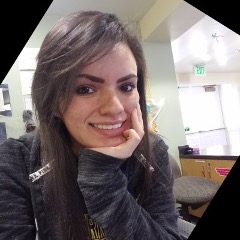 Selena Perez
Senior BA, Art & Design with a minor in Business Administration and 2020-2021 recipient of the Glen D. Beebe Scholarship
My dedication and passion for Graphic Design has helped me to achieve a GPA of 3.55. In addition to my academic pursuits, I am actively involved in Marketing Club which has given me the privilege to experience real world scenarios that incorporate both marketing and graphic design. My plan for the future is to pursue a stable graphic design career that allows me to influence and connect with others with my art.

By awarding me the Glen D Beebe Scholarship, you have lightened the financial burden of attending college, this has enabled me to focus more on the most important aspect of school, learning. I hope one day to help other people in need and give back to the community. I thank you for your support in helping me achieve my goals.
Alumnus Glen Beebe '72, arrived in Greeley on a bus in 1968 planning to study zoology. But he soon realized that he didn't want to teach zoology and UNC's (then Colorado State College) program at that time was geared toward educators, so he turned to his other favorite subject – art. With the help of his professors, Beebe went to work to design and create his own UNC degree in the relatively new field of graphic design.
Beebe graduated as UNC's first Graphic Design student and later landed his career job at The Boeing Company. Beebe worked for the aerospace manufacturing giant for 30 years, as a technical illustrator, graphic designer and as a "proposal king," helping to market Boeing's innovation and expertise to the public and private sectors, working on projects like the Boeing International Space Station.
It is fitting that the Glen Beebe Scholarship Endowment is the first endowment at UNC that strictly supports graphic design students, since Glen was the university's first graphic design student. Glen shared: "When I graduated, illustration and design was done by Rapideograph pens and Exacto knives. Now that has become a lost art form. On the computer, design has grown in sophistication and quality, but the principles of design remain. There is now a much steeper financial barrier to learning, and the tools used in graphic design are expensive. By establishing this fund, I want to assist those interested in graphic design as a career but who otherwise might not be able to due to financial considerations."
Our deepest appreciation to our
Premier Season Sponsor and
Official Hospital System of the Arts at UNC