Welcome
From Dean Cristina Goletti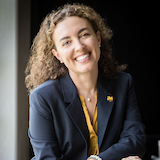 Hi, my name is Cristina Goletti, and I'm the Dean of the College of Performing & Visual Arts (PVA). I'm so excited that you want to know more about UNC, because I believe we are a unique and outstanding college, with top-notch programs, faculty, and staff. We have three arts schools in our College—Art & Design, Music, and Theatre Arts & Dance—making this a fantastic place for your artistic growth, with endless performance and exhibition possibilities, masterclasses, real life experiences in the professional world, and high caliber undergraduate and graduate academic research opportunities.
Our faculty and staff in each of these schools have impressive professional careers and are dedicated mentors who will guide and support you in your development as an artist, teacher, and scholar.
Studying art is a courageous yet essential pursuit. Music, art, theatre, and dance help us understand better who we are and who we want to be in this world. The important transferable skills you will learn through our programs, like empathy, teamwork, effective communication, cultural awareness, and creative thinking to name a few, will lead you through a transformational and empowering educational experience, helping you find your own unique
artistic identity.
I hope to see you on campus soon as a full- fledged Bear, ready to thrive in our College of Performing & Visual Arts!
—Cristina
Cristina Goletti, M.F.A
Dean & Professor, UNC College of Performing and Visual Arts
cristina.goletti@unco.edu
(970)-351-4609
Read more about Dean Goletti
Our Values
lightbulb_outline
Creative Thinking
home
Belonging & Justice
people
Integrity
build
Sustaining Relationships
school
Tradition & Transformation
Our Mission
Nurturing a community where passion and aptitude are transformed into the professional skills that create the foundation for a meaningful career in the arts and beyond.
Our Vision
The UNC College of Performing and Visual Arts provides a comprehensive arts education that prepares students to be flexible, innovative, and well-rounded emerging professional artists, arts educators, and scholars. With a depth of knowledge and experience, our dedicated faculty and staff collaborate with students to create a breadth of experiential and entrepreneurial opportunities in a positive, inclusive learning environment. We prioritize excellence, foster supportive community, cultivate creative exploration, and embrace diversity. As a cultural hub of UNC, the College celebrates creativity with the university, local community, surrounding region, and wider arts world.
Our Commitment to Justice, Equity, Diversity, and Inclusion (JEDI)
In the College of Performing and Visual Arts, we believe that justice, equity, diversity, and inclusion are essential to creating and fostering an environment in which all students have access to the educational and artistic experiences that transform their passion and aptitude into the professional skills that create the foundation for meaningful careers in the arts and beyond.
Along with our wider University of Northern Colorado community, we know that diversity within our College is a distinct advantage that we celebrate and nurture. We are dedicated to fostering supportive community where the full spectrum of lived experiences, viewpoints, and ideas are embraced and explored.
As affirmed in our University's Division of Diversity, Equity, and Inclusion, we in the College of Performing and Visual Arts commit to the following practices:
We commit to providing a welcoming campus community environment where individuals can find a sense of belonging, and where we foster respect, empathy and support to strengthen our campus community.
We embrace diversity in all forms of being, and value each individual and their uniqueness in our community. We recognize that each individual's contribution is important to achieving our institutional goals.
We uphold social justice and are committed to promoting fairness in treatment and access while raising awareness about equity-minded practices in our community.
We acknowledge differences in our society and foster a learning environment through education and strategic actions that enhance the quality of campus life for all.