Arts Equity Summit
February 3, 2023 | Virtual + Campus Commons
The College of Performing and Visual Arts is holding our second annual Arts Equity Summit! UNC students, faculty, and staff will come together with several guest artists from across the country for a day of workshops, discussions, and performances that explore issues of equity in the arts.
All members of the campus community are welcome to attend. No registration or RSVP is required, so simply join the video links in the Schedule section below for virtual sessions or come to Campus Commons directly to attend in-person sessions.
---
Mission Statement
The College of Performing and Visual Arts, with UNC's "Empower Inclusivity" strategic priority in mind, is holding the 2022 Arts Equity Summit as a vehicle for faculty, staff, and students to purposefully and mindfully explore issues of Justice, Equity, Diversity, and Inclusion in the arts. As a community of performing and visual artists with a heritage of being at the forefront of change, we recognize that many existing systems of power grant privilege and access unequally, and we believe that equity is crucial to the long-term viability of the arts, our culture, and our community. Through lectures, concerts, listening sessions, and opportunities for reflection and connection, we aim both to celebrate our support of equity in the arts and to inspire students, faculty, and staff towards more equitable practices and ways of existing in their respective fields. We hope to provide resources, amplify voices, foster awareness, empower action, and create momentum for continuous growth.
Schedule
This event is set up to be virtual and in person. Please note that some time blocks have multiple events happening at once, so you can choose whichever session interests you.
Mural Painting Workshop with Anthony J. Garcia Sr. of Birdseed Collective
Campus Commons Gallery
(Limited to 24 participants)
Pablo Sanchez, Board Relations Manager, Joffrey Ballet
Virtual Event, Hosted by Dean Cristina Goletti
Izabel Zambrzycki, Artistic General Manager, Colorado Symphony Association
Virtual Event, Hosted by Dr. Sarah Off
---
Mehry Eslaminia, Actress, Broadway production of 1776
Virtual Event, Hosted by Shelly Gaza
Keynote Address with Muralist Anthony J. Garcia Sr.
Campus Commons Performance Hall
Equity in the Arts Panel Discussion with UNC Faculty Past and Present
Campus Commons Performance Hall
Moderated by Cristina Goletti and Tobias Guzman
Guest Artists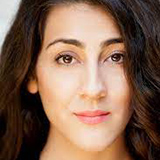 Mehry Eslaminia
Actress, Broadway production of 1776
Regional: Twelfth Night, Appoggiatura, A Christmas Carol, Denver Center for Performing Arts; The Corpse Washer, Actors Theatre of Louisville; You Can't Take It With You, Noises Off, The Curious Incident of the Dog in the Night-Time, Indiana Repertory Theatre/Syracuse Stage; Hamlet, Indianapolis Shakespeare Co; A Midsummer Night's Dream, Illinois Shakespeare Festival; The Happiest Song Plays Last, Curious Theater Co.; Dirty Rotten Scoundrels, Guys and Dolls, Creede Repertory Theater. Actors' Equity Association member; Broadway: 1776.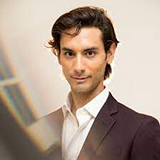 Pablo Sánchez
Board Relations Manager and Joffrey Ballet
Pablo Sánchez grew up in Libertyville, Illinois, and began dancing in his youth at the Dance Academy of Libertyville. He supplemented his dance training by attending Boston Ballet School's Summer Dance Programs during high school before continuing his education at the Jacobs School of Music at Indiana University Bloomington. Here he earned a B.S. in Ballet Performance with an Outside Field in Communications and Culture. As a member of IU Ballet Theater, Pablo enjoyed dancing a variety of repertoire, including works by Frederick Ashton, George Balanchine, and Twyla Tharp, as well as by his professors Michael Vernon and Violette Verdy. Upon graduation, he accepted a full scholarship to the Academy of Dance, Joffrey Ballet of Chicago, and continued training with Alexei Kremnev and Anna Reznik. He joined the company as a supplemental dancer for Robert Joffrey and Gerald Arpino's The Nutcracker and Ronald Hynd's The Merry Widow. Pablo completed his apprenticeship with the Atlanta Ballet, having enjoyed three seasons under the direction of John McFall. In Atlanta, Pablo danced works by Ohad Naharin, Jean-Christophe Maillot, Wayne McGregor, and Christopher Wheeldon, to name a few. During this time, the Dean of Atlanta Ballet Centre for Dance Education, Sharon Story, invited Pablo to choreograph for its spring and summer student showcases. He was on faculty in the Boys Division and regularly taught in all levels of the school as a substitute instructor. Pablo set off on a freelance career for the next three seasons as a guest artist throughout the country, dancing principal and soloist roles in classical repertoire and works by distinguished choreographers such as Val Caniparoli, Merce Cunningham, Gregory Dawson, and Penny Saunders. During this period, he became a visiting choreographer for Erica Lynette Edwards at Joffrey Ballet's Community Engagement, as well as a visiting faculty member for Dancenter North, led by Stacy Joy Keller. Pablo continued his performance career and joined Ballet Memphis, where he danced soloist roles for four seasons, appearing in works by Trey McIntyre, Steven McMahon, Matthew Neenan, Julie Marie Niekrasz and Emilia Sandoval. He also joined the ballet faculty of Dance Dynamics Memphis. Pablo was selected as one of Joffrey Academy's Winning Works choreographers in 2020 and 2021, and was named the first Zach Lazar Fellow. His piece, ¡ViVA! was streamed on Joffrey's YouTube channel to great acclaim. Pablo is pleased to start a new role as a Community Engagement Associate at the Joffrey Ballet, under the leadership of Linda Swayze, bringing his strong artistic vision and skillset to further enrich the dance community in the Chicagoland area.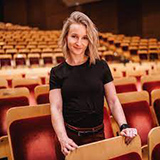 Izabel Zambrzycki
Artistic General Manager, Colorado Symphony Association
Izabel Zambrzycki currently serves as the Artistic General Manager for the Colorado Symphony where she works closely with the musicians, staff, and conductors on programming and producing concerts that excite and educate diverse audiences. Passionate about symphonic music in all forms, Izabel enjoys bringing imagination and innovation to all her programming. Izabel arrived in Colorado after working for three years as the Senior Artistic Planning Manager and Assistant to the Music Director for the Baltimore Symphony Orchestra and Marin Alsop. In Baltimore, she worked alongside Marin Alsop to successfully implement and program the BSO's New Music Festival as well as worked closely with Alsop and other conductors on all aspects of artistic planning.
Izabel has collaborated with artists from multiple genres and backgrounds ranging from some of today's greatest classical artists/composers such as Marin Alsop, Brett Mitchell, Anna Clyne, Peter Oundjian, Kevin Puts, and Markus Stenz all the way to contemporary artists like One Republic, Lake Street Dive, Esperanza Spalding, and Tenacious D.
A graduate of Florida State University, she completed her M.A in Arts Administration while simultaneously working for the Tallahassee Symphony Orchestra. She received a B.M. in Flute Performance from Southern Illinois University in Carbondale.
Anthony J. Garcia Sr.
Muralist, Birdseed Collective
Anthony J. Garcia Sr. was born and raised in Denver in the Globeville community. Starting off as a graffiti writer, his knowledge of the Denver art scene and his go-getter attitude molded him into a force to be reckoned with early on. He is currently programming with at-risk youth and trying to bring more fine art to the streets of Denver. He is also the co-founder of Birdseed Collective (a DIY group of artists working together to create a more accessible platform for up and coming talents to express themselves). His artistic training was molded by Denver "Art Street" program and the Center for Visual Arts.