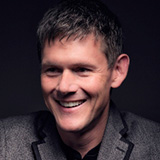 Erik Applegate
Associate Director, School of Music; Professor of Jazz Bass
School of Music
College of Performing and Visual Arts
Contact Information
Professional/Academic Experience
A man of many passions, Erik Applegate is a bassist, composer, and songwriter. His latest album, Two's Company, was featured in Jazziz Magazine. Current projects include touring and recording with the Dana Landry Quartet and Born To Wander (an indie jazz & Americana trio), creating a jazz "concept" album, and contributing to an upcoming Julia Dollison big band project.
Called "a top-notch acoustic bass performer" by JazzReview.com, Applegate has performed with the Bob Mintzer Big Band, Nnenna Freelon, Milt Jackson, Louis Hayes, Jeff Coffin, Mulgrew Miller, Eddie Daniels, Dick Oatts, James Williams, Harold Mabern, Ed Thigpen, and others, and has appeared throughout the U.S. and in Europe, Australia, and China.
Red Skies, Applegate's debut CD, reached #2 on the Roots Music Report, and he is heard on albums including Steve Owen's Stand Up Eight, Dana Landry's Grammy-nominated Journey Home, and 7ON7's Back When It Was Fun.
Music, video, and further info is available at www.erikapplegate.com.