Marching Band - Pride of the Rockies
2020 SEASON POSTPONED
By now, you have all been made aware that the Big Sky Conference has postponed all football competition until Spring 2021. This news affects any and all POTR activities related to our UNC Football Program, including all home game performances of any kind. The announcement can be found here.
No doubt the COVID-19 pandemic has wreaked havoc on nearly every facet of our individual lives, creating a myriad of health and safety concerns. Our university officials have been working tirelessly to develop adequate safety measure that will foster a safe return to campus. However, prior to this announcement by our Big Sky Conference, Professors Gary Hall, Jeff Perry, and I have worked diligently to devise a safe return for our POTR (in consultation with our Department of Athletics) that would have included having the marching band NOT perform any drill on the field, but perform in the stands essentially as a large pep band that would have been properly social distanced in a separate set of bleachers (provided by Athletics) situated in the end zone at each of our home games. Also, our annual POTR Band Camp was canceled to reflect this change. We value the importance of having our POTR convene in some facet to support our UNC Football Program, as well as create some sense of normalcy and camaraderie among each of its members, which is an important part of our School of Music and UNC community!
Given this news, the POTR will NOT commence for Fall, which will require those of you who were already registered for the band to dis-enroll ASAP. We are working with our School of Music Administration to provide information on how each of you can be refunded for the ensemble. In addition, please stay tuned for information regarding Spring POTR! We will provide more information about this later in the Fall. Please know that it is our strong hope to have POTR convening in some facet this academic year, and we will continue to work with both our School of Music and UNC administration to devise a plan to allow this to happen.
As Director of Bands, I am incredibly proud to be a UNC Bear and to be part of our POTR family! I am deeply impressed with the way in which our marching band represents the School of Music, university, and for contributing positively to many facets of our UNC Athletics! We will keep you all informed of Spring POTR plans as we continue learning more about COVID-19 and the progress being made to contain the virus.
I wish to thank Professors Gary Hall, Jeff Perry, Kappa Kappa Psi, our drum majors, and all student leaders of POTR that have contributed their time and efforts to assisting with strategies to keeping us all together and safe. It is truly valued, and we will definitely get through this!
Most Sincerely,
Dr. Wesley J. Broadnax, Director of Bands
Welcome to Colorado's premier collegiate marching organization! Made up of over 150 members, the Pride is a fun and exciting non-competitive organization built on showmanship, teamwork, and musicianship of the members. The ensemble consists of woodwind, brass, and percussion instrumentalists and is accompanied on the field by the wonderful Sugar Bears Dance Team.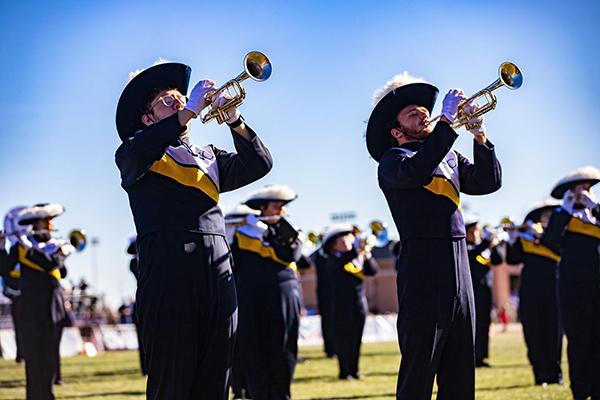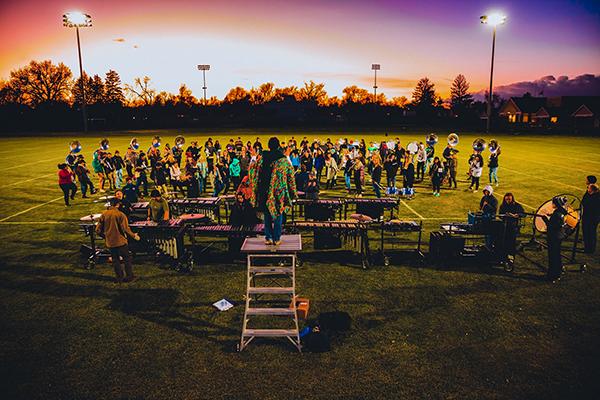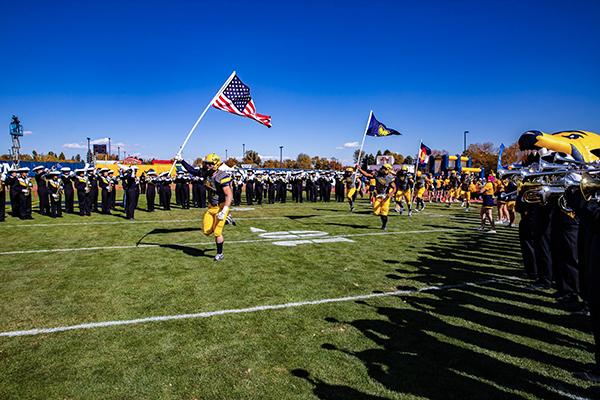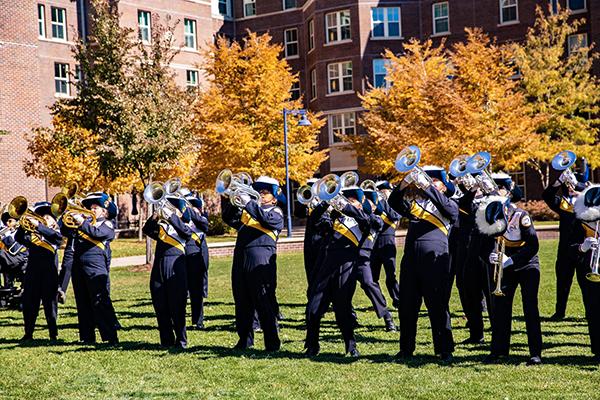 You do not need to be a music major to be a member of the band, and there is no pre-requisite audition to get in. It's not just hard work; we have a lot of fun and it's a fantastic opportunity to make music with other students and promote school pride!
If you are planning on attending UNC and would like more information on performing with the 'Pride of the Rockies' in future seasons, or just to learn more about the ensemble, please send an email to marchingband@unco.edu.
---
Frequently Asked Questions
Q: Do I have to be a music major to participate in the 'Pride of the Rockies'?
A: Nope! The Pride welcomes participants of all majors.
Q: Is there an audition process to be a member of the 'Pride of the Rockies'?
A: Nope! The Pride accepts anyone who is interested and wants to have fun! There will be a seat placement audition during band camp, but anyone is welcome to join.
Q: How do I join the 'Pride of the Rockies', and what is the time commitment?
A: To officially become a member, you must register for the class (MUS 292/492) and complete the Marching Band Registration form (see Marching Band Camp/Registration tab to right). Rehearsals/classes meet during the fall semester on Mondays, Wednesdays, and Fridays from 4:40pm – 6:40pm. Other time commitments include but are not limited to: Band Camp (required), home football games, homecoming parade and bonfire, as well as one away trip.
Q: Is the 'Pride of the Rockies' a competitive band?
A: College bands typically don't compete. The "Pride of the Rockies" is a fun and exciting non-competitive organization built on showmanship, teamwork, and musicianship of the members.
Q: Does the 'Pride of the Rockies' Marching Band have a Color Guard section?
A: No we don't. We perform at all home/away games and exhibition performances with our Sugar Bears Dance Team! Please check out their tab on the right for more information and how to audition for next season.
---