Pride of the Rockies Marching Band
Welcome to Colorado's premier collegiate marching organization! Made up of over 150 members, the Pride is a fun and exciting non-competitive organization built on showmanship, teamwork, and musicianship of the members. The ensemble consists of woodwind, brass, and percussion instrumentalists and is accompanied on the field by the wonderful Sugar Bears Dance Team.
President Feinstein with POTR Marching Band Members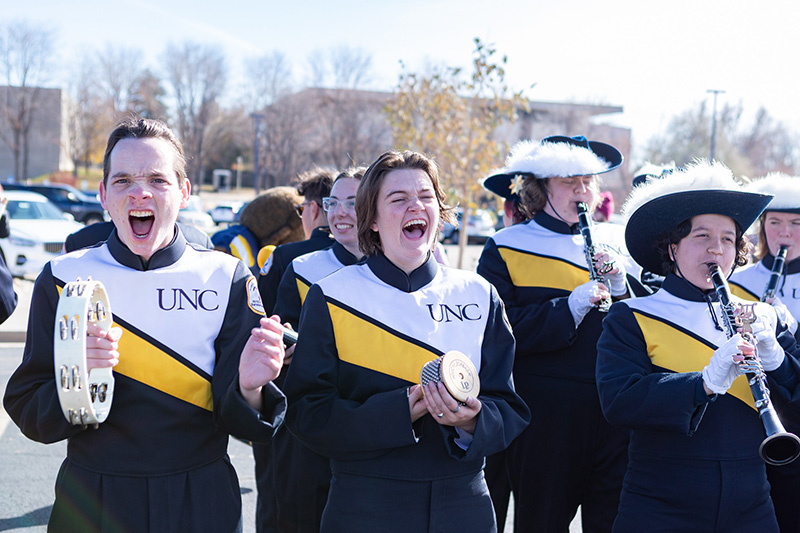 POTR Marching Band | Percussion & Clarinets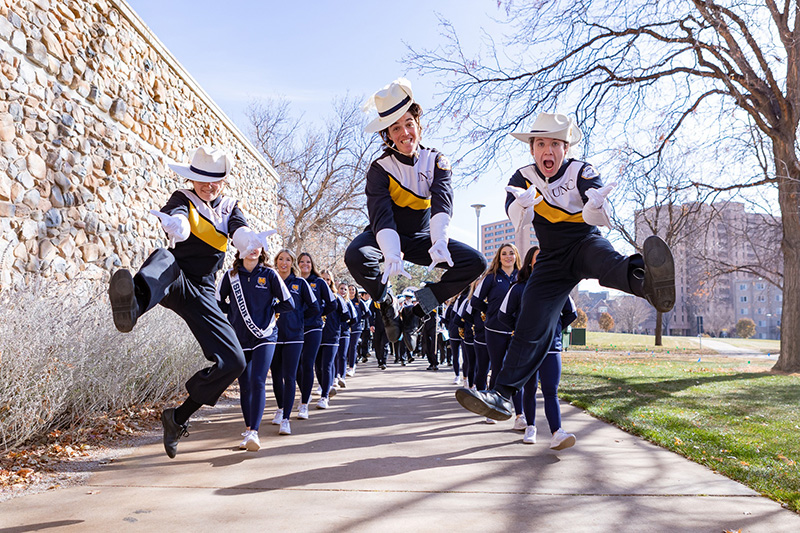 POTR Marching Band | Jumping Drum Majors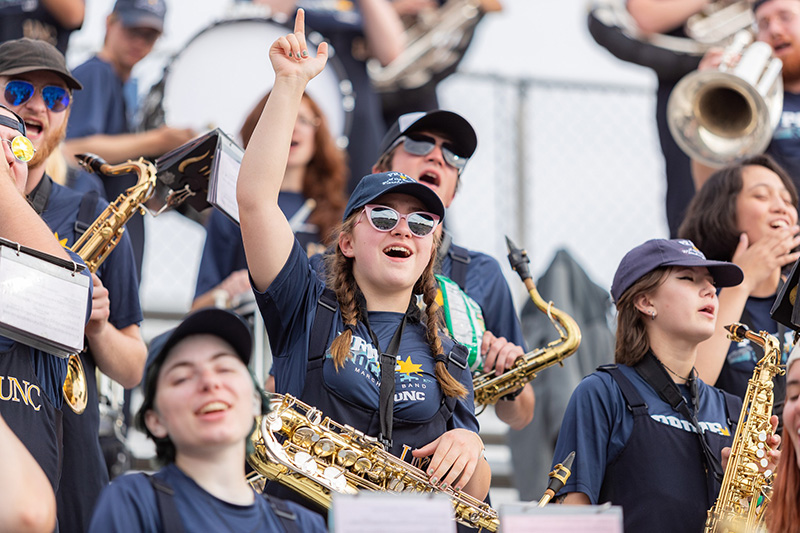 POTR Marching Band | Saxophones on Gameday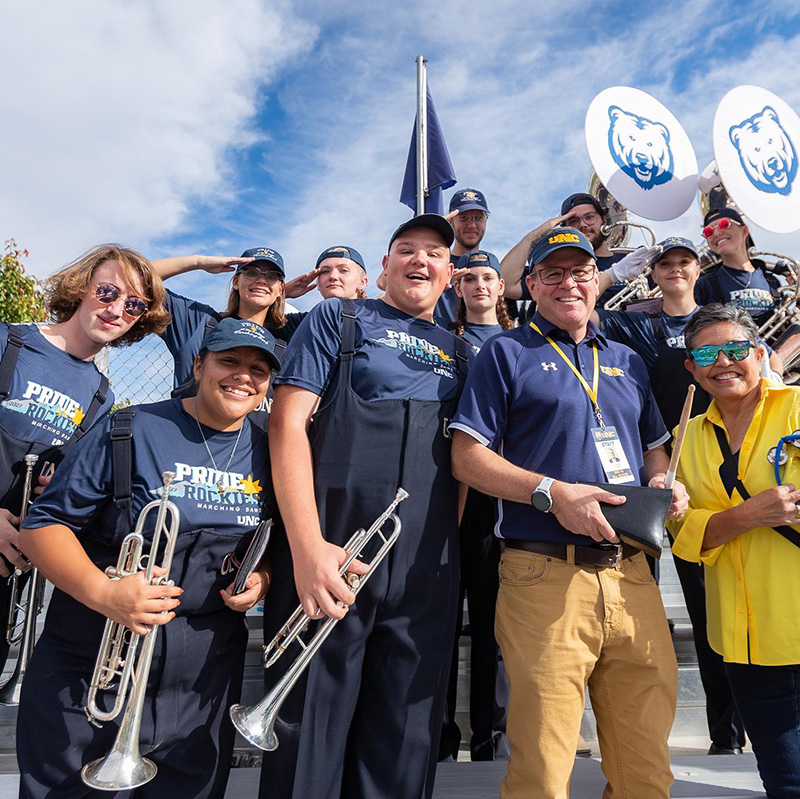 POTR Marching Band | With President Feinstein in the Stands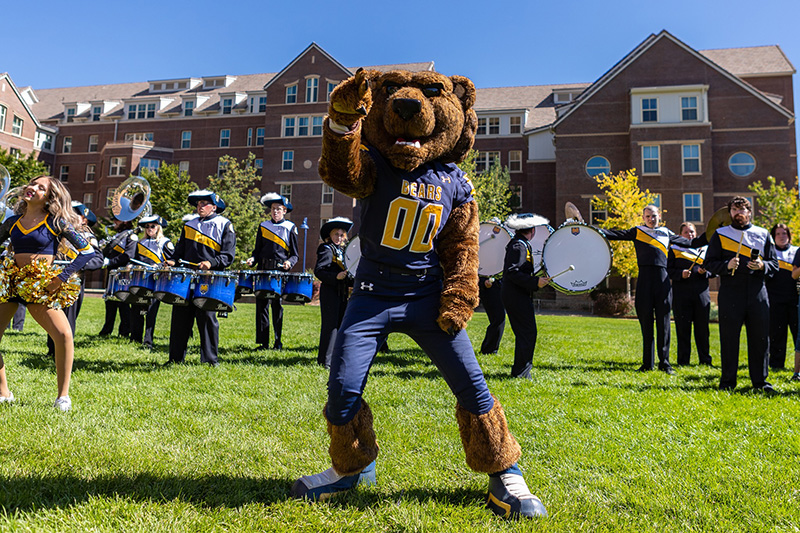 POTR Marching Band with Klawz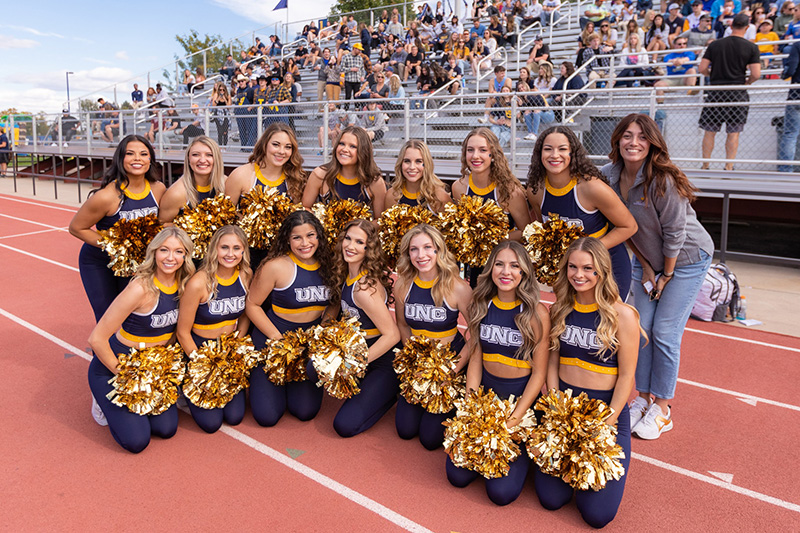 UNC Sugar Bears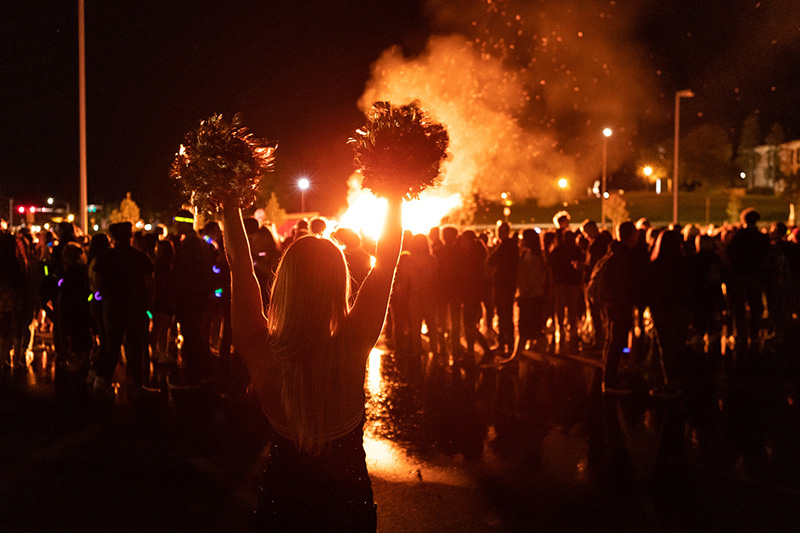 Homecoming Bonfire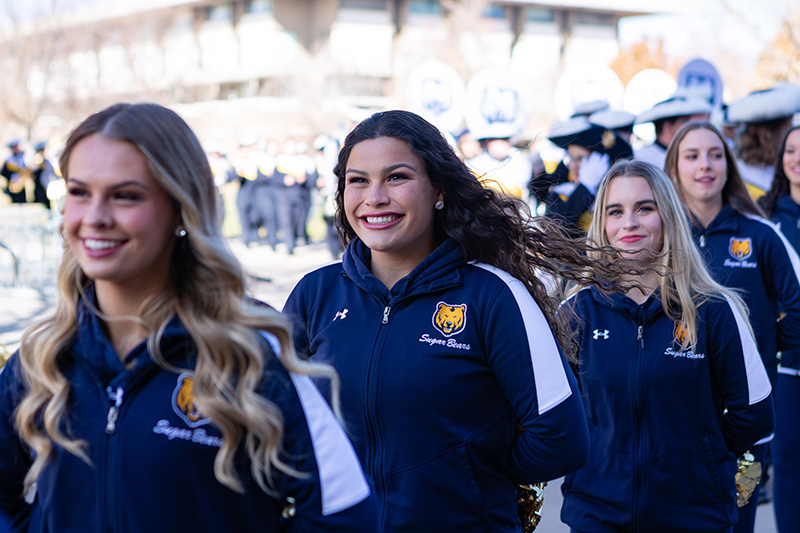 UNC Sugar Bears Parade
You do not need to be a music major to be a member of the band, and there is no pre-requisite audition to get in. It's not just hard work; we have a lot of fun, and it's a fantastic opportunity to make music with other students and promote school pride!
If you are planning on attending UNC and would like more informaiton on performing with the Pride of the Rockies in future seasons or just want to learn more about the ensemble, please send an email to Daniel.Farr@unco.edu.
---
Frequently Asked Questions
Q: Do I have to be a music major to participate in the Pride of the Rockies?
A: Nope! The Pride welcomes participants of all majors.
Q: Is there an audition process to be a member of the Pride of the Rockies?
A: Nope! The Pride accepts anyone who is interested and wants to have fun! There will be a seat placement audition during band camp, but anyone is welcome to join.
Q: How do I join the Pride of the Rockies, and what is the time commitment?
A: To officially become a member, you must register for the class (MUS 292/492) and complete the Marching Band Registration form (see Marching Band Camp/Registration tab to right). Rehearsals/classes meet during the fall semester on Wednesdays and Fridays from 5:00pm – 7:00pm. Other time commitments include but are not limited to: Band Camp (required), home football games, homecoming parade and bonfire, and one away trip.
Q: Is the Pride of the Rockies a competitive band?
A: College bands typically don't compete. The Pride of the Rockies is a fun and exciting non-competitive organization built on showmanship, teamwork, and musicianship of the members.
Q: Does the Pride of the Rockies Marching Band have a Color Guard section?
A: No, we don't. We perform at all home/away games and exhibition performances with our Sugar Bears Dance Team! Please check out their tab on the right for more information and how to audition for next season.
---
2023 Band Staff
Directors

DANIEL FARR
Associate Director of Bands

Dr. Daniel Farr, Assistant Professor of Music and Associate Director of Bands at the University of Northern Colorado, received his Bachelor's and Master of Music Education degrees from Florida State University and a DMA in Conducting from The Ohio State University. His teaching responsibilities at UNC include conducting the Symphonic Band, the undergraduate instrumental conducting track, and directing the acclaimed "Pride of the Rockies" Marching Band. He studied conducting with Russel Mikkelson, Patrick Dunnigan, Richard Clary, and Alex Jimenez, and clarinet with Deborah Bish. Dr. Farr served as a band director in the public schools of Florida for 10 years before pursuing his doctorate. Ensembles under Dr. Farr's direction consistently earned Superior ratings at Marching Music Performance Assessment, District and State Solo and Ensemble, as well as District and State Concert MPA.

Research interests for Dr. Farr include commissioning new music for the wind band medium, best practices for middle and high school bands, and mental health awareness for music educators. He is actively sought after as a concert clinician and clarinet pedagogue. Daniel Farr's professional affiliations include the College Band Directors National Association, the Florida Music Educators Association, Colorado Music Educators Association, Colorado Bandmasters Association, and NAfME: the National Association for Music Education.

CHRISTIAN KUHLMAN
Percussionist

Christian Kuhlman is a percussionist, pianist, educator, and composer from Lee's Summit, Missouri, and is currently based in Northern Colorado.

He is a proponent of theatrical, experimental, and collaborative works, hoping to provide audiences a curated space to consider how art interacts with their daily life. Passionate about new music, Christian is proud to commission and be a part of consortiums for many composers including Annika Socolofsky, Niko Schroeder, Kevin Day, and Louis Raymond-Kolker.

As a versatile performer, Christian has performed as a member of the Quincy (IL) Symphony Orchestra, the Fort Collins (CO) Symphony, and a number of local and university chamber ensembles, wind ensembles, and orchestras. Christian has also performed as a member of the Cadets Drum and Bugle Corps, as well as alongside world-renowned artists Bernard Woma, Victor Provost, and Sō Percussion, during the 2019 Sō Percussion Summer Institute.

As an educator, Christian currently serves as the Percussion Instructor for the University of Northern Colorado Pride of the Rockies Marching Band. He recently served as the Graduate Teaching Assistant for the Colorado State University percussion studio, where he taught chamber music, world music, private lessons, and was also the Assistant Director of Marching Percussion for the CSU Marching Band. He has also made appearances as a clinician and educator around Missouri and Colorado for students of all ages.

Christian holds an M.M. from Colorado State University and B.M. from Truman State University. His primary instructors have included Eric Hollenbeck, Shilo Stroman, Michael Bump, Nick Petrella, Lok Ng, and Anne Becker.

Graduate Associates

MIKE CLEARY
Graduate Teaching Associate

Mike Cleary is currently a second-year graduate student at the University of Northern Colorado pursuing a Doctorate of Arts degree in Wind Instrumental Conducting with a secondary in Music Education. In addition to his studies, he serves as Graduate Teaching Assistant to the band program at UNCO assisting in administrational duties and conducting the band ensembles which includes the Wind Ensemble, Symphonic Band, Concert Band, and The Pride of the Rockies Marching Band. 

DEREK EASTERLING
Graduate Teaching Associate

Derek Easterling is originally from West Liberty, KY. He received his Bachelor of Music Education and Masters in Music Performance from Morehead State University studying under Dr. Stacy Baker. He was named Kentucky's Emerging Artist in 2020 for Music Composition by the Kentucky Arts Council. He is active in the marching band world writing show music, color guard choreography, and designing color guard flags and props. He is so excited to join the UNCO Bear family in the fall!

Student Leadership

ANDREW KEITH
Drum Major

Andrew Keith (he/him/his) is a Junior music education and vocal performance triple major, with an endorsement in Culturally and Linguistically Diverse Education. Andrew is thrilled to return as one of the drum majors of the Pride of the Rockies! In addition to marching band, Andrew performs with the Concert Choir, Chamber Choir, Concert Band, and with the UNC Opera. Andrew is excited for this opportunity to work with so many amazing musicians. Go Bears!

WILLIAM YOUNG
Drum Major

William is so excited to begin his second year of being the Pride of the Rockies Marching Band Drum Major. As a double major in Music Education and Oboe Performance, William is always seeking opportunities to immerse himself in the world of music. He was fortunate enough to be the Drum Major at his previous high school as well as Clarinet Section Leader and Public Relations for the RMHS Marching Band. William has performed in various ensembles in the community including the Fort Collins Opera, Greeley Chamber Orchestra, University of Wyoming Symphony Orchestra, and West Winds Woodwind Quintet to name a few. He loves taking part in many UNC ensembles during his time as a Bear. He has performed with the UNC Wind Ensemble, UNC Symphony Orchestra, UNC Spectrum Chamber Orchestra, and more. William is excited to start his senior year as a UNC student and welcomes all Pride of the Rockies Marching Band members. 

DAVID HOFFMAN
Band Manager

My name is David Hoffman, and I will serve as the band manager for the 2023 POTR season. I am a fifth year double major in Vocal Music and Theatre Education. I am a member of the Kappa Kappa Psi chapter on campus and have served many leadership roles within the chapter. I am a percussionist and pianist outside of my focus area in voice. I am so excited for this upcoming season and cannot wait to interact with everyone come August!

RAWLEY GODSEY
Uniform Manager

JESSICA YOUNG
Librarian & Assistant Uniform Manager

Jessica Young is an Instrumental Music Education major with an emphasis in horn. She was born in Denver but grew up an hour south of Seattle in Lakewood, Washington with her parents and three siblings. In addition to her position with POTR, she is also the Treasurer for Kappa Kappa Psi band fraternity and works for the UNCO Residence Hall Association as the Social and Traditional Events Coordinator. In her spare time Jessica enjoys ballroom dancing, archery, and photography.

THERESA HESS
Flute Section Leader

CHLOE CUNNINGHAM
Clarinet Section Leader

My name is Chloe Cunningham, and I am the clarinet section leader for the 2023-2024 Pride of the Rockies marching season! I am entering my second year at UNC as a music education major, and I have been playing clarinet for 8 years. I'm very excited to meet the new members, travel and perform at different locations, and to see what Dr. Farr has in store for our drill and music this season!

MARIA ROJAS MARTINEZ
Saxophone Section Leader

Hello! My name is Maria (she/her/hers) and I'm excited to be the POTR saxophone section leader again for this upcoming fall semester of '23! I was born in Estes Park and have been playing the saxophone for 10+ years, I've always loved music and grew up in a musician family influencing me to become a music teacher. This will be my third year in POTR and UNC and I'm majoring in music education K-12 with an instrumental focus, and I've been enjoying studying here at UNC. I love traveling and some places that I have been to are 6 counties in Europe, The UK, Thailand, and many more. I can't wait to be marching with some of y'all this semester, Go Bears!

ROSE STEWART
Horn Section Leader

TAYLOR WELLS
Trumpet Section Leader

Hi! My name is Taylor Wells and I'm going to be a sophomore instrumental music education major this upcoming semester. This will be my second season with the Pride, and I look forward to seeing smiling faces, new and old. Aside from playing trumpet and doing all things band, I love to crochet, read, write, and take care of my small army of plants. My favorite drum corps shows are Carolina Crown 2019 "Beneath the Surface", Carolina Crown 2015 "Inferno", Blue Knights 2014 "That One Second", Troopers 2022 "VorAcious", and The Bluecoats 2019 "The Bluecoats". I'm so excited for another season of making music with my friends!

RYAN EREKSON
Low Brass Section Leader

Ryan is a third year Bachelor of Music Composition student studying under the direction of Dr. Ludek Drizhal at the University of Northern Colorado. He is thrilled to take on the position of Low Brass Section leader in the Pride of the Rockies Marching Band this 2023 season! Ryan has been playing the Marching Baritone and the Euphonium for 9 years, with the last two being under the direction of Dr. Steven Vaughn. Ryan plans to bring what he has learned over the years to the members of the low brass section of POTR to create an environment where everyone, no matter their playing level, can feel as if they can take something from his direction as Section leader! Ryan is beyond excited to be a part of the fantastic leadership team leading this year's Pride of the Rockies Marching Band and cannot wait to create brilliant and beautiful music with his fellow leaders and members!! 

SARAH HESS
Front Ensemble Section Leader

CLAIRE STEVENS
Battery Section Leader

Hello! My name is Claire Stevens, I am a 3rd year Music Education Major with a minor in Special Education, and my main instrument is Cello. I really enjoy being a part of the Pride of the Rockies Marching Band, because it's such a lovely group of people that I get to perform and have fun with. I have made the majority of my friends here at UNC through the band program. Outside of my studies I enjoy rock climbing, crocheting, and playing cymbals with the Blue Knights Percussion Ensemble and Guardians Drum and Bugle Corps. I'm looking forward to another great season with POTR! Go Bears!