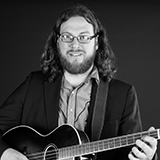 Martin Gilmore
Adjunct Faculty, Folk and Bluegrass Guitar
School of Music
College of Performing and Visual Arts
Contact Information
Mailing Address
University of Northern Colorado
School of Music
Campus Box 28
Greeley, CO 80639
Professional/Academic Experience
Martin Gilmore is a man with stories to sing and tunes to play. His love of history is blended into original songs taking audiences on journeys to places in time that may have faded in memory.
Each time Martin performs listeners get to see a craftsman at work. Stellar musicianship, engaging stage presence and genuine passion for performance come together when Martin sings and plays.
Wrap together a lifetime of exposure to musical genres of bluegrass, folk, jazz, Irish, classical, rock and roll, and the influences merge when he steps on stage. Performing with the Colorado based bluegrass band "Long Road Home"(Pete Wernick, Gene Libbea, Justin Hoffenberg, Jordan Ramsey), Martin's lead singing gives that band it's signature.
When he is not performing, Martin can often be found conducting workshops at festivals, teaching lessons at various venues around the Denver metro area or working as a studio musician and producer.