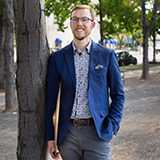 Bobby Wiens
Adjunct Faculty, Jazz Studies
School of Music
College of Performing and Visual Arts
Contact Information
Mailing Address
University of Northern Colorado
School of Music
Campus Box
Greeley, CO 80639
Education
Master of Music in Jazz Studies (University of Northern Colorado)
Bachelor of Music (Capilano University, Vancouver, BC)
Professional/Academic Experience
Bobby Wiens is a professional drummer based in Denver, CO, with nearly 15 years of performing, touring, recording and teaching experience under his belt. Over his career, Wiens has led several bands which perform his eclectic stockpile of compositions and arrangements. His first album as a bandleader, Talking Drums, is available on the "Cellar Live" record label. He is also an in-demand sideman who has worked with a number of world-class musicians both locally and internationally.
Bobby grew up in a nurturing musical home in Calgary, Alberta, Canada. He studied piano throughout his childhood before joining his middle school's concert band as a percussionist at age twelve. Shortly following this, his grandparents bought him his first drum set and he fell in love with it immediately! He then began taking lessons and performing in a variety of bands throughout middle and high school.
He began his post-secondary studies at Mount Royal University before moving to Vancouver to complete his Bachelor of Music in Jazz Studies at Capilano University. During these formative years in Vancouver he was under the tutelage of Dr. Dylan van der Schyff, who is a significant influence on the way he thinks about, plays and teaches music. In 2017 he was awarded an Artist grant which allowed him to live in New York City and undertake an apprenticeship with the great drummer and educator John Riley. Following this he completed his Master of Music degree at the University of Northern Colorado where he was a Jazz Drum Set Teaching Assistant under Jim White.
In addition to his performance based work, Bobby devotes himself to music education. He is currently an adjunct professor at the University of Northern Colorado, and is also heavily involved in the teaching of private studio lessons, clinics and master classes for musicians of all ages.
Other Experience
Home Studio Drum Tracking and Engineering
Interim Music Director at First Alliance Church
Research/Areas of Interest
Jazz Drumset
Jazz and Black American Music History
African musical/cultural retention in jazz performance
Influence of the Mardi Gras Indians on the roots of jazz in New Orleans
Publications/Creative Works
Talking Drums (Cellar Records, 2020)
Honors and Awards
Alberta Foundation for the Arts Individual Project Grant — $7500 (2017)
Three-month apprenticeship with John Riley at the Manhattan School of Music