Open Space Festival of New Music
March 4-6, 2020
Now in its 12th year, the Open Space Festival of New Music is devoted to a variety of styles as diverse as the artists that are featured. The stage of Open Space has featured legendary composers Christian Wolff and Alvin Lucier alongside performers such as Wet Ink, the Callithumpian Consort of the New England Conservatory, pianist Steve Drury, French jazz saxophonist Raphael Imbert, improvising electrinc guitarist Jean-Marc Montera, bassist Matt Smiley, and the Jake Schepps Quartet; the latter featuring bluegrass instrumentation performing new commissioned works. Composers Gabriela Ortiz, Andrew Norman, Kate Soper, Kyle Gann, and Augusta Reed Thomas presented varieties of new chamber works while electronic music pioneer Jean-Claude Risset lectured and offered his beautiful spectral compositions. A hallmark of the festival is featuring internationally known composers and performers with students of the celebrated UNC School of Music.
This year's festival will be no less eclectic with its explosive offerings featuring jazz/improviser/composer Nicole Mitchell and installation artist/composer Ellen Fullman. The first evening, March 4, is devoted to music performed by the UNC Symphony and UNC Faculty with two world premieres; March 5 features the free explorations of Nicole Mitchell; and March 6 focuses on a performance by Ellen Fullman on one of her beautiful and atmospheric long-wire constructions.
2020 Schedule
event
ÉMISSIONS TRANSPARENTS
March 4, 7:30 PM
Campus Commons Performance Hall
ELWOODÉmissions Transparents
THORVALDSDOTTIRReminiscence for Solo Piano
KRÄMER 7 Pieces for Laptop
featuring:
Socrates Garcia, Justin Krawitz, Dana Landry, Julie Strom, Romina Monsanto, & Paul Elwood
event
THE MUSIC OF NICOLE MITCHELL
March 5, 7:30 PM
Campus Commons Performance Hall
Pre Concert talk with Nicole Mitchell @ 7:00 PM
Reception to follow in the Campus Commons Arts Gallery
featuring:
The UNC UNCommon Ensemble
UNC Jazz Studies Students
event
THE MUSIC OF ELLEN FULLMAN
March 6, 5:00 PM
Mariana Gallery, Guggenheim Hall
Installation by Ellen Fullman performed by the composer with UNC Students
2020 Guest Artists
Nicole Mitchell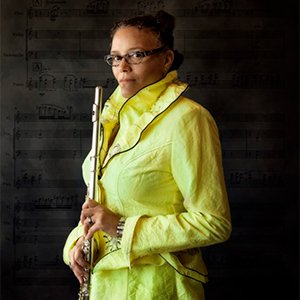 Nicole M. Mitchell is an award-winning creative flutist, composer, bandleader and educator. She is perhaps best known for her work as a flutist, having developed a unique improvisational language and having been repeatedly awarded "Top Flutist of the Year" by Downbeat Magazine Critics Poll and the Jazz Journalists Association (2010-2017). Mitchell initially emerged from Chicago's innovative music scene in the late 90s, and her music celebrates contemporary African American culture. She is the founder of Black Earth Ensemble, Black Earth Strings, Sonic Projections and Ice Crystal, and she composes for contemporary ensembles of varied instrumentation and size, while incorporating improvisation and a wide aesthetic expression. The former first woman president of Chicago's Association for the Advancement of Creative Musicians, Mitchell celebrates endless possibility by "creating visionary worlds through music that bridge the familiar with the unknown."
Some of her newest work with Black Earth Ensemble explores intercultural collaborations; Bamako*Chicago, featuring Malian kora master, Ballake Sissoko, made its American debut at Chicago's Hyde Park Jazz Festival in September 2017, and Mandorla Awakening with Kojiro Umezaki (shakuhachi) and Tatsu Aoki (taiko, bass, shamisen), was just recently released on FPE records (Chicago) last spring. Recently she celebrated a compositional premiere with Procession Time, a suite inspired by the work of Harlem Renaissance artist Norman Lewis, that was performed by the San Francisco Contemporary Music Players and conducted by Steve Schick in October 2017. Mitchell has also recently been interested in multidisciplinary work, through the incorporation of original video art with her music (Mandorla Awakening I and II, Interdimensional Interplay for Solo Disklavier and Prerecorded Flute). In January 2018, Mitchell was recently the Artist in Residence at New York's Winter Jazz Fest, where she performed four suites of her compositions, including Art and Anthem (for poet Gwendolyn Brooks), Maroon Cloud (inspired by her writing "What Was Feared Lost" from Arcana VIII edited by John Zorn), Pteradatyl, a new trio with vocalist Sara Serpa and Liberty Ellman, and her latest Afrofuturist suite, Mandorla Awakening, which was cited as a top jazz recording in the New York Times and the LA Times for 2017. As a composer, Mitchell has been commissioned by the French Ministry of Culture, the Chicago Museum of Contemporary Art, Art Institute of Chicago, the Stone, the French American Jazz Exchange, Chamber Music America (New Works), the Chicago Jazz Festival, ICE, and the Chicago Sinfonietta. Mitchell has performed with creative music luminaries including Craig Taborn, Roscoe Mitchell, Joelle Leandre, Anthony Braxton, Geri Allen, George Lewis, Mark Dresser, Steve Coleman, Anthony Davis, Myra Melford, Bill Dixon, Muhal Richard Abrams, Ed Wilkerson, Rob Mazurek, and Billy Childs, and Hamid Drake. She is a recipient of the Herb Alpert Award (2011), the Chicago 3Arts Award (2011) and the Doris Duke Artist Award (2012). Mitchell is a Professor of Music at University of California, Irvine, teaching composition and improvisation in the graduate program of Integrated Composition, Improvisation and Technology.
---
Ellen Fullman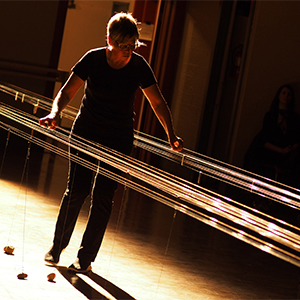 Ellen Fullman has been developing her installation, the Long String Instrument, for over 30 years; exploring the acoustics of large resonant spaces with her compositions and collaborative improvisations. She has been the recipient of numerous awards, commissions and residencies including: Foundation for Contemporary Arts Grants to Artists (2015); Center for Cultural Innovation Grants (2008 and 2013); Japan/U.S. Friendship Commission/NEA Fellowship for Japan (2007); and DAAD Artists-in-Berlin residency (2000). Fullman has recorded extensively with this unusual instrument.
The Long String Instrument (Superior Viaduct, 2015) was first issued on Apollo Records in 1985 and was selected as the number one reissue for 2015 by the Wire. Her work was cited by Alvin Lucier in his Music 109: Notes on Experimental Music (Wesleyan University Press, 2012). Ellen was invited to give the Distinguished Alumni Lecture at the Kansas City Art Institute.