Open Space Festival of New Music
March 6-8, 2019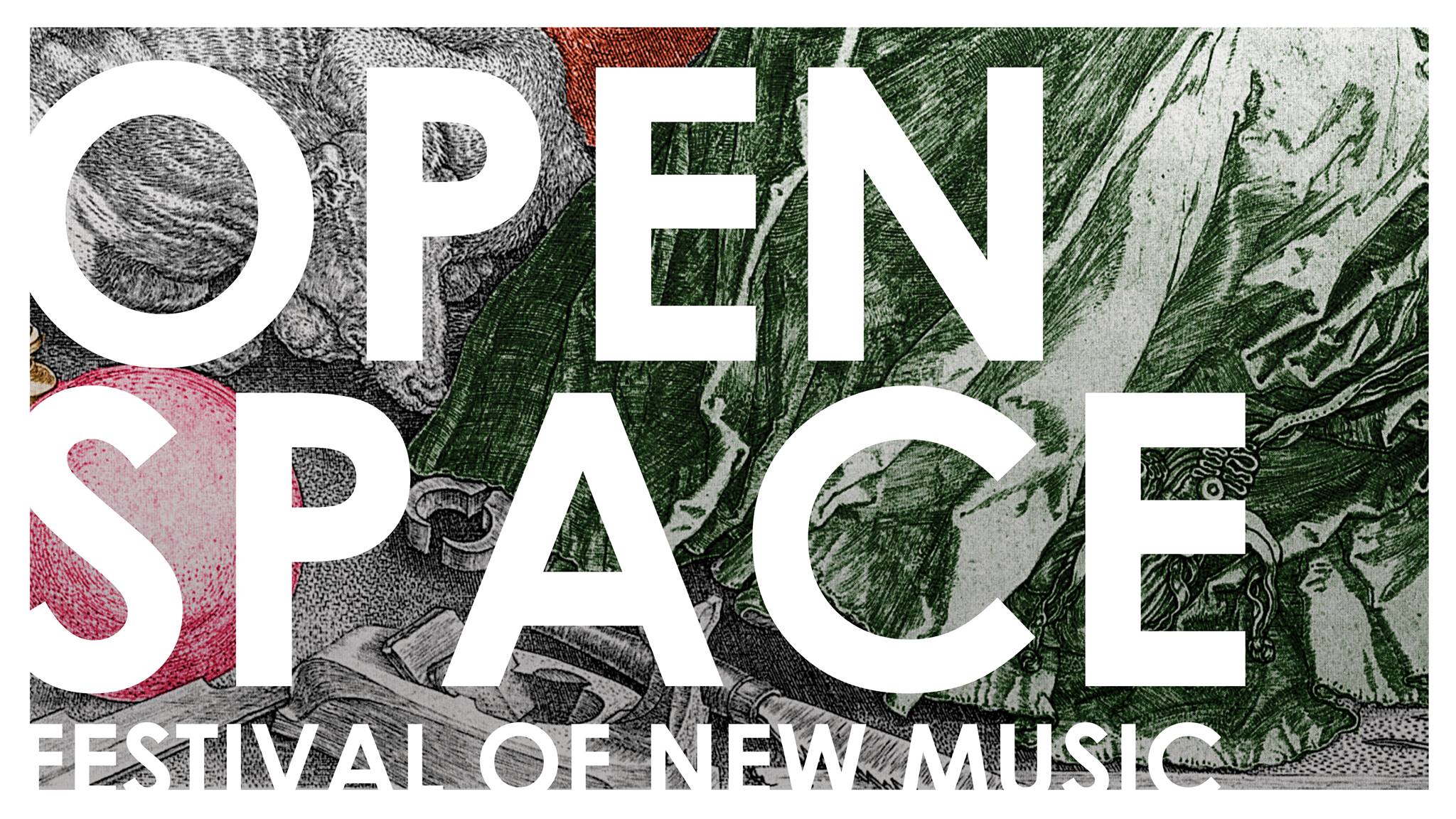 The University of Northern Colorado Open Space Festival of New Music features guest artists in concerts with UNC faculty, students, and the UNC Symphony, lectures, and roundtable discussions. Open Space is an annual event that brings significant composers and performers of contemporary music to our campus. Now in its tenth year, the Festival enables faculty, students, and the community to be exposed to ideas and currents in new music; students in particular are able to work with and speak directly with some of its foremost practitioners. Concerts, master classes, roundtables, and workshops, all open to the public, are a hallmark of this weeklong festival. Since 2009, featured composers have been Gabriela Ortiz, Kyle Gann, Christian Wolff, Augusta Read Thomas, Sean Friar, experimental legend Alvin Lucier, French electronic pioneer Jean-Claude Risset, sound artist and sonic healer Paul Rudy, and the Jake Schepps Quintet, a bluegrass ensemble that performs new art music. Interpreters featured on the Festival include the Callithumpian Consort, pianists Stephen Drury, Mari Kawamura, and Mireia Frutos, guitarist Nathan Fischer, bassist Matt Smiley, the UNC Symphony, and students and faculty of UNC.
SCHEDULE
Wednesday, March 6, 6:00 PM
Lulu of the Plains
Music and Video by Paul Elwood
Featuring Soprano Sharon Harms
6:00pm - Reception
7:00pm - Performance by Lulu
Moxi Theatre
Thursday, March 7, 7:00 PM
IPSA DIXIT Concert
Campus Commons Multi-Purpose Room
Friday, March 8, 5:00 PM
Call for Scores Winners
Milne Auditorium
Directors
---
Location
Milne Auditorium in Kepner Hall, UNC Campus
---
Buy tickets to IPSA DIXIT
Performed by Wet Ink

Thursday, March 7, 7:00pm
Campus Commons Multi-Purpose Room
2019 Guest Artists

Wet Ink is proud to celebrate 20 years of adventurous music-making in NYC and around the world with the 2018-19 concert season. The 20th Anniversary Season highlights the ethos of innovation through collaboration that has guided the work of Wet Ink throughout the ensemble's history, celebrating the music and the unique performance practice developed in the "band" atmosphere of Wet Ink's core septet of composer-performers, and presenting exciting new projects with emerging and underrepresented artists and longtime collaborators.
Since the group's first concerts in 1998, Wet Ink has moved fluently along a continuum of composition, improvisation, and interpretation, from early collaborations with Christian Wolff, George Lewis, and ZS to pioneering portrait concerts of Peter Ablinger, Mathias Spahlinger, Anthony Braxton, and the AACM composers, and deep, long-term collaborative work by members of Wet Ink.
In that same spirit, Season 20 showcases the many facets of the group's work - Fall 2018 highlights include a retrospective look at "classics" of Wet Ink's repertoire and new projects by Sky Macklay, Rick Burkhardt, and Wet Ink's four acclaimed composer-members (Alex Mincek, Sam Pluta, Kate Soper, and Eric Wubbels); the release of Wet Ink: 20 on Carrier Records, the debut album featuring the 28 musicians of the Wet Ink Large Ensemble; the release of Josh Modney's Engage on New Focus Recordings, "one of the most intriguing programs of the year" (The New York Times) and the release of Kate Soper's IPSA DIXIT on New World Records (and performance on Miller Theatre at Columbia University's Composer Portrait: Kate Soper); and new collaborations with renowned creative musicians Darius Jones, Peter Evans (Being & Becoming),Charmaine Lee, Cory Smythe, and many others.
Wet Ink is co-directed by a core septet of world class composers, improvisers, and interpreters that collaborate in band-like fashion, writing, improvising, preparing, and touring pieces together over long stretches of time. These directors are Erin Lesser (flutes), Alex Mincek (saxophone), Ian Antonio (percussion), Eric Wubbels (piano), Josh Modney (violin), Kate Soper (voice), and Sam Pluta (electronics). The Wet Ink Large Ensemble is a group of extraordinary New York City musicians that come together to play the world's most exciting and innovative music.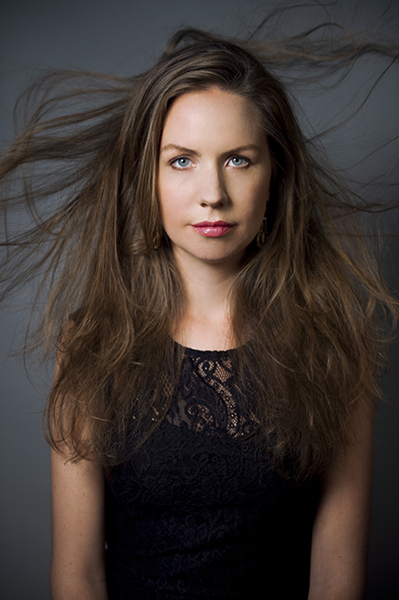 Photo by Liz Linder
Kate Soper is a composer, performer, and writer whose work explores the integration of drama and rhetoric into musical structure, the slippery continuums of expressivity, intelligibility and sense, and the wonderfully treacherous landscape of the human voice. She has been hailed by The Boston Globe as "a composer of trenchant, sometimes discomfiting, power" and by The New Yorker for her "limpid, exacting vocalism, impetuous theatricality, and...mastery of modernist style." A Pulitzer Prize finalist, Soper has received awards from the Guggenheim Foundation, the American Academy of Arts and Letters (The Virgil Thomson and Goddard Lieberson awards and the Charles Ives Scholarship), the Koussevitzky Foundation, Chamber Music America, the Lili Boulanger Memorial Fund, the Music Theory Society of New York State, and ASCAP, and has been commissioned by ensembles including the Los Angeles Philharmonic, the American Composers Orchestra, Carnegie Hall, the Tanglewood Music Center/BUTI, the MIVOS string quartet, and Yarn/Wire. She has received residencies and fellowships from the Civitella Raineri Foundation, the Radcliffe Institute for Advanced Study, the Camargo Foundation, the Macdowell Colony, Tanglewood, Royaumont, and Domaine Forget, among others.
Praised by the New York Times for her "lithe voice and riveting presence," Soper performs frequently as a new music soprano. As a singer and performer with experience in Western Classical and Indian Carnatic music, songwriting, improvisation, and experimental theatre, she has sung in U.S. and world premieres of works by composers such as Peter Ablinger, Beat Furrer, George Lewis, Matthias Spahlinger, and Katharina Rosenberger, and has appeared with groups such as the Morningside Opera Company, the Theatre of a Two-Headed Calf, and the Dinosaur Annex Ensemble. She performs regularly in her own works, and has been featured as a composer/vocliast on the Chicago Symphony Orchestra's MusicNOW series, the New York City-based MATA and SONiC festivals, the Lucerne Forum for New Music, Gaudeamus Muziekweek New York, the Sacramento Festival of New Music, and the American Composers Orchestra's Orchestra Underground series.
Soper is a member of Wet Ink, a New York-based new music ensemble dedicated to seeking out adventurous music across aesthetic boundaries. She is the Iva Dee Hiatt Assistant Professor of Music at Smith College.
---
LULU OF THE PLAINS
Music and Video by Paul Elwood
Sharon Harms, Soprano
The title refers to silent film legend Louise Brooks (1906-1986) from her character role as Lulu in the 1928 German film Pandora's Box. Brooks's early career as a teenager was spent in the Denishawn (modern) Dance Company with Ted Shawn and Ruth St. Denis (among whose ranks Louise danced with Martha Graham). Louise shortly after starred in a variety of films with luminaries such as W.C. Fields, director Howard Hawks, and ultimately the legendary German director G.W. Pabst in Pandora's Box (1929), and Diary of a Lost Girl (1929). At the height of her fame, her hair in bangs determined the fashion of many of the "flapper" generation worldwide. Unwilling to compromise artistic, personal, and sexual standards, her career began a decline until she made her final film in 1938 with budding star John Wayne. In later years, after she floundered creating a dance studio in Wichita, Kansas, her home town, to working as a salesgirl on Madison Avenue, she blossomed into an erudite film historian and critic, working out of Rochester, New York, where she spent the remainder of her life. I am drawn to the subject of Louise Brooks for her uncompromising approach to her career, her visual grace on the screen, and her incisive intelligence evidenced in a variety of interviews.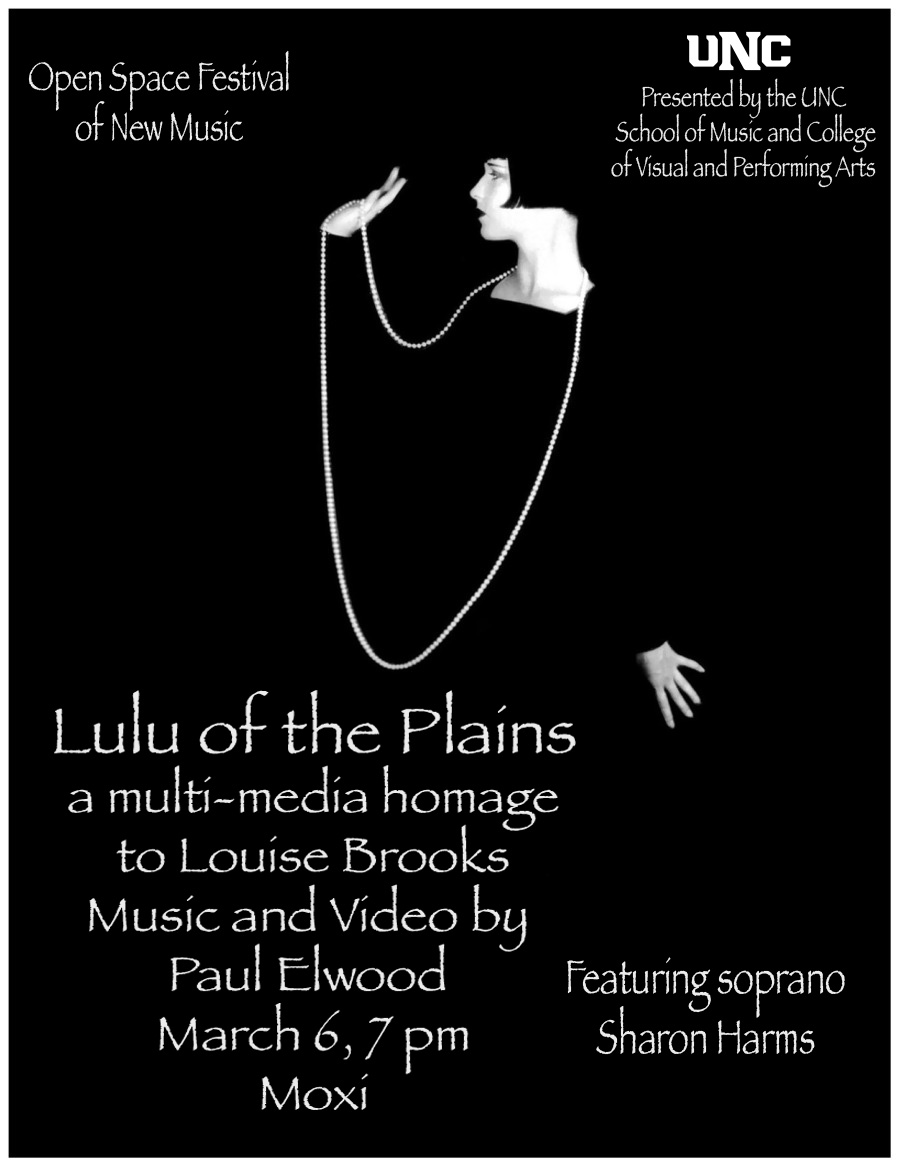 Biographically, the text references her birthday (November 14) and astrological sign (Scorpio). Her life in film is expressed
by allusions to the chemical makeup of film (magnesium carbonate, barium sulfite, etc.). There is a loose biographical line
from her early childhood in Cherryvale, Kansas, including her sexual abuse by a housepainter by the name of Mr. Flowers
at the age of 9, to her adolescence studying dance in Wichita, Kansas. One musical quote from Fanny Mendelssohn,
with whom Louise shares a birthday, is inserted into the composition. Lulu of the Plains loosely follows her career from
Wichita to New York and Berlin and back to Wichita after she made her last film. Many bigraphical details are missing.
An excellent account of her life may be read in "Louise Brooks, a Biography," Barry Paris, University of Minnesota Press,
Minneapolis, 1989.