Open Space Festival of New Music
Spring Dreams
March 8-10, 2023
Our roster of composers and musicians over the past 15 years has included noted composers Christian Wolff, Gabriela Ortiz, Alvin Lucier, Andrew Norman, Kate Soper, Nicole Mitchell, and Ellen Fullman. This year's Festival draws on music born in the East and cooked in a western kitchen.
Chen Yi is an acclaimed composer, a finalist for the Pulitzer Prize in Music, a member of the American Academy of Arts and Letters, and a professor of music composition at the University of Missouri Kansas City, among many other awards. Recent performances of her music in the past three years alone have included performances by ensembles such as the Seattle Symphony Orchestra, the Guangzhou Symphony in China, the Hawaii Symphony in Honolulu, the China Philharmonic in and by the MDR Leipzig Radio Symphony Orchestra and Choir in Germany.
Acclaimed pipa player and composer Gao Hong has received honors such as the Beijing Art Cup, an Asian Pacific Award and the first traditional musician to be awarded the prestigious Bush Artist Fellowship. In 2019 she became the only musician in any genre to wind five McKnight Artist Fellowships for Performing Musicians. She has performed premieres of pipa concerti with the Saint Paul Chamber Orchestra, Heidelberg Philharmonic, Buenos Aires Philharmonic, China National Traditional Orchestra, Hawaii Symphony, Pasadena Symphony, and the Women's Philharmonic in San Francisco. As a composer she has had her music performed worldwide by a wide variety of musicians.
Guest Composers and Artists
Chen Yi
As a prolific composer who blends Chinese and Western traditions, transcending cultural and musical boundaries, Dr. Chen Yi is a recipient of the Ives Living Award from the American Academy of Arts and Letters in 2001. She has been Lorena Cravens/Millsap/Missouri Distinguished Professor at the Conservatory of Music and Dance in the University of Missouri-Kansas City since 1998. She was elected to American Academy of Arts & Sciences in 2005, and the American Academy of Arts & Letters in 2019.
Born in China, Ms. Chen received bachelor and master degrees from the Central Conservatory in Beijing, and the Doctor of Musical Arts degree from Columbia University in the City of New York. Her composition teachers included Profs. Wu Zu-qiang, Chou Wen-chung, and Mario Davidovsky. She has served as Composer-in-Residence for the Women's Philharmonic, Chanticleer, and Aptos Creative Arts Center (1993–96) supported by Meet The Composer, and taught on the composition faculty at Peabody Conservatory of Johns Hopkins University (1996–98). She has also been Distinguished Visiting Professor in China since 2006.
Fellowships and commissioning awards were received from Guggenheim Foundation (1996), American Academy of Arts and Letters (1996), Fromm Foundation at Harvard University (1994), Koussevitzky Music Foundation at the Library of Congress (1997), and National Endowment for the Arts (1994). Honors include the first prizes from the Chinese National Composition Competition (1985, 2012), the Lili Boulanger Award (1993), the NYU Sorel Medal Award (1996), the CalArts/Alpert Award (1997), the UT Eddie Medora King Composition Prize (1999), the ASCAP Concert Music Award (2001), the Elise Stoeger Award (2002) from Chamber Music Society of Lincoln Center, the Friendship Ambassador Award from Edgar Snow Fund (2002), the UMKC Kauffman Award in Artistry/Scholarship and Faculty Service (2006, 2012, 2019), and Pulitzer Prize Finalist with Si Ji for orchestra (2006). Honorary Doctorates are from Lawrence University (2002), Baldwin-Wallace College (2008), University of Portland (2009), The New School University (2010), and University of Hartford (2016). She has received the Sterling Patron Award of Mu Phi Epsilon International Fraternity in 2011 and the Society for American Music Honorary Member Award in 2018.
Her music is published by Theodore Presser Company, performed world wide, and recorded in over 100 CDs, on Bis, New Albion, Teldec (w/Grammy Award for Colors of Love), New World (w/NPR Top 10 Classical Music Album Award for Sound of the Five), Albany, Naxos, BMOP/sound, XAS Records, Bridge, Centaur, Innova, Delos, Angel, Nimbus, Cala, Avant, Atma, Hugo, Koch International Classics, Eroica, Capstone, Quartz, and China Record Corporation since 1986. Chen Yi, An Accessible Guide to the Composer's Background and Her Works, by Leta E. Miller and J. Michele Edwards published by University of Illinois Press, 2020.
Recent world premieres of Chen Yi's works have included Introduction, Andante, and Allegro by the Seattle Symphony Orchestra at Benaroya Hall in Seattle, and Fire for 12 players by Grossman Ensemble at Logan Center Performance Hall in the University of Chicago in 2019; Totem Poles for organ solo at AGO national conference in Kansas City, Pearle River Overture by Guangzhou Symphony in China, and Southern Scenes for flute, pipa and orchestra by the Hawaii Symphony in Honolulu in 2018; and piano concerto Four Spirits by China Philharmonic in Beijing and at the University of North Carolina at Chapel Hill in 2016. The 20/21 concert season started with European premiere of Tang Poems Cantata by MDR Leipzig Radio Symphony Orchestra and Choir in Germany (9/27/20) and world premiere of Bamboo Song by pianist Zou Xiang at the China National Center for Performing Arts Concert Hall in China (10/5/20), followed by world premiere performances of two oboe solo works, Elegy by St Paul Chamber Orchestra's oboe principal Cassie Pilgrim in MN (11/28/20), and Mountain Song by Fergus McCready at Royal Academy of Music in UK (6/8/21) to celebrate its 200th anniversary.
* Chen is family name, Yi is personal name. Chen Yi can be referred to Dr. Chen, Prof. Chen, Ms. Chen, or Chen Yi, but not Dr. Yi, Prof. Yi, or Ms. Yi.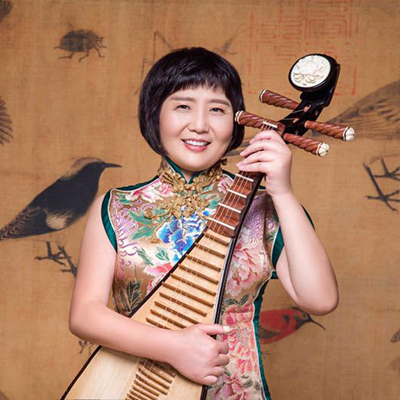 Gao Hong
Gao Hong, a master of the Chinese lute, the pipa, began her career as a professional musician at age 12. She graduated with honors from China's premier music school, the Central Conservatory, where she studied with Lin Shicheng. In both China and the U.S. Gao has received numerous top awards, including 1st Prize in the Hebei Professional Young Music Performers Competition and an International Art Cup (Beijing). In 2005 Gao became the first traditional musician to be awarded a Bush Artist Fellowship, and in 2020 she became the only musician in any genre to win five McKnight Artist Fellowships for Performing Musicians. Other awards include fellowships and grants from from the Minnesota State Arts Board, Sorel Organization (NYC); Mid Atlantic Arts (Baltimore) and others. In 2018 she received a Sally Award from the Ordway for her commitment to the arts.
Gao has performed throughout Europe, Australia, Argentina, Asia, and the U.S. in solo concerts and with symphony orchestras, jazz musicians, and musicians from other cultures. She has performed at major venues and festivals worldwide: Lincoln Center Festival; Carnegie Hall; San Francisco Jazz Festival; Smithsonian Institution; the Next Wave Festival; Festival d'Automne a Paris in Paris and Caen, the International Festival of Perth; and the Festival de Teatro d'Europa in Milan. Her performances of pipa concerti with symphony orchestras include world premieres with the China National Traditional Orchestra at the National Center for the Performing Arts in Beijing, the Guangdong National Orchestra, Heidelberg Philharmonic, Minnesota Orchestra, Hawaii Symphony, Women's Philharmonic, Portland Symphony and Minneapolis Pops; and world premiere recordings with the Boston Modern Orchestra and Moravian Philharmonic. Other regional premieres include those with the St. Paul Chamber Orchestra, Buenos Aires Philharmonic, Louisville Orchestra, Pasadena Symphony, Seattle Creative Orchestra, and many others. In addition, she performed worldwide with the Lincoln Center production of "The Peony Pavilion" and was the first pipa player to play the national anthem at a Minnesota Timberwolves' NBA game at Target Center in Minneapolis.
As a composer, she has received commissions from the Minnesota Orchestra, Minnesota Sinfonia, Central Conservatory, American Composers Forum, Walker Art Center, Jerome Foundation, Zeitgeist, Ragamala, Theater Mu, Minneapolis Guitar Quartet, TPT-PBS and others. Her albums were winners of 2020, 2018, 2016, and 2012 Global Music Award Outstanding Album awards for Instrumentals, Album, and Award of Excellence Solo Instrumental (Gold Medal) awards; and were nominated for Independent Music Awards for Best Album and Just Plain Folk Music Awards for Best Asian Album, Best Asian Song, and Best Instrumental Song.
Gao teaches Chinese musical instruments and directs the Chinese and Global Music Ensembles at Carleton College. She is Guest Professor at the Central, China and Tianjin Conservatories of Music and a Recording Academy Voting Member for the Grammys. She is also the author of the first pipa method book written in English that was published and distributed worldwide by Hal Leonard.
Recent performances include the world premiere of her pipa concerto, Guangxi Impression, commissioned by and performed with the Minnesota Orchestra on February 5 at Orchestra Hall in Minneapolis; and her April 3 concert at The Ordway Center for the Performing Arts in St. Paul celebrating her 50th year of being a musician. The Ordway concert will feature all her own compositions and special guest collaborators rapper/singer Dessa, Minnesota Orchestra members Gabriel Campos Zamora (Principal Clarinet) and Erik Wheeler (Cello), and others.
China's foremost music publication, "People's Music," wrote of Gao Hong that "like the famous Luoyang peony, she has gradually emerged as the best of all beautiful flowers...her performance has extremely strong artistic appeal and belongs under the category of 'fine wine'...the more you listen, the more beautiful it gets…
2023 Schedule
Open Rehearsal with Chen Yi
with UNC Chamber Choir
Campus Commons Performance Hall
Composer Talk with Chen Yi
Skinner Library 103
Open Rehearsal with Chen Yi
with UNC Chamber Choir
Campus Commons Performance Hall
Herstory Choirs Concert
with UNC Chamber Choir
Campus Commons Performance Hall
"Spring Dreams" Concert
featuring music and remarks by Chen Yi with pipa virtuoso Gao Hong
Campus Commons Performance Hall
Afterhours Improv Session
with Chen Yi, Gao Hong, Paul Elwood, Dylan Fixmer, & Sarah Off
Moxi Theater