2018 Pride of the Rockies Marching Band Camp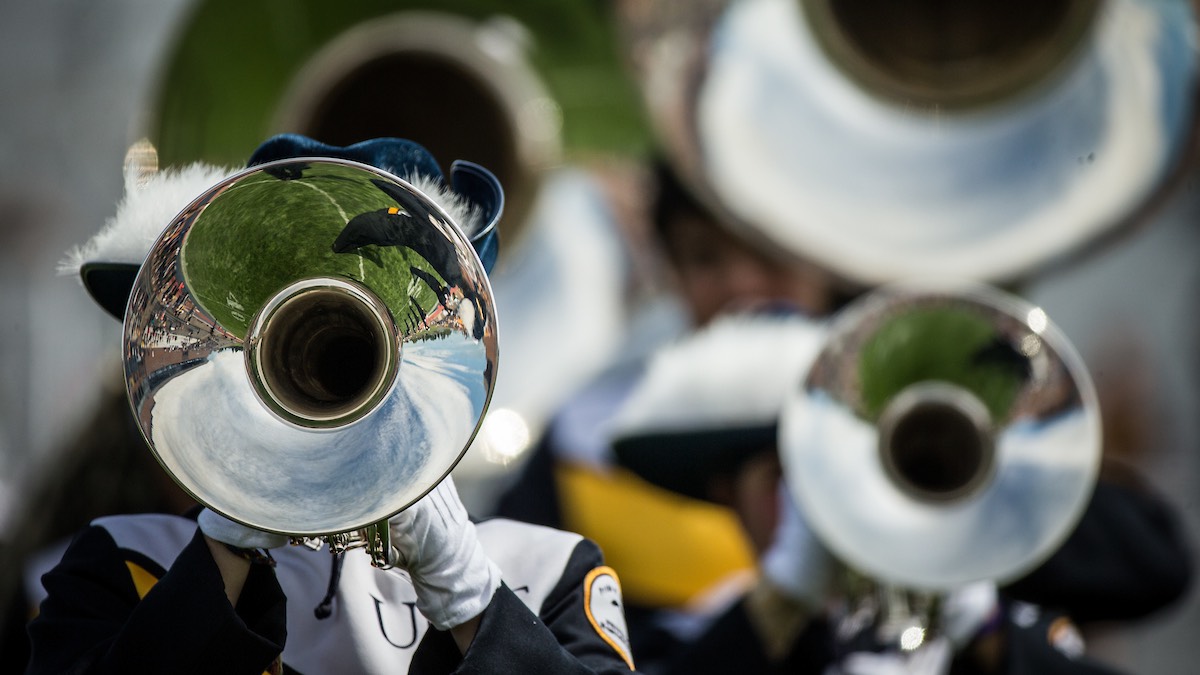 We are very excited to have you march with the Pride this year! If you received an email directing you to our website, you are presently listed as a member of the "Pride of the Rockies" Marching Band. If you do not plan to participate this year we would greatly appreciate a quick phone call to (970) 351-2273 or email to jennifer.beck@unco.eduso that we can remove your name from the list.

On this website, you will find information about Marching Band Camp as well as an online information sheet that you will need to complete and submit no later than AUGUST 1, 2018. We would like to be prepared for you at camp, so please make sure to get your information submitted. There are many details that will help band camp run smoothly and efficiently. Please be responsible for the material below and be aware of all items that apply to you.

We realize that there are many questions that you or your parents might have, and we would like to invite you both to attend a "Meet and Greet" session on Saturday, August 11thbeginning at 10:30am at Foundation Hall (1516 8thAvenue). Please note that the session is optional, but is recommended to help ensure a smooth transition into UNC.
---
Band Camp Schedule
Band camp, which is required, will take place on Saturday, August 11th through Wednesday, August 15th (percussion begins on Thursday, August 9th). You can count on the CAMP SCHEDULE to include all of the time commitments for the week of camp. No additional (add-on) time will be asked of you. If you are an incoming freshman, PLEASE DO NOT SCHEDULE YOUR UNIVERSITY ORIENTATION ON AUGUST 13-14. It is not possible to coordinate the schedules for marching band camp and orientation without missing a large and important part of each. Please notify Dr. Mayne at richard.mayne@unco.edu if you are a DCI member and will be missing any part of camp.
---
Housing For Band Camp
Only those who are living in the Residence Halls in the fall are eligible to be housed in the dorms during band camp. If you need to stay in the residence halls for band camp at any time prior to the official opening date of August 16th, please complete the Housing and Residential Education Request Form. There is a $25 charge per night for students who will be staying in the dorms during band camp until August 16th when your housing contract actually starts. Housing & Residential Education will bill payment directly to the student's account. Please complete the Residential Education Request form by July 20th.
PERCUSSION
Camp begins for percussionists on Thursday, August 9th. When you arrive on campus on the 9th, you can check into your dorm by reporting to the front desk of your fall dorm assignment beginning at 2:00 pm. NOTE: Students will not have access to a dorm room prior to August 9th. If you arrive in Greeley prior to the 9th, you will need to make alternate housing arrangements.
WOODWINDS & BRASS
When you arrive on campus on Saturday, August 11th, you will be able to move directly into your permanent dorm room. Please report to the front desk of your fall dorm assignment between 8:00am and 11:00am to check into your room.
---
Meals For Camp
Several meals are provided during camp. Meals provided are indicated on the CAMP SCHEDULE. All other meals are the responsibility of each individual. Bring money for those meals that are listed as on your own. Dining contracts for meals in the dining halls do not begin until dinner on August 16th
---
Placement Audition Music
There will be a brief audition on the first day of camp. This is partially to have a chance to get to know you, as well as determine which part you will play within your section. This music does NOT need to be memorized.
Once you complete your online information sheet and pay the course fee, you will be sent a confirmation email with a link to the audition music.
---
Course Registration and Fees
For those of you who have not yet registered for Marching Band, the course number is MUS 292-010 for freshmen and sophomores, and MUS 492-010 for juniors and seniors.
We work hard to keep all costs to a minimum. However, there is a marching band course fee of $40.00. This fee helps cover various expenses for the entire marching season. Marching Band staff (section leaders, managers, librarian, truck driver, photographers) are not required to pay the course fee.
We will provide all percussion equipment (instruments, sticks, mallets) and large marching instruments (sousaphones, baritones, mellophones, and a few trombones). There is a $10 instrument rental fee for the large marching instruments (the fee does not apply to percussion equipment), which is non-refundable. The instrument must be returned at the end of the season, clean and in good repair. Students provide more common instruments (flutes, clarinets, saxophones, trumpets, and trombones).
Complete Marching Band Camp Registration Form
---
Uniforms
During camp, you will be issued a complete uniform, game day t-shirt, and game day baseball cap.
You will need black marching shoes. Orders will be taken for shoes at band camp. The shoes we wear (Drillmasters) are $30 and payment will be due when you check out online. If you already own black marching shoes, and they are in good shape, you are welcome to use them.
---
Social Media
Welcome to the "Pride of the Rockies" Marching Band! Please follow us on Facebook, Twitter and Instagram.
We will be using these social media platforms as a means for communication and school pride!
KAPPA KAPPA PSI
This marching band camp is assisted by the Alpha Theta Chapter of Kappa Kappa Psi. Kappa Kappa Psi is the national honorary band fraternity dedicated to the service and advancement of university bands throughout the nation. The Alpha Theta chapter of Kappa Kappa Psi is a co-ed collection of music majors, non-music majors, leaders and wonderful musicians. Through musicianship, leadership, brotherhood, and service, the brothers take pride in opportunities to help the band grow such as: setting up every rehearsal and concert, developing a variety of service projects, assisting in the organization of the Colorado All-State Bands, and providing service and fun social events during the marching season.

Kappa Kappa Psi is a great opportunity for individuals to make connections, grow in leadership, and build friendships that will last a lifetime. If you are interested in joining the Alpha Theta chapter of Kappa Kappa Psi and would like more information, please contact the Alpha Theta's President, Alissa Ehlers, through her email at ehle0296@bears.unco.edu or Alpha Theta's Vice President of Membership, Francis Camama, through his email at Cama2905@bears.unco.edu. The members of the Alpha Theta chapter are excited to have you at the band camp and cannot wait to have a wonderful marching season with you all!