2020 Pride of the Rockies Marching Band Camp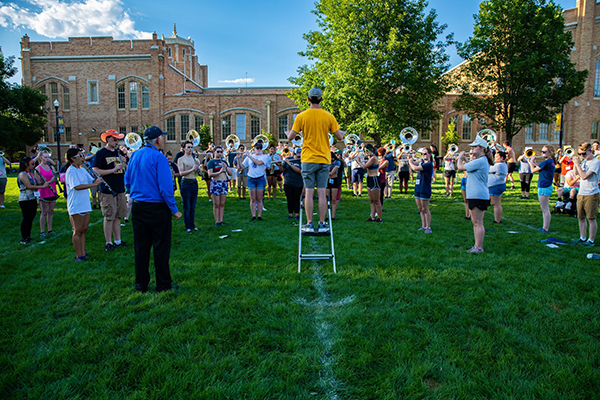 IMPORTANT NOTICE
Due to the ongoing concerns about student safety, and also the lack of concrete knowledge about the impact of wind instruments on the spread of the virus, the decision has been made to cancel the Fall 2020 Pride of the Rockies Marching Band Camp. For additional information, please contact Gary Hall. Currently, the 2020 season is still slated to occur. Additional information will be posted here as it becomes available.
---
---
Social Media
Welcome to the "Pride of the Rockies" Marching Band! Please follow us on Facebook and Instagram.
We will be using these social media platforms as a means for communication and school pride!
KAPPA KAPPA PSI
This marching band camp is assisted by the Alpha Theta Chapter of Kappa Kappa Psi. Kappa Kappa Psi is the national honorary band fraternity dedicated to the service and advancement of university bands throughout the nation. The Alpha Theta chapter of Kappa Kappa Psi is a co-ed collection of music majors, non-music majors, leaders and wonderful musicians. Through musicianship, leadership, brotherhood, and service, the brothers take pride in opportunities to help the band grow such as: setting up every rehearsal and concert, developing a variety of service projects, assisting in the organization of the Colorado All-State Bands, and providing service and fun social events during the marching season.

Kappa Kappa Psi is a great opportunity for individuals to make connections, grow in leadership, and build friendships that will last a lifetime. If you are interested in joining the Alpha Theta chapter of Kappa Kappa Psi and would like more information, please contact the Alpha Theta's President, Ashley McFerrin, through her email at ashleyrosemcferrin@gmail.com or Alpha Theta's Vice President of Membership, Allison Drummond, through his email at drum8145@bears.unco.edu. The members of the Alpha Theta chapter are excited to have you at the band camp and cannot wait to have a wonderful marching season with you all!