2020 Pride of the Rockies Marching Band Camp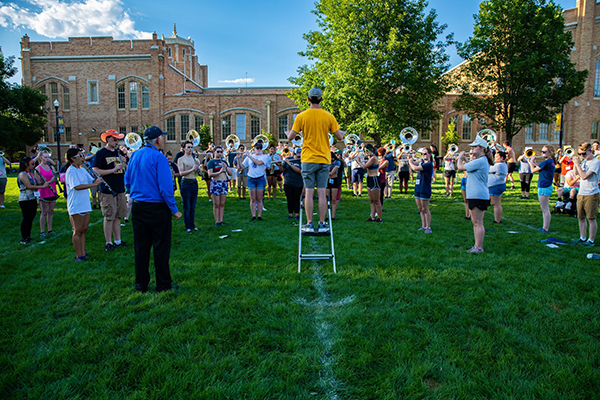 2020 SEASON POSTPONED
By now, you have all been made aware that the Big Sky Conference has postponed all football competition until Spring 2021. This news affects any and all POTR activities related to our UNC Football Program, including all home game performances of any kind. The announcement can be found here: https://bigskyconf.com/news/2020/8/7/big-sky-postpones-football-conference-competition-until-spring.aspx.
No doubt the COVID-19 pandemic has wreaked havoc on nearly every facet of our individual lives, creating a myriad of health and safety concerns. Our university officials have been working tirelessly to develop adequate safety measure that will foster a safe return to campus. However, prior to this announcement by our Big Sky Conference, Professors Gary Hall, Jeff Perry, and I have worked diligently to devise a safe return for our POTR (in consultation with our Department of Athletics) that would have included having the marching band NOT perform any drill on the field, but perform in the stands essentially as a large pep band that would have been properly social distanced in a separate set of bleachers (provided by Athletics) situated in the end zone at each of our home games. Also, our annual POTR Band Camp was canceled to reflect this change. We value the importance of having our POTR convene in some facet to support our UNC Football Program, as well as create some sense of normalcy and camaraderie among each of its members, which is an important part of our School of Music and UNC community!
Given this news, the POTR will NOT commence for Fall, which will require those of you who were already registered for the band to dis-enroll ASAP. We are working with our School of Music Administration to provide information on how each of you can be refunded for the ensemble. In addition, please stay tuned for information regarding Spring POTR! We will provide more information about this later in the Fall. Please know that it is our strong hope to have POTR convening in some facet this academic year, and we will continue to work with both our School of Music and UNC administration to devise a plan to allow this to happen.
As Director of Bands, I am incredibly proud to be a UNC Bear and to be part of our POTR family! I am deeply impressed with the way in which our marching band represents the School of Music, university, and for contributing positively to many facets of our UNC Athletics! We will keep you all informed of Spring POTR plans as we continue learning more about COVID-19 and the progress being made to contain the virus.
I wish to thank Professors Gary Hall, Jeff Perry, Kappa Kappa Psi, our drum majors, and all student leaders of POTR that have contributed their time and efforts to assisting with strategies to keeping us all together and safe. It is truly valued, and we will definitely get through this!
Most Sincerely,
Dr. Wesley J. Broadnax, Director of Bands
---
---
Social Media
Welcome to the "Pride of the Rockies" Marching Band! Please follow us on Facebook and Instagram.
We will be using these social media platforms as a means for communication and school pride!
KAPPA KAPPA PSI
This marching band camp is assisted by the Alpha Theta Chapter of Kappa Kappa Psi. Kappa Kappa Psi is the national honorary band fraternity dedicated to the service and advancement of university bands throughout the nation. The Alpha Theta chapter of Kappa Kappa Psi is a co-ed collection of music majors, non-music majors, leaders and wonderful musicians. Through musicianship, leadership, brotherhood, and service, the brothers take pride in opportunities to help the band grow such as: setting up every rehearsal and concert, developing a variety of service projects, assisting in the organization of the Colorado All-State Bands, and providing service and fun social events during the marching season.

Kappa Kappa Psi is a great opportunity for individuals to make connections, grow in leadership, and build friendships that will last a lifetime. If you are interested in joining the Alpha Theta chapter of Kappa Kappa Psi and would like more information, please contact the Alpha Theta's President, Ashley McFerrin, through her email at ashleyrosemcferrin@gmail.com or Alpha Theta's Vice President of Membership, Allison Drummond, through his email at drum8145@bears.unco.edu. The members of the Alpha Theta chapter are excited to have you at the band camp and cannot wait to have a wonderful marching season with you all!