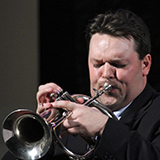 John Adler
Professor of Music
School of Music
College of Performing and Visual Arts
Contact Information
Professional/Academic Experience
A native of Reno, Nevada, John Adler joined the faculty at the University of Northern Colorado in 2010, coming from Virginia Tech where he taught trumpet and jazz studies for four years. Dr. Adler's D.M.A. in trumpet performance was completed at the University of Miami, where he studied with former principal trumpet of the Chicago Symphony Orchestra Craig Morris.
Dr. Adler has a diverse performance resume and is in demand as a soloist/educator all across the country. In the spring of 2010, John was featured soloist with the New River Valley Symphony Orchestra, the Manchester Symphony Orchestra, and performed guest recitals at the Ohio State University, Western Michigan University, Bowling Green State University, and Grand Valley State University. His first solo CD "Confronting Inertia" was released on Origin Classical in October 2009. The CD includes six new classical works by jazz composers commissioned for the project.
Dr. Adler has performed with the Reno Philharmonic, the symphony orchestras of Eugene, Miami, and Roanoke, the Kandinsky Trio, the Palm Beach Pops, and many other classical ensembles. He has shared the stage with numerous jazz greats including John Hollenbeck, Maria Schneider, Bobby Shew, and Conrad Herwig, and has played lead trumpet in the Jaco Pastorius Big Band, the Denis Noday Big Band, the Reno Jazz Orchestra, and the Grammy Award Winning University of Miami Concert Jazz Band. He is a founding member of the jazz chamber group Seven Minus.
Dr. Adler completed a double-major undergraduate degree in classical and jazz performance at the University of Nevada-Reno, and a Master of Music degree at the University of Oregon.