Jazz Ensembles
The award-winning jazz ensembles at the University of Northern Colorado offer students performance opportunities in big bands, combos, vocal jazz groups, and Latin jazz. With over 30 years of history, UNC's jazz ensembles have earned numerous accolades, including:
More than 100 Downbeat Student Music Awards.
GRAMMY nomination for the album Hot IV by Vocal Jazz I.
Numerous performances at national and international conferences including IAJE, Midwest Band, Jazz Education Network, and others.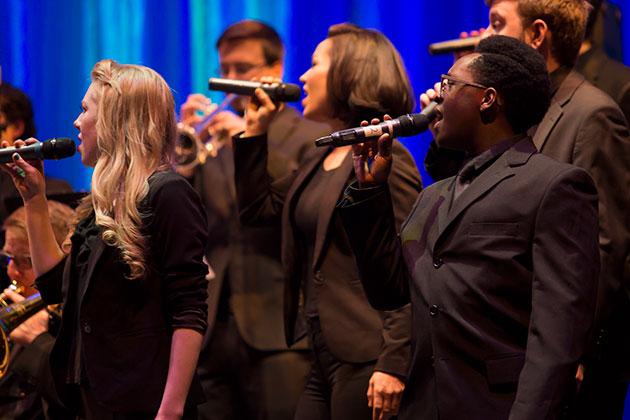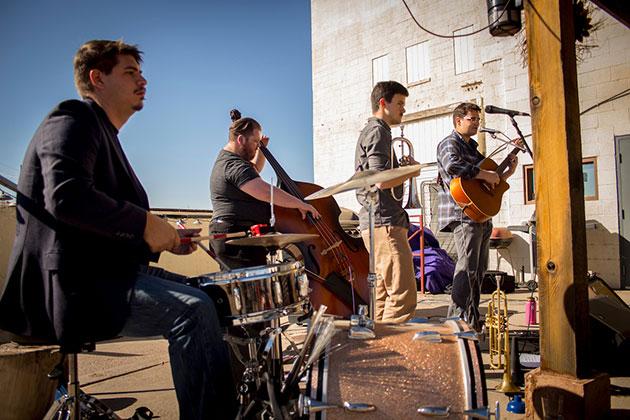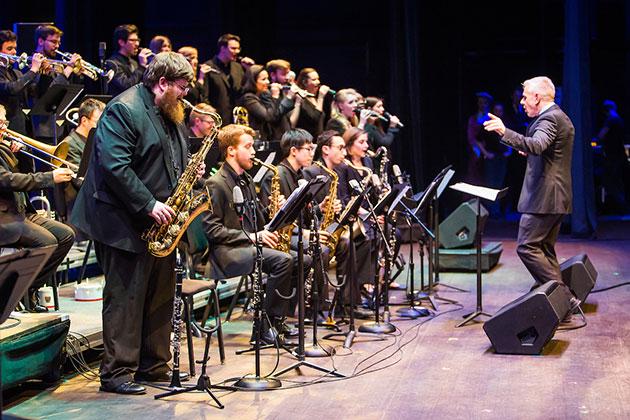 Ensembles
Big Bands
UNC's five big bands, known as "Lab Bands," have a long history of being among the best college jazz ensembles in the country, and offer students exciting, challenging, and rewarding musical experiences. Alumni of the bands are enjoying successful careers as performers, composers, music industry professionals, and educators.
UNC Jazz Lab Band I, directed by Dana Landry, has won four Down Beat awards in the last five years, two of which are for "Best College Big Band." Lab I has performed throughout the U.S. and has accompanied major jazz artists including Slide Hampton, Louis Bellson, Clark Terry, J.J. Johnson, Jim McNeely, Benny Golson, Dee Dee Bridgewater, Kevin Mahogany, Kenny Wheeler, Bob Mintzer, Bob Brookmeyer, Peter Erskine, and others.
---
Vocal Jazz Ensembles
Vocal Jazz at UNC has a long tradition of national and international acclaim, and UNC's Vocal Jazz I was the first college vocal group to ever receive a Grammy nomination. Over the years, UNC groups including the Axidentals, Sus4, and Et Cetera have toured the U.S. and Europe, released multiple albums, commissioned and debuted pieces that have become standard repertoire, and have won numerous awards and accolades. Alumni of UNC's VJ groups are successful professional and studio singers, arrangers, educators, clinicians, and industry professionals.
UNC's current flagship vocal jazz groups, Vocal Lab and NoCoVo, are directed by Charenée Wade. Vocal Lab and Nocovo were named as co-winners of the 2018 Downbeat Student Music Award for Best Graduate Level Large Vocal Jazz Ensemble. Vocal Lab has also been invited to perform at the Jazz Education Network Conference for 2016 and 2018. The advanced vocal jazz ensembles perform cutting-edge contemporary compositions and arrangements, bending genres and striving to push the art form forward into the future and featuring primarily UNC faculty and student arrangements.
In addition to its advanced vocal jazz groups, UNC features two additional Vocal Jazz Ensembles named Vocalese and Verve, both under the direction of Amy Murphy. These groups perform diverse repertoire of jazz, Latin, and pop/rock/R&B styles including pieces by New York Voices, The Real Group, Take Six, and other professional vocal groups.
Vocal Jazz Ensembles rehearse twice a week and present at least one concert every semester, with the advanced groups giving additional off-campus performances throughout the school year as well as recording each semester. Each group enjoys a featured appearance at the UNC/Greeley Jazz Festival in April.
---
Combos
UNC's eight small jazz ensembles (or combos) offer challenging and rewarding experiences in studying and performing jazz. Over the years, UNC's jazz combos have performed throughout the country and have won many awards. Outstanding combos record at the UNC Recording Studio each year.
Instrumentation varies, but combos typically include a rhythm section and 1-3 horn players. Groups perform diverse repertoire of standard jazz tunes and compositions by jazz greats, students' original compositions and arrangements, and other repertoire suggested by members and directors. Combos help students develop jazz skills, particularly in improvisation, ensemble support and interaction, rhythmic feel and groove, and tune knowledge.
Groups meet twice a week– once for a rehearsal and once for Combo Forum, where all combos meet to perform and discuss playing concepts. Combos present one concert each semester and also play at the UNC/Greeley Jazz Festival each April. Outstanding combos have opportunities to perform at other live and studio events.
---
Guitar Ensemble
The UNC Jazz Guitar Ensemble is a specialized group dedicated to celebrating the instrument's rich history in Jazz. This group presents the students with a special environment where they perform in a section of 5 to 8 guitarists, plus rhythm section. Students concentrate on ensemble interplay, articulation, comping, soloing, sight-reading, and the use of electronic effects.
The group focuses on a wide range of literature, including the music of great guitarists including Wes Montgomery, Pat Metheny, and Jim Hall. They also perform arrangements by Mundell Lowe, Fred Hamilton, and other classic arrangers for the guitar ensemble.
The goal of the ensemble is to prepare guitarists for the wide variety of musical situations experienced by professionals. Students have the opportunity to write arrangements for the group, which are in turn recorded by the students at Studio UNC every spring.
More than 150 students participate in jazz ensembles. Although the groups are comprised primarily of music majors, they are open to all students by audition. Placement auditions are held at the beginning of the fall semester.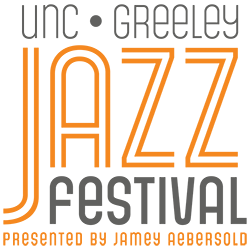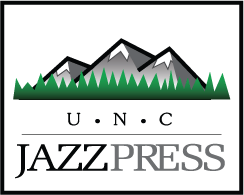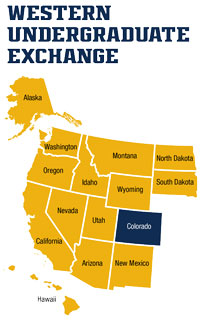 Learn more about WUE Tuition Classification