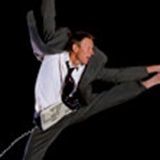 Monte Black
Head of and Professor of Dance
School of Theatre Arts and Dance
College of Performing and Visual Arts
Contact Information
Education
Mr. Black holds a Bachelor of Science in Theatre and Dance from the University of Wyoming with emphasis in choreography and performance and received a Masters' of Fine Arts from the University of Illinois at Urbana-Champaign with emphasis in choreography and teaching.
Professional/Academic Experience
Specializing in modern and jazz dance he has studied with jazz dance master teachers Joe Tremaine, Gus Giordano, and Frank Hatchett. His modern influences include Renee Wadleigh, Stephen Petronio, Jan Erkert, Linda Davis, Cleo Parker Robinson, Douglas Nielson, Stephen Koester, and Loretta Livingston. He toured nationally with the 15th anniversary revival of the Best Little Whorehouse in Texas and has performed in many outstanding regional theatres nationwide sharing the stage with such luminaries as Roy Clark in Paint your Wagon, Joanne Worley in HelloDolly, and Eddie Bracken in Babes in Toyland.
Mr. Black carries with him an array of choreographic and directing credits ranging from the musical theatre stage to the concert dance arena. While at UNC, he has choreographed 42nd Street, West Side Story, Brigadoon and Carousel for the Musical Theatre Department and directed and choreographed Footloose: The Musical. He has also choreographed The Music Man, Chicago, Joseph…Dreamcoat, Fiddler on the Roof, Damn Yankees, Annie, and AIDA for the Little Theatre of the Rockies; as well as Directed and Choreographed The Full Monty and SWING! for their summer season. Mr. Black also is the director/choreographer of an annual fall dance/theatre production based on the holidays of Dia de los Muertos and Halloween entitled Miranda's Nightmare. He has also choreographed numerous pieces for the annual CPVA Gala and for main stage dance concerts. His latest works include a full-length modern ballet entitled Dierdre of the Sorrows, based off of Irish mythology, and a one act Dance Theatre project set to the music of the Airborne Toxic Event entitled Punks: A Love Story. His interests in jazz, modern, dance technology, collaborations with other artists and his vast performance history make him a vital and inspiring artist and teacher.