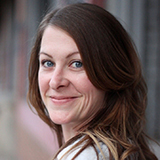 Kim Clay
Assistant Professor of Dance
School of Theatre Arts and Dance
College of Performing and Visual Arts
Contact Information
Office Hours
By Appointment
Education
Kim Clay received her Masters of Fine Arts in Dance from Sam Houston State University, with emphasis in composition, pedagogy, performance and choreography.
Professional/Academic Experience
Kim currently dances with TanzTheatre Andre Kozlowski as a modern dancer and performance artist. She has been on faculty at Seton Hill University, Millennium Dance Complex Pittsburgh, as both an instructor and the Certificate Program Director, has taught master classes at Carnegie Mellon University, Sam Houston State University, for the American College Dance Association, the American Drill Team School, and continues to set work on local private studios throughout the United States. She has been a guest artist with Pittsburgh's Attack Theatre, Houston's Recked Productions, was a performer for Six Flags Theme Park, and toured the Atlantic Ocean as a cruise ship dancer aboard Holland America's MS Rotterdam.
Research/Areas of Interest
Collaboration, particularly with musicians, has always been an area of interest for Kim, along with dance for camera, dance film, and site-specific projects. She has produced work and research analysis on personal space in dance, and continues to collect data on the physical and psychological connections between contact improvisation and dancers.
Publications/Creative Works
Kim's Graduate School Thesis is titled, "The Fear and Loathing of Contact Improvisation: An Investigation of Personal Space in Dance" which focuses on curriculum and instruction in a collegiate level modern class, and examines Edward T. Hall's analysis of personal space. Kim also produced an evening length performance piece titled "Elbow Room" which takes the audience through all four stages (intimate, personal, social and public) of personal space through dance.
Professional Website
---