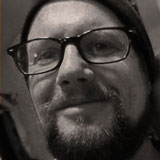 Brian Hapcic
Professor of Lighting and Sound Design
School of Theatre Arts and Dance
College of Performing and Visual Arts
Contact Information
Education
Brian has a BA in English from Ohio University, and an MFA in Design and Technology from the University of Montana.
Professional/Academic Experience
Brian Hapcic is an Associate Professor, with specialties in lighting and sound design. He has worked in the entertainment industry for over twenty years, with nearly 200 design credits in multiple performance genres. He is a member of USITT and I.A.T.S.E. local #339. In 2004 he was awarded the KCACTF faculty fellowship for meritorious achievement as a professor of lighting design, and in 2015, his scenography for the UNCO production of Medea was selected for presentation at the Prague Quadrennial of Performance Space and Design. His current research interests focus on the use of projected media as light source in performance, as well as the use of projection and sound in performance installations.