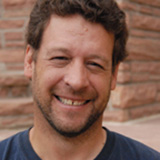 Terry Kattner
Scene Shop Manager
School of Theatre Arts and Dance
College of Performing and Visual Arts
Contact Information
Education
Terry is a graduate of the University of Wisconsin-Oshkosh with a BS in Theatre Arts degree.
Professional/Academic Experience
Terry Kattner joined the School of Theatre Arts and Dance as Scene Shop Coordinator during the fall of 2007. His previous experience includes doing scenery and lighting designs for Holsten Sr. High in Holsten, Wisconsin, touring with the Ice Capades and providing technical support for a number of auditoriums and concert venues. Some of Terry's past design work includes productions of Little Women, Say Goodnight Gracie, and Joseph and the Amazing Technicolor Dreamcoat. Terry met his wife Cindy during a show and they have been together for the last 21 years. They have two kids, Sage and Sam, who are Dobermans. Terry is very excited to be a part of our UNC theatre and dance family.